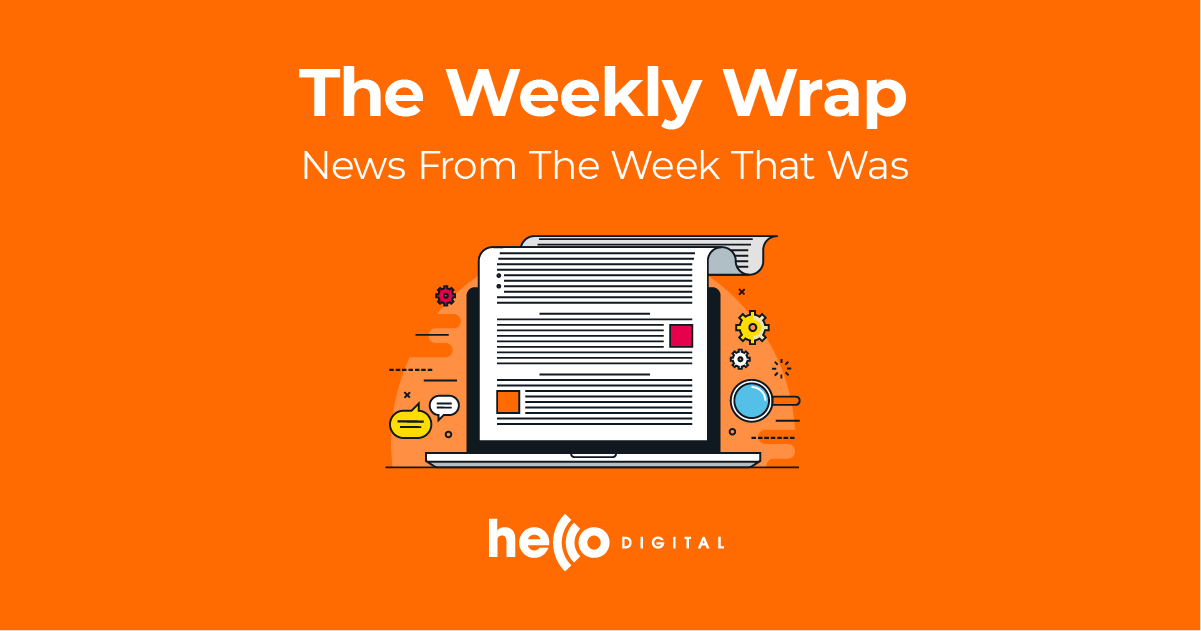 Hello Digital looks at the highlights from the week that was.
It's been an interesting week for the digital marketing industry, with Twitter introducing new functions for its ad formats, Facebook changing how it counts user profiles for ad purposes, and Instagram integrating Reels ad placements into its Marketing API. Join us as we unpack this, and more, in the latest instalment of The Weekly Wrap.
Twitter reveals new features for advertisers
Twitter has announced an update to its Carousel Ads format which will help marketers customise headlines and landing pages in order to drive the right actions for their audiences. This new format will provide more capacity to utilise different ad creative within a single campaign, and will also assist with targeting segmentation as each click highlights the specific elements of interest for each user. 
Beta-testing of this capability saw a 20% lift in click-through rates (CTRs) across all objectives compared to single-asset ads, along with a 25% increase in CTRs for campaigns optimised for site visit conversions versus single-asset ads. 
In addition, ads promoting mobile games and other apps will now allow users to commence the download process without leaving the Twitter app. The company has also confirmed that the next iteration of App Install ads will enable brands to run campaigns focused on finding users most likely to make in-app purchases.
On top of this, Twitter is looking to expand its ad inventory with a new placement option within the first few replies to a tweet, which you can read all about here. 
These additional features come as the platform pushes to grow its performance advertising business so that it can reach its goal of doubling annual revenue by 2023.
Facebook to start counting unconnected accounts separately
Facebook has revealed it is changing the way it counts profiles for ads in an effort to improve user privacy. The company previously used email addresses or phone IDs to link users' Facebook and Instagram accounts for ads planning and management. Now, it will only do this if users explicitly ask the company to do so, or if people use certain features which tie the two together, such as cross-posting to Instagram and Facebook at the same time. 
The company has stated that advertisers may experience increases in estimated audience size, but for most campaigns it will not have a substantial impact on reported reach.
There is the question of whether this will open Facebook up for future legal challenges since it is using less accurate measures. However, the company explains that this change is about respecting user choices around how their personal data is used for ads, and is consistent with evolving privacy and regulatory environments. 
In other recent Facebook privacy news, the company has spoken out on how its ad reporting tool has been affected by Apple's App Tracking Transparency policy, which you can read more about here in one of our previous Weekly Wraps. 
Instagram Reels ads can now be made via its Marketing API
Instagram is adding Reels ad placements into its Marketing API, which will enable approved third-party platforms to facilitate Reels ads creation within their digital ads flow. The company has confirmed that this new capability will be available on all current Marketing API versions, and does not require an upgrade. 
Earlier in the year, Instagram introduced ads to Reels so that brands could reach new customers on what is becoming the fastest growing surface on the app. But with the integration of Reels ad creation via API, businesses will be able to enhance their growth even easier just in time for the holiday period. 
Speaking of convenience, the company is currently testing a new feature that will notify users when the app is experiencing technical issues, meaning they won't need to wonder if it's an error on their end. 
The announcement was made after Facebook and its properties were hit with a six-hour outage last week due to a network configuration problem, which you can read more about here. 
Instagram will be running this test in the United States for the next few months as it wants to start small and then expand to more users if it makes sense to do so. 
Global tech groups seek changes to Australia's cyber laws
A group of industry bodies representing some of the world's largest tech companies, including Google, Microsoft, Intel, Twitter, Amazon, and Adobe, have written to Australia's Home Affairs Minister, Karen Andrews, with concerns about the federal government's proposed overhaul of cybersecurity laws. 
The bill would allow the government to give agencies such as the Australian Signals Directorate the ability to connect to the networks of companies that operate critical infrastructure in order to prevent major cyberattacks. It would also set a range of reporting obligations on those operators once they were hacked. 
Although the government states that the capability would only be used as a last resort, the industry bodies believe the bill gives authorities unprecedented powers which could impact the systems and customers of domestic and international entities, and should be subject to a statutorily prescribed mechanism for judicial review and oversight. They also think that the deadline to report an attack should be extended from "within 12 hours" to "at least 72 hours" or "without undue delay". 
Minister Andrews, however, has urged that "if we don't act now, we risk our cybersecurity falling further behind". 
Her statement comes as the Australian Digital Inclusion Index has shared its findings for 2021, revealing that millions of Australians are concerned about their cyber safety, with some even going so far as to limit their internet use. 
You can access the full findings here.