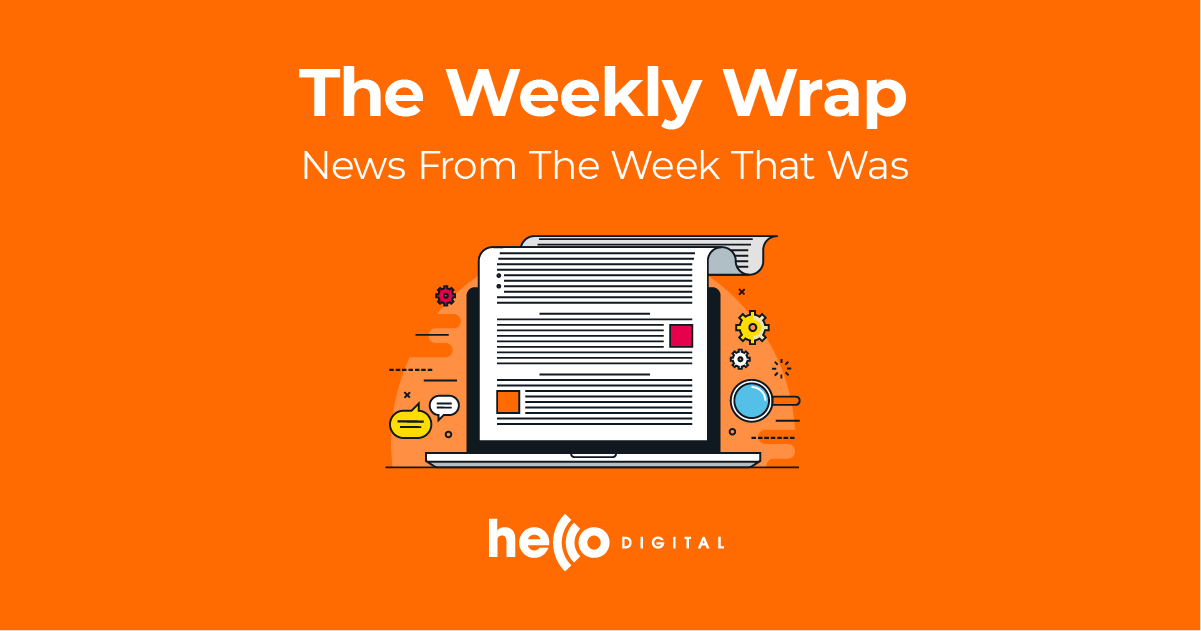 Hello Digital looks at the highlights from the week that was.
It has been another exciting week of updates in the digital world, with Facebook introducing its latest organic post testing feature, Google developing a new ad format for things to do, and Twitter expanding its tipping service to all users. Join us as we unpack this and more in The Weekly Wrap.
Facebook improves its post testing tool
After trialling an organic post testing option for videos last year, Facebook is now rolling out a new feature in Creator Studio that enables testing of different post formats, which will provide more opportunities for audience experiments.  
With this tool, advertisers can create several variations of an organic post, which will then be shown to a sample section of their audience to measure how they react. Based on the parameters advertisers set, Facebook will then give the best performing post further distribution beyond its initial test audience. 
It's important to note that while advertisers can compare image, link, and text posts against each other, video posts can only be tested on a like-for-like (i.e. video-for-video) basis. 
In other recent Facebook news, the company has spoken out on how its ad reporting tool has been affected by Apple's privacy change. 
For anyone who doesn't know, earlier this year, Apple launched its App Tracking Transparency policy, which requires users to choose whether an app can track their activity for the purposes of advertising or sharing with data brokers. As a result of low opt-in rates, Facebook has lost access to a wide range of data that previously powered part of its targeting engine.
To combat this, the company has been working on various estimation-based solutions that will provide modelled data on conversions to help paint a more accurate picture of ad results. 
These solutions are still in the early stages of development, so in the meantime, Facebook has put together some great recommendations for advertisers looking to maximise their performance in this new environment (which you can access here). 
Google creates new ad format to assist with business recovery
Google is introducing a new ad format, named Things To Do, that is designed to help users find attractions, tours, and activities within search result pages. These ads will show general information such as pricing, images, and reviews, as well as booking links for basic admission and other ticket options where available. 
Google has also simplified the creation process for Things To Do ads by removing the need to enter any campaign details. Instead, its system will automatically pull relevant data from the business' inventory feed to generate the ad groups, text ads, keywords, and site links. 
According to the company, this feature is in direct response to the increasing interest in travel, and to support the tourism industry's recovery from COVID-19.  
Speaking of updates to online ads, Google has also announced it will be expanding disclosures in its "About this Ad" product. As part of this change, users will be able to click to learn more about the advertiser, and access a menu where they can see all the ads they have run in the past 30 days on both Search and YouTube.
This is Google's latest attempt at revamping its ads business in the face of increased regulatory scrutiny, as well as a broader shift across the tech industry to ensure greater transparency and consumer privacy. 
The option is launching in the United States in the coming months, and will be expanding to more countries in 2022 so stay tuned for further information!
Twitter announces major change to its "Tip Jar"
Many Weekly Wraps ago (this one here to be exact), we looked at Twitter's new tipping service, which lets users send money to their favourite creators as a way of endorsing their content. The platform is now taking the next step with its monetization push, by opening up tipping to all users worldwide.
Twitter will also be adding GoFundMe and Bitcoin to its extensive list of payment options that can be used with the "Tip Jar" feature. Considering Twitter CEO Jack Dorsey's love for Bitcoin, this addition comes as no surprise, while it could also help encourage more people to engage with the service. 
However, the company's experiments thus far haven't exactly changed people's perception of the app. Just last week, it was reported that only .005% of Twitter's US user base have signed up for its Super Follows feature, which allows creators to charge their followers for access to extra content. This may come down to what creators are offering, but it also suggests there is a fairly strong resistance to paying for content in the app. 
Nevertheless, Twitter's tipping service is now available to all iOS users, and will be expanding to Android over the coming weeks. 
TikTok overtaken by weird brand logos
TikTok creator, Emily Zugay, has started a viral inside joke between users and corporations by recreating some of today's most recognisable logos. The new logos, which feature unappealing designs, misspelled names, and awful typography, have gained a lot of attention, with Zugay's first video receiving over two million likes in less than two weeks. 
Some of the big name brands involved, including Amazon, McDonalds, Nascar, Doritos, and TikTok itself, have even gone so far as to change their profile picture to Zugay's redesigns in an effort to show their sense of humour (and presumably get a few thousand more followers). 
While Zugay's dreadful logos are clearly a joke, it does demonstrate how TikTok is a great place for designers to share their work in order to grow their connections. 
If you're still not up to speed with the TikTok craze, you can read some more here about why brands should join the platform and how they can create successful videos.