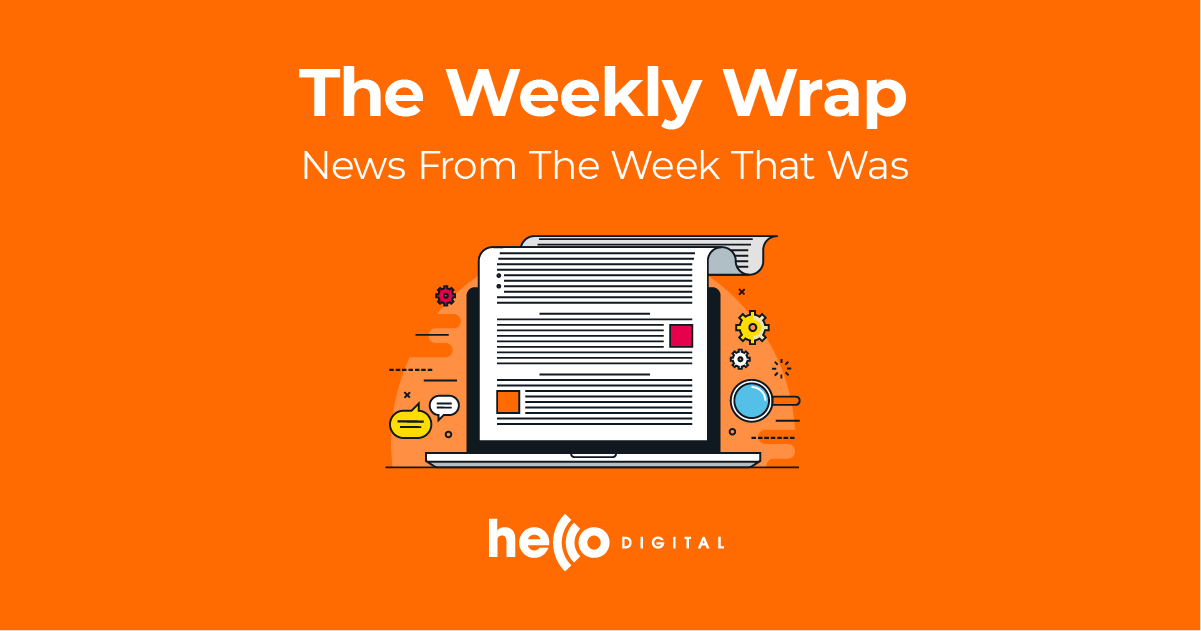 Hello Digital looks at the highlights from the week that was.
From Facebook announcing plans to reduce the spread of misinformation, Twitter developing a new donation service, and Reddit launching its own creative agency, it's been another big week in digital. Join us as we unpack this, and more, on the latest instalment of The Weekly Wrap. 
Facebook's plan for minimising misinformation
Facebook has begun to test out a new feature specifically designed to encourage users to read articles before they share them with others. Similar to Twitter, the platform will display a pop-up message to users which states that not opening an article may result in "missing key facts", especially with the headline often being sensationalised. 
While the option will remain for Facebook users to share the article regardless, the general idea is that they might reevaluate their initial motives for promoting inflammatory content. In the past year, the platform has struggled with preventing the spread of misinformation, particularly with sensitive topics such as the US presidential election and COVID-19. 
This update will only be seen by a small percentage of Facebook's global Android audience (6%); but given the platform has 1.8 billion daily active users (DAU), there should be close to 110 million participants. This is also not the first time Facebook has trialled these "read first" prompts. Last June, the company started showing messages to users before they shared content that was more than 90 days old in an attempt to reduce the number of posts that are taken out of their original context. 
Facebook's plan demonstrates their preference for a passive way of improving users' digital literacy; however it is unclear how effective this will be. You can read about how well it went for Twitter here. 
Twitter launches new tipping service
Twitter has introduced a "Tip Jar" feature which allows users to add a link to their preferred payment platform so that their followers can send them money as a way of endorsing their content. Tipping creators online has gained considerable traction in the last few years, with streaming sites such as Twitch and YouTube building in donation features, while other sites such as Instagram and TikTok are relying on creators to "drop their Cash Apps" in their bios. 
Although Twitter has allowed large publishing companies to make money through the ads shown in their videos, this is the first time the micro-blogging service has enabled regular users to monetise their content. 
Twitter has stated that they will not be taking a cut of the donations, as the main objective of the new feature is to attract entertaining and informative creators, and hopefully grow the platform's user base to 315 million by the end of 2023.
Unfortunately the "Tip Jar" is not available to all users yet – Twitter is currently allowing only a limited number of "creators, journalists, experts, and nonprofits" to receive tips. However, anyone using the platform in English on either iOS or Android will be able to give money to the eligible accounts. 
The donation feature is the latest in a string of recent offerings developed by Twitter, which you can read more about here in the last Weekly Wrap. 
Reddit introduces its own creative strategy agency
Reddit has launched its own in-house creative strategy agency, named KarmaLab, to assist businesses looking to use the social sharing website for promotions. Despite Reddit having a smaller user base than their competitors (52 million DAU), they host thousands of highly niche communities, therefore making it attractive to advertisers who want to reach people based on their specific interests. 
The agency will be led by Will Cady, Reddit's former Head of Creative Strategy, who assures they will not only help brands maximise their audience potential, but also keep up with the speed of culture by applying insights collected from their users. 
The announcement joins Reddit's growing ad offering, which consists of a variety of video options, including Trending Takeover whereby businesses can place themselves at the top of users' Search tab and Popular feed for 24 hours. 
It's also Reddit's next step in their plan to "clean up" the platform and provide a safer place for ads to be shown. Last year, the site removed hundreds of controversial communities as a result of their new rules around hate speech following the Black Lives Matter movement, which you can read more about here. 
Google publishes guide for navigating their fresh format 
Earlier this year, Google released a series of resources to promote the adoption of their new Web Stories format, which gives users the ability to "blend video, audio, images, animation, and text to create a dynamic consumption experience". This week, however, the company has taken an additional step and released a digital playbook that provides users with an in-depth guide on how to integrate Web Stories in order to achieve the best results possible. 
Web Stories are a very beneficial tool for businesses, as they can help reach new audiences via Google's Search and Discover pages, and also keep visitors on the site for longer so that they view more product and service offerings. In addition, the stories can be monetised in a range of ways, including affiliate links, sponsored content, and programmatic or directly sold ads. 
Although the playbook is over 100 pages long, each page only contains two paragraphs so be sure to have a read if you are interested in increasing your site's traffic, engagement and earnings!