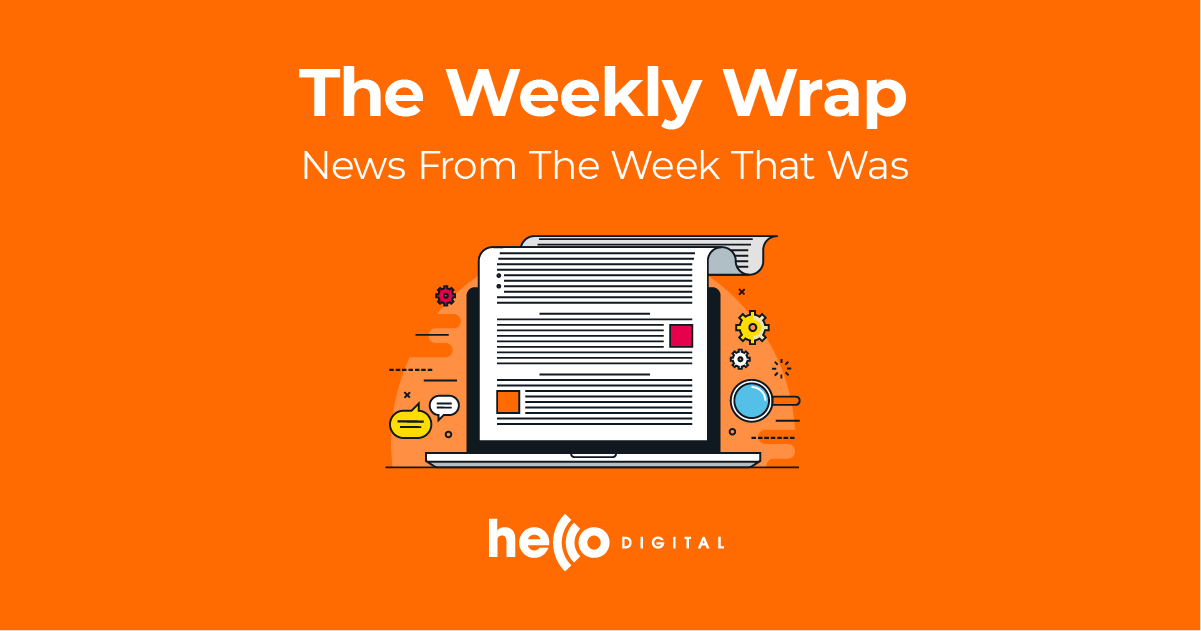 Hello Digital looks at the highlights from the week that was.
This week we were treated to many interesting updates from the digital world, including Twitter's impressive engagement numbers, Verizon's latest media property sale, and Google's secret to blocking spam. Join us for this and more in The Weekly Wrap.
Twitter users are tweeting like there's no tomorrow
Twitter's latest Letter to Shareholders reveals that the platform has now risen to 199 million monetizable daily active users (mDAU), 162 million of which are outside the United States. The social network attributes this 28% increase to their ongoing product improvements, as well as the continuous global conversation around current events such as COVID-19. 
One country that has seen considerable engagement growth is India; however, Twitter has faced some difficulties in regards to following Indian law whilst also defending free speech. Nevertheless, the platform has generated $480 million in international revenue for Q1, with total advertising revenue also rising to $899 million. 
This result may decrease with the integration of Apple's App Tracking Transparency, which you can read all about here in the last Weekly Wrap; however, Twitter is confident that they have sufficiently prepared with the adoption of Apple's SKAd Network. 
Additionally, Twitter has been developing new offerings, such as live-audio spaces and paid 'Super Follows', in order to keep users engaged and provide financial incentive for creators. The platform is also trialling professional profiles, which will allow those who use Twitter for work to display important information about their business on their main profile frame. 
You can read more about Twitter's recent performance and their planned updates here.
Verizon makes a big loss on its media group sale
Verizon has sold off their media group properties, which includes AOL and Yahoo, to Apollo Global Management for $5 billion. The network operator will not be seeing any profits from this, having acquired the properties several years ago for $4.4. and $4.5 billion respectively. However, Verizon experienced strong revenue growth in Q4 last year, which has continued into 2021. So the question is, why are they selling these popular sites now?
It may be because Verizon isn't interested in the media business anymore, having also sold off their other properties, Tumblr and HuffPost, a few years ago. The company has instead shown an interest in combining their telecommunication services with media content that they do not own, such as Disney+ and Apple Music. 
Although we do not know what Apollo's specific plans are for their new acquisitions, we do know that this week Yahoo Answers was shut down forever. Unfortunately, this means that if you are reading this, it is now too late to download any of your Yahoo Answers data. 
While the platform launched back in 2005 with the intent of helping users find answers to their mundane or even philosophical questions, it has since become a place of conspiracy-fuelled discussions, which has proven too difficult for Yahoo staff to moderate. 
Google reveals their secret for fighting spam
Earlier this week Google announced that they have been using artificial intelligence (AI) to help catch both known and new spam trends. Google built the tools during the pandemic last year to ensure sensitive searches, such as finding COVID testing clinics, did not lead to spam that would direct you to phishing sites. Since its integration, the tools have detected over 40 billion pages of spam each day and subsequently blocked them from appearing in users' search results.
For those wondering how it all works, Google has developed automated systems which are aided by AI, and their purpose is to "crawl" through text and non-text content to determine whether pages should be included in the search index. 
The AI-based approach seems to be working well, with Google estimating that the systems keep 99% of search visits completely spam-free. It also allows Google's manual action spam team to concentrate on more complex forms of spam, such as the Japanese keyword hack. This hack creates new pages of auto-generated Japanese text that links to sites selling fake merchandise, and also gives the hacker control of users' Google Search Console account. 
In other Google news, the company recently announced that they will be making changes to how bid strategies are organised for search campaigns, which you can read about here on the last Weekly Wrap. 
New open cloud security framework backed by tech's top players
Each of the big cloud providers have their own methods for transferring private data to logging and security platforms; however, a new working group is trying to develop a more open and standard way of delivering this information. 
The Cloud Security Notification Framework (CSNF), which includes Microsoft, Google, and IBM, will aim to provide companies with the same type of alerts they receive in the data center to track security notifications in the cloud. The way that CSNF hopes to achieve this is through open dialogue between the cloud vendors and the companies who are involved in the group. 
Although they have managed to attract some of the major cloud vendors and consumers, they are still missing Amazon Web Services (AWS); the largest player in the market by far. A representative from CSNF says they would like AWS to join the group eventually, but until then they are focused on ensuring "everyone feels good about what they're doing."
The testing phase is projected to be complete by October so watch this space for more information!