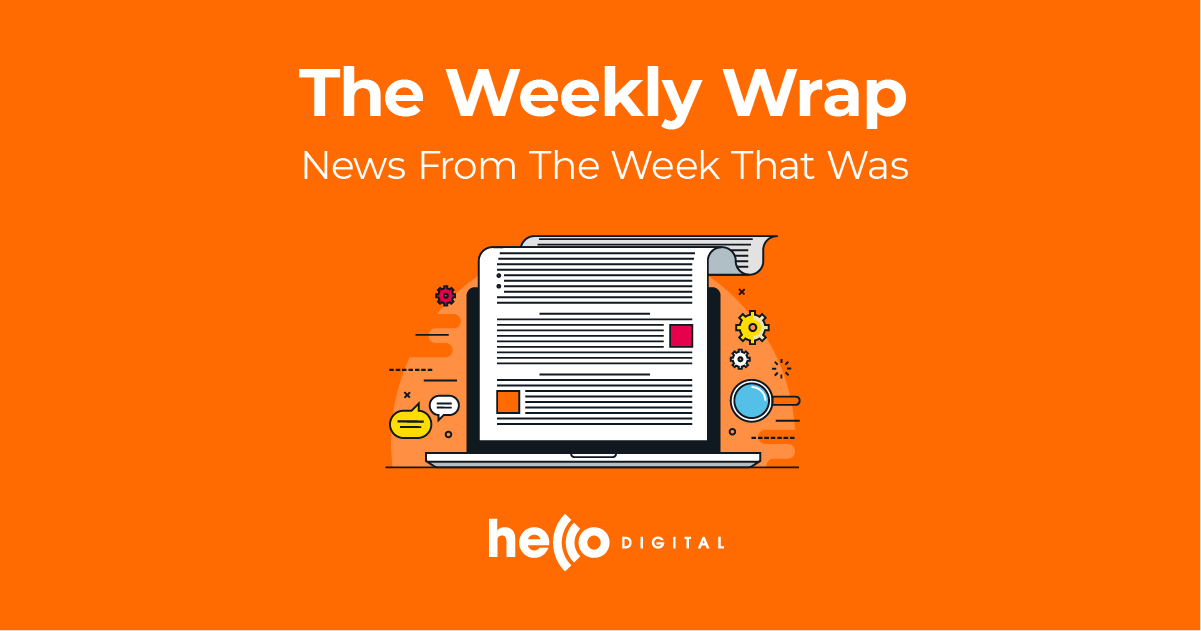 Hello Digital looks at the highlights from the week that was.
It's been a rollercoaster of a week, with Facebook suffering a six-hour outage which cost the company $60 million in revenue, Instagram creating a new video format to help streamline the user experience, and YouTube helping brands drive more online sales by expanding video action campaigns to connected TVs. Join us as we unpack this and more in The Weekly Wrap.
Facebook's world comes crashing down
Facebook is back online after a six-hour outage that prevented 3.5 billion users from accessing its services. It was the most significant disruption for the company since the 2019 incident in which a server configuration change took its site offline for more than 24 hours. 
Thankfully the shutdown didn't have any malicious origins; instead, it was caused by a routine Border Gateway Protocol (BGP) update that accidentally removed the Domain Name System (DNS) routing information, which Facebook needs in order for other networks to find its sites. 
Facebook was essentially wiped from the web, and because of how the internet is structured, the route withdrawals also took out WhatsApp, Instagram, Messenger, and everything inside its digital walls. This included its security and communications system, meaning employees were unable to get into their offices, as well as send messages to one another. 
The company eventually dispatched a team to its Santa Clara data center to "manually reset" its servers; however, the six hours of downtime did plenty of damage. Facebook saw its shares drop around 5% below its opening price, and the company also incurred a loss of roughly $60 million in revenue. 
Although the platform is up and running again, the full recovery may stretch into the weekend, as DNS records can take several days to officially propagate. Facebook is also currently in the midst of its biggest PR crisis to date following new whistleblower allegations, which you can read all about here.
Instagram retires its IGTV brand
Instagram has announced that it is combining IGTV videos and main feed videos into a new format called "Instagram Video", which will live on a separate tab on users' profiles for a more streamlined experience.
IGTV was introduced in 2018 with the intention that it would become a simpler alternative to YouTube; but instead, it resulted in a lot of clutter and confusion (not to mention its standalone app had very low download numbers). 
The redesign now enables users to tap anywhere on a video to enter full-screen viewing mode, where they can then keep scrolling to discover more video content from creators that might interest them. This function will be especially beneficial for those looking to maximise engagement with their in-stream previews.  
It's important to note that the platform's Reels feature will not be impacted by this change. 
Instagram is also adding new trimming tools and filters for all video clips, as well as location tagging (which was previously unavailable for IGTV). 
In other recent Instagram news, the company appears to be working on integrating likes into its Stories feature so that users can engage with posts without having to clog up creators' inbox with reactions. Live testing has not yet begun so stay tuned for more details!
YouTube introduces shoppable CTV ads
YouTube will be expanding its video action campaigns to connected television (CTV) platforms in order to make ads more shoppable.
In early experiments for these campaigns on TV screens, researchers found that over 90% of conversions would not have been reachable on mobile or desktop devices. Data also shows that when deciding how to stream, connected TV platforms top the list of preferred devices for Australians. 
With this new capability, users will be invited through a URL at the bottom of their TV screen to continue shopping on the brand's website from their mobile or desktop device. All of this will be done without disrupting users' YouTube viewing sessions.  
Additionally, advertisers will be able to measure the impact of their video campaigns in real-time through Google's Conversion Lift tool, which offers information on website visits, sign-ups, and purchases. 
The company has also added new analytics to its YouTube Studio, which you can read more about here in one of our previous Weekly Wraps.
Google trials new SERP features
Google has shared that it is experimenting with a new side panel, which will allow users to see search results while on a website, without having to return back to the main page. The goal is to make it easier for users to compare search results, as well as switch between competing sites. 
This addition may be advantageous for sites that are ranked below the number one position, as it could help spread search traffic around. Whether it will lead to less time spent on sites remains to be seen since there is limited data about its effect on user behaviour. 
Nevertheless, the company will also be testing out a function called Google Journeys, which will collect all the pages users have visited related to a topic so that they can view them again, without needing to sift through their browsing history. 
This will only be available in Canary; Google's experimental version of its Chrome browser, however, this might change in the future, with Journeys possibly becoming something similar to auto-bookmarks. 
The main takeaway from both tests is that Google is moving towards a more persistent style of search experience that makes SERPs visible longer and accessible even when a user is on a separate site.