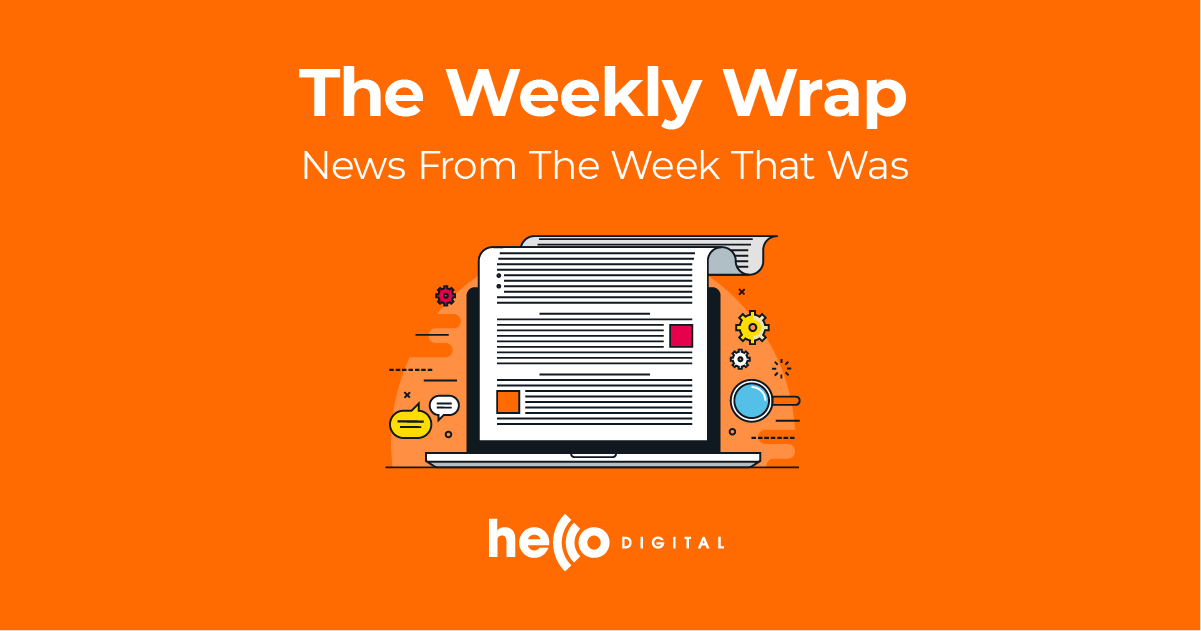 Hello Digital looks at the highlights from the week that was.
This week we were treated to some interesting updates from the digital world, including Google's latest spam fighting update, Microsoft's drop in revenue thanks to a shortage of computer chips, and YouTube's record quarterly growth. Join us as we unpack this and more in The Weekly Wrap.
Google releases its new spam algorithm update
Google has begun to roll out its latest algorithm update which it believes will be even more effective at detecting and nullifying link spamming across multiple languages. This type of spamming involves adding backlinks to a page, regardless of context or user experience, in an attempt to increase a website's SERP position.  
Sites engaging in these link schemes will see significant changes to their rankings over the next two weeks as spam links are re-assessed by Google's algorithms. 
The company has encouraged site owners to follow its advice on how to qualify sponsored, guest, and affiliate links appropriately (which you can access here.) Google's Senior Search Quality Analyst, Duy Nguyen, recommends that businesses focus on developing fresh and engaging content, as this always wins out compared to manipulating links. 
In other recent Google news, the company will soon be launching a strike-based system to enforce against advertisers who repeatedly violate Google Ads policies. 
From September 21st, ad accounts that promote dishonest behaviour, dangerous products or services, or unapproved substances will receive a warning from Google and will have the relevant ads removed. After that, the penalties will become stricter with each breach made within 90 days, leading up to account suspension after the third strike. 
The company's record with incorrectly flagging ads, however, has digital marketers worried that false positives on this new system will carry greater ramifications. Part of this includes the extra time that account managers will have to spend communicating with Google Ads representatives to ensure false flags do not result in permanent suspension.  
While it is presumed that Google will improve its detection systems to minimise incorrectly flagged ads, marketers should be extra vigilant when it comes to using display ad wording that could somehow be construed as a violation of these policies.
Microsoft sees weaker profits due to chip shortage
Microsoft has published the fourth quarter of its 2021 financial results, reporting revenue of $46.2 billion and a net income of $16.5 billion (an increase of 21% and 47% respectively). This growth can be attributed to the shift to remote working and learning due to the COVID-19 pandemic, which has enhanced consumers' appetite for cloud-based computing. 
While cloud and Office services have boosted earnings for Microsoft, there have been some recent signs that product sales are starting to slow amid a global chip shortage.
According to Microsoft's Chief Financial Officer, Amy Hood, OEM revenue has declined by 3% and Surface revenue has declined by 20%, in what the company blames on "supply chain constraints". This problem also comes as Microsoft is attempting to push its latest operating system, Windows 11, to consumers; however, difficulties in buying new devices is unlikely to encourage users to swap over, along with its controversial hardware restrictions. 
In addition, the global chip shortage appears to be contributing to Microsoft's drop in Xbox content and services revenue (-4%), as lower console sales are leading to weaker third-party title sales.  
You can read more about Microsoft's recent financial performance here.
YouTube achieves record result 
YouTube's successful run during the pandemic has continued through the second quarter, with Alphabet (its parent company) revealing that the streaming platform has brought in $7 billion in advertising revenue. This result represents an 84% year-over-year increase, which not only surpasses predictions made by Wall Street analysts, but also sets a new quarterly record for the platform. 
Although YouTube is largely consumed via users' phones, computers, and tablets, Alphabet has reported a massive growth over the past year in people watching on television sets. 
The company has disclosed that 120 million users watched YouTube on their TVs last month, which is up from 100 million per month last year. This is a strong indicator that the platform is invading Netflix (209 million subscribers) and Disney+'s (103.6 million subscribers) territory in the living room.
Consequently, advertisers are turning to YouTube to run campaigns that will reach a larger audience, which has also been made easier with the platform's new Connected TV tools. 
However, Youtube recently announced that it will no longer be accepting ads relating to alcohol, politics, gambling, or prescription drugs for its coveted masthead unit, which you can read more about here in one of our previous Weekly Wraps.
Facebook experiences drop in daily active users
Facebook has posted its latest earnings results, which show that the number of daily active users (DAU) has stalled in the United States, after declining in the second quarter last year, and is also now receding in Europe. The platform earns significantly more from these large markets, so a reduction in engagement does pose a serious threat to the company's financial position. 
The lower number of DAU may be linked to the amount of misinformation and hate speech that is spread on Facebook, which the platform has tried to minimise by enforcing tougher penalties.
Nevertheless, Facebook's broader presence continues to grow with an additional 28 million users joining the platform in the last quarter, meaning its business potential is also on the rise. In just a few months, the company has achieved $28.6 billion in ad revenue, which can be attributed to a 47% increase in the average price per ad, as well as a 6% increase in the number of ads delivered. 
In addition, the platform has been working on its e-commerce capabilities in order to bring more revenue to the company and make its ad inventory more valuable. 
You can learn more about Facebook's plan of action moving forward here.