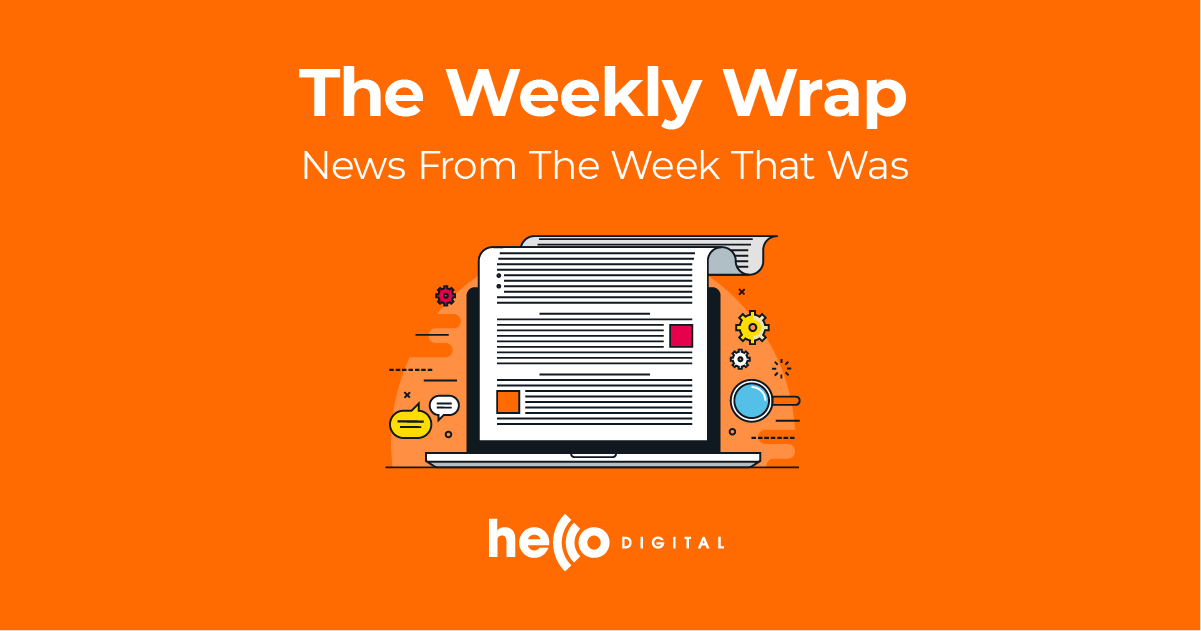 Hello Digital looks at the highlights from the week that was.
This week we received some interesting news from the digital world, including the roll-out of Google's latest algorithm update, the removal of certain ads from YouTube's masthead slot, and the upcoming sale of the original web browser as an NFT. Join us as we unpack this and more in The Weekly Wrap. 
Google begins roll-out of long-awaited update  
Google has released its Page Experience update which uses a combination of performance metrics to determine where sites should be positioned in the Search results page. The new algorithm was first announced last year, but was postponed in April in order to give owners more time to prepare their sites. While it is here now, the company has stated that the roll- out will be gradual, and won't take full effect until this August. 
The update will see Google's Core Web Vitals; including page load time, visual stability, and interactivity, become more influential factors in achieving a "good" user experience score. It will also use existing Search signals such as mobile-friendliness, safe-browsing, HTTPS, and interstitial pop-ups as part of the scoring process.
The company has explained that page experience is just one of the many (208 to be exact) elements that the system takes into account when ranking websites, and therefore owners should not expect any drastic changes as a result of the update. 
Google has also affirmed that great page experience does not outweigh having great page content; however when sites are similar in relevance, users' perceptions of interacting with a web page can be much more important for visibility in Search results. 
Additionally, it is important to note that this update is unrelated to the June core algorithm update, which you can read more about here in one of our previous Weekly Wraps. 
YouTube bans specific ads from its prime spot
YouTube has announced that it will no longer be accepting ads relating to alcohol, politics, gambling, or prescription drugs for its coveted masthead unit. This ad slot is one of the first things users see when they open the YouTube site or app, and consequently has the power to reach a massive audience and build strong brand awareness. 
The video streaming platform started to police the masthead spot during last year's United States presidential election after Trump's team bought numerous full-day ad takeovers for his campaign. After the incident, YouTube stopped time-based reservations of the ad space and instead began to sell placements on a cost-per-thousand-impressions (CPM) basis. 
The only explanation that Google, YouTube's parent company, has offered for its decision is that banning harmful content will help "lead to a better experience for users". However, the move has been labelled 'inconsistent' by some marketers as ads for sugary drinks and fast food are still permitted. Google's ad business has also come under recent scrutiny from the US Department of Justice, who believe that antitrust enforcement against the tech giant is long overdue.
While YouTube's masthead content requirements are more restrictive than other sites, ads disapproved to run on the platform may still be seen on other Google owned and operated properties.  
World Wide Web goes up for sale as an NFT
Sir Tim Berners-Lee, the inventor of the World Wide Web, is auctioning off the source code to the original browser as an non-fungible token (NFT). NFTs are a form of crypto-currency that represents the ownership of a digital asset, and are stored on a blockchain where they cannot be removed or destroyed. An NFT can either be one of a kind, such as a piece of art, or one copy of many, like a trading card. 
In this instance, the NFT will include the 1990 source code, a video of the code being typed out, a letter by Berners-Lee, and a digital poster of the full 9,000 lines of code. Even though Berners-Lee has confirmed he will be donating the winning bid, this is the first time he will be profiting off of his creation as he made the decision 31 years ago to not patent or charge for his idea.
Whoever ends up the lucky winner may have some trouble running the first version of the web as there are very few sites that will work with it. However, if you would like to see what the original browser looked like, CERN has developed a replica (which you can access here). For those interested in acquiring the NFT, the auction will be running from the 23rd to the 30th of June, with bidding starting at $1,000. 
Instagram officially launches ads on Reels
Instagram has introduced ads to its short-form video feature and TikTok rival, Reels. The full-screen, looping ads will be up to 30 seconds long, and will appear in the Reels feed among those posted by personal and business accounts (the only difference will be that there is a "sponsored" tag below the profile name). Although the platform tested the format in a few countries earlier this year, it will now be available to advertisers worldwide. 
Instagram has not specified how often users may see a Reels ad, noting that it will likely be based on how often they use the app. Similar to Instagram's other advertising features, the Reels ads will launch with an auction bidding system; however, the company has declined to share any metrics on how ads on that model are currently performing.
Head of Instagram, Adam Mosseri, has revealed that while the Reels format is growing, the team is not completely happy with it, and so they have decided to integrate ads as a way of generating revenue. Some users believe that in order to make Reels a popular destination, the company needs to fund creator content directly like how TikTok does. 
TikTok has also been in the news recently for its climbing ad prices, which is said to now be at $1.4 million for a homepage takeover.