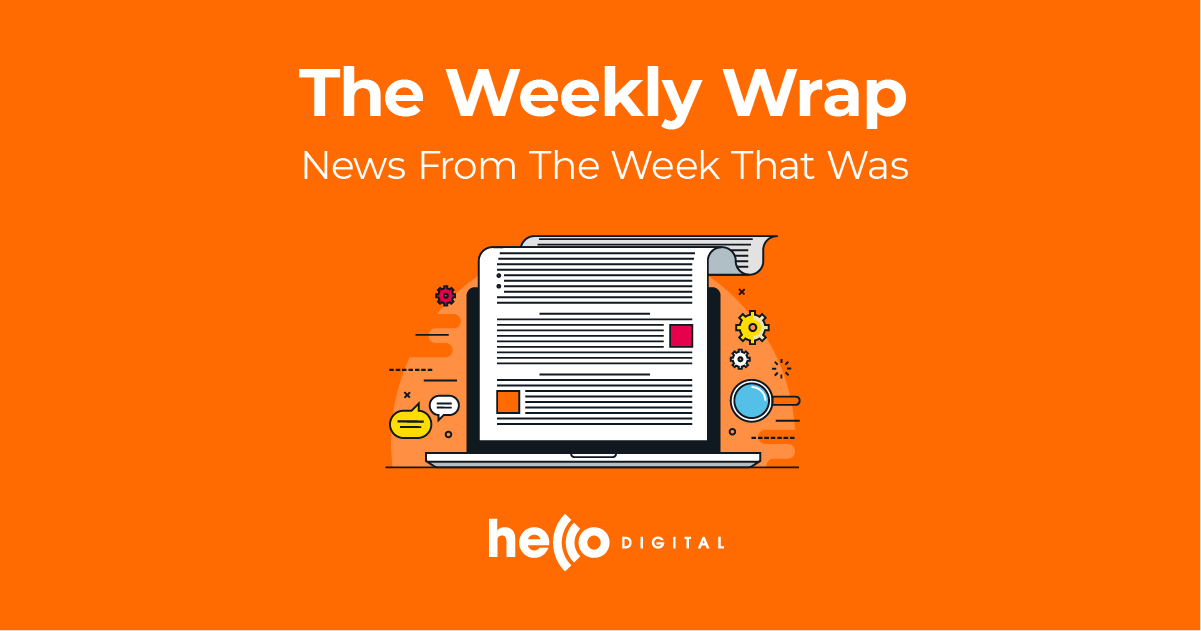 Hello Digital looks at the highlights from the week that was.
It's been a big week of updates in the digital world, with Google releasing a new algorithm for determining page rankings, Instagram introducing more capabilities to its branded content tools, and YouTube refining its analytics metrics for creators. Join us as we unpack this and more in The Weekly Wrap. 
Google's latest broad core update is here 
Google has released its June 2021 core algorithm update which aims to reassess the quality of pages currently ranking on the search engine. While the update was originally intended to include more improvements, the company was unable to arrange everything in time, so there will also be a follow-up release in July. Google typically makes changes to their search algorithms and systems several times a year; however, it is extremely rare for the company to roll out separate updates so close together.  
Nevertheless, this update will be released worldwide, impacting all languages and will take about two weeks to be fully implemented. During this time, some site owners may see that their pages' rankings have dropped. If this happens to be you, don't panic – Google assures that it does not mean there is an issue with your site. It is actually just a change in how the system assesses content, meaning that pages which were previously under-rewarded may be moved up in the rankings. 
One way in which the company suggests owners recover their site's position is by ensuring that they are offering quality content. In addition, Google has provided a list of questions to consider if your site has been hit by a core update (which you can access here). 
The tech company has also recently announced that it will be introducing a new algorithm called MUM to help with complicated search queries, which you can read more about here in one of our previous Weekly Wraps. 
Instagram upgrades its Branded Content tools
Instagram has introduced several additions to its Branded Content tools that are designed to increase transparency and consistency in the post creation process. With approximately 90% of Instagram users following at least one brand profile, the social networking service is continually improving how businesses can maximise their messaging. 
For starters, Instagram will allow creators to tag a maximum of two brands in a single piece of Branded Content, which will expand the capacity for tie-in promotions. The platform will also enable creators to post content prior to obtaining brand approval; however, it will only display the 'Paid Partnership' label once it is accepted. This means that creators won't have to experience long turnaround times from business partners, which can be make-or-break in terms of timely engagement and trends.
Lastly, Instagram is offering brands more access to content insights, with Reels and IG Live response data to be made available to business partners. This will help brands measure the success of their co-promotions in relation to its reach and engagement. 
Instagram has confirmed that the additions will be available to use in the coming weeks so make sure you keep an eye out for changes to your business profile's post settings. 
YouTube creates new analytics options 
YouTube has added a range of analytics tools to give its creators a more detailed picture of how users engage with their channel's content. Membership metrics will now show which videos helped a creator's channel gain or lose more members than usual. It is important to note that members are not the same as subscribers, as they join channels through regular payments and in return, receive exclusive perks. 
In addition, the platform will notify creators when their channel's revenue goes up or down due to its audience moving to a higher or lower CPM country. This is beneficial for creators to know as it reassures them that a decline in revenue may not be caused by them making worse content.
Finally, YouTube has designed a new post engagement metrics display, which shows votes and likes on the channel's top posts over the last 28 days. While these options appear to be mostly tweaks to the existing tools, they provide more specific context on YouTube channel performance, and how creators can align their strategy with key shifts. 
Australia and New Zealand lead the way for cloud adoption 
According to the Infosys Cloud Radar 2021 report, Australia and New Zealand are ranked #1 in the world for moving its IT systems to the cloud. The regions also share this title with the United States; however, future projections show other countries will soon overtake the two by using more aggressive adoption strategies. 
Regardless, the report implies that Australian and New Zealand enterprises are performing well in terms of harnessing cloud computing to deploy and scale new applications quickly. Another key insight from the Infosys report is that there is a strong link between the use of cloud technology to develop solutions and business profit growth. 
Cloud-fuelled profit boosts can be attained by companies in any region or sector but it only kicks in when they have shifted at least 60% of their systems to the online server. The main takeaway from the report is that in order for enterprises to remain competitive in a rapidly changing digital environment, they must integrate cloud computing into a large portion of their operating activities.