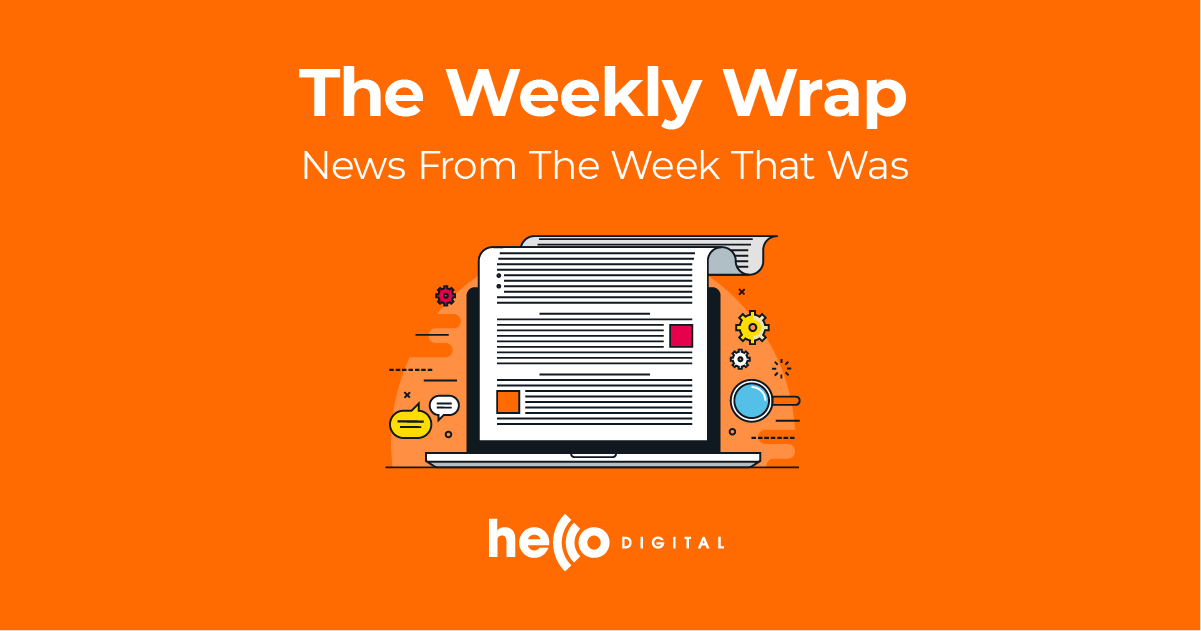 Hello Digital looks at the highlights from the week that was.
This past week we have seen a wide range of digital news, including Google removing a number of data stealing apps from its store, Facebook revealing its plan for the platform moving forward, and Instagram reportedly working to create its own NFT marketplace. Join us as we unpack this, and more, in the latest instalment of The Weekly Wrap.
Google pulls several dangerous apps from its Play Store
Google has rushed to remove a number of Android apps from its Play Store after they were discovered to be secretly stealing users' Facebook login credentials. The apps provided fully functioning services ranging from photo editing to horoscopes, and had been downloaded more than 5.8 million times collectively. 
However, they were not as innocent as they appeared – the apps sneakily offered to disable ads if users logged in with their Facebook account. Although a legitimate sign-in page was shown, the cybercriminals used a JavaScript to send the private details to their command-and-control (C&C) server where they were then able to hijack users' accounts. 
A spokesperson from Google has confirmed that the deceitful developers are banned from submitting any new apps to its Play Store; but some argue that this is an ineffective barrier as they can still sign up under a different name for just $25. 
Nevertheless, security experts suggest that users only download apps from trusted sources and also read numerous reviews as part of their decision-making process. In addition, users should continue to be wary of any app that asks for their social media account information until there are more rigorous safeguards in place.
Facebook announces its plan of action moving forward
Facebook's Vice President of Ads and Business Products, Dan Levy, has shared an overview of the main areas that the company is looking to maximise as it continues to adapt to new trends and challenges. 
Firstly, Facebook is changing how advertisers can track events and conversions in response to Apple's App Tracking Transparency update, which you can read more about here in one of our previous Weekly Wraps. The three adjustments are fairly technical but will ultimately help marketers see more accurate results tracking for their spend, which they can then use to guide their campaign decisions. 
E-commerce is another big focus for Facebook, with the company recently adding to its in-stream purchasing features so that it aligns with users' current online shopping habits. The platform will also be testing various new browsing experiences, such as letting users tap on topics they are interested in underneath posts or ads in their News Feed in order to explore related content from brands. Additionally, Facebook will be trialling a "Threads" option that allows users to attach additional posts to an original, which will be beneficial for businesses that are making announcements or holding live shopping events. 
Levy has indicated that the company will also be working to improve its business management tools and processes, as well as introducing new functionalities on Messenger and Facebook Jobs (so stay tuned for more updates!). 
Instagram jumps on the NFT bandwagon 
During Instagram's 'Creator Week' event last month, CEO Adam Mosseri hinted that the platform was looking for new ways it could support creators, whether that be through tips, subscriptions, gated material, or other user-paying goods. Now, a Silicon Valley insider has revealed that the company is developing a marketplace for artists to sell their non-fungible tokens (NFTs). 
While there is limited information about the feature, we do know that Instagram plans on labelling posts as "Collectibles" to indicate to users that there is an embedded NFT in them that is available for purchase. 
The company's decision to incorporate NFTs comes amid the news that other leading social media platforms will soon be introducing large-scale monetisation updates. Twitter, for example, is currently working to integrate Chipper Cash and Wealthsimple services into its Tip Jar donation tool, which you can read more about here. 
The market for NFT artwork has also flourished this year, with sales in excess of $2.5 billion – a massive increase from the $14 million that was seen in the first half of 2020. If this monetisation capability is added to a platform of Instagram's size, we can expect that the NFT industry will experience even higher levels of growth. 
Twitter once again asking for user feedback 
In the last Weekly Wrap (which you can access here), we discussed how Twitter has shared the designs for three new features that it is considering for its platform, and how they may be implemented if they receive the green flag from the public. It appears that this week is a continuation of that, with the company revealing four more ideas that it is willing to test out. 
The first concept involves reminding users of the security status of their account, as well as giving them the option to easily change who can view their tweets. This will be helpful for users with protected accounts who want to make their tweets publicly visible so that they can reply to non-followers.  
The next feature would let users switch accounts from Twitter's main composition window, which will be convenient for users operating multiple business or personal accounts.  
The third concept involves periodically checking in with users to see if they are satisfied with their current discoverability and conversation settings, and if not, they will be able to adjust them without having to visit the drop-down menu. 
The final idea relates to creating a system which notifies users if people search for their name so that they are more aware of when and how they are being found.
Just like the last time, there is no guarantee that these functions will be implemented, but the company hopes that the feedback it receives from users will be valuable for whatever it decides to build in the future.