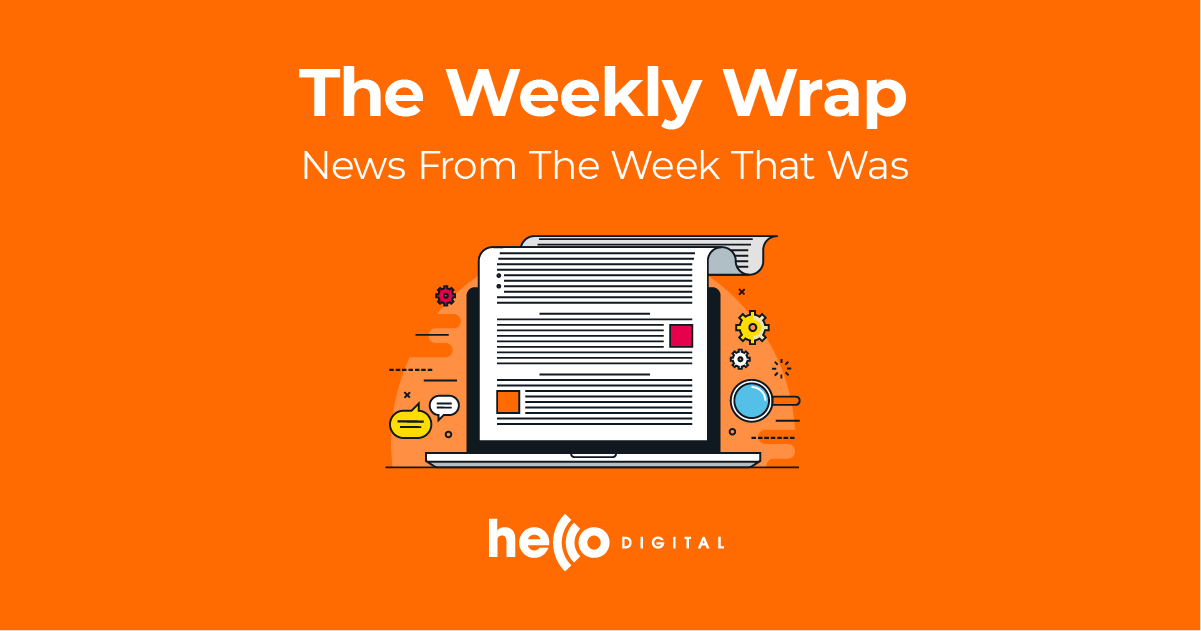 Hello Digital looks at the highlights from the week that was.
This past week we have seen a wide range of digital news, from LinkedIn developing a "boost" feature for organic posts to Twitter hinting at plans for a premium subscription service. Join us for this, and more, in the latest instalment of The Weekly Wrap.
LinkedIn creates 'Boost' button for organic posts
Have you ever posted an organic update to your brand's LinkedIn page that has generated some exciting reactions, and then wanted to capitalise on this without having to develop a new ad? Well now you can! Similar to Facebook, LinkedIn has designed a feature that gives users the ability to "boost" their most appealing content in order to increase their audience reach.  
Users will also be able to choose whether their objective is to enhance engagement, brand awareness, video views, or website visits. They can then pick a target group based on users' job functions or professional interests, as well as determine a budget and schedule to limit the duration of the boosted post.
While it is already possible to transition an organic post into a paid ad, it involves the use of LinkedIn's Campaign Manager tool which requires significantly more steps and expertise – whereas the 'Boost' button enables brands to reach a broader audience in just a few quick clicks. For those looking for more tips and strategies, LinkedIn has released a simple guide to boosting, which you can access here. 
The company has also created a new Event Ads option to help brands promote their virtual events by highlighting key details and allowing users to view whether mutual connections have expressed interest in attending. 
As we discussed in the last Weekly Wrap, many networking platforms have been striving to refine their virtual event features over the past year in response to the COVID-19 pandemic. LinkedIn has experienced a 400% growth in the usage of its live stream tool and as a result, are building a custom broadcasting process that will enable its users to stream via a range of third-party video platforms. 
Twitter's premium service plans
Twitter has hinted that it will be introducing a new subscription service that presents users with an exclusive set of features in exchange for a small monthly fee. This new offering will be different to the platform's previously announced Super Follow subscription plans, which allows creators to charge their followers for access to extra content. Instead, the service will target those users who tweet frequently enough that they would pay to do even more. 
But why has the platform decided to incorporate subscriptions? Well, although Twitter ads account for 86% of its revenue, the micro-blogging service often experiences slowing or flat user growth. This means that the company needs to find fresh ways to secure money from its existing user base. 
Twitter has already conducted a large amount of preliminary research on what features its users would be interested in – unsurprisingly, an undo option is among those most wanted, as well as an ad-free reading experience. 
While we do not yet know when the service will officially begin rolling out, a representative has confirmed that the testing phase will commence "over the course of this year". But the real question is whether users will choose to subscribe or continue with the free version.  
Earlier in the month Twitter launched a "Tip Jar" feature that allows users to send money to their favourite creators as a way of endorsing their content, which you can read more about here in one of our previous Weekly Wraps. 
Instagram trials product showcase option
This week Instagram released its new 'Drops' function, which highlights the latest product launches from brands that users have engaged with. Named after the popular e-commerce trend, 'Drops' will have their own destination at the top of the app's Shop tab where users can browse and buy newly released products, as well as sign up to receive reminders about upcoming collections they are interested in. 
This tool will not only help brands create hype and conversation around their launches, but also make the shopping experience easier for customers. Shoppers can buy directly via the app itself without having to visit third-party sites; however, this model will eventually allow Instagram to collect fees on purchases. 
Nevertheless, the move will assist the platform in gaining more ground in online shopping, especially against new competitors such as TikTok who are aiming to handle $185 billion of e-commerce transactions by 2022. 
While the feature is only available to US users, it won't be long until it is released to the rest of the world so make sure you keep an eye on the app store for any new updates. 
Microsoft announces program for managing marketing channels
Microsoft has developed a single management solution for multi-channel advertising and social media, named Unified Smart. The tool will allow marketers to create organic or paid posts for Instagram, Facebook, Twitter, and LinkedIn, and then schedule them either all at once or separately. 
Along with regularly updated reports, users will be able to view engagement insights such as likes, comments, shares, retweets, and more on just one dashboard. 
The program is still in its pilot launch so it is unclear when it will be available for everyone to try. But we do know that there will be no fee or commission to use Unified Smart since marketers will only be required to pay for their ad spend. 
Microsoft also recently shared some big news that its browser, Internet Explorer, will be shutting down permanently in June 2022, which you can read more about here in the last Weekly Wrap.