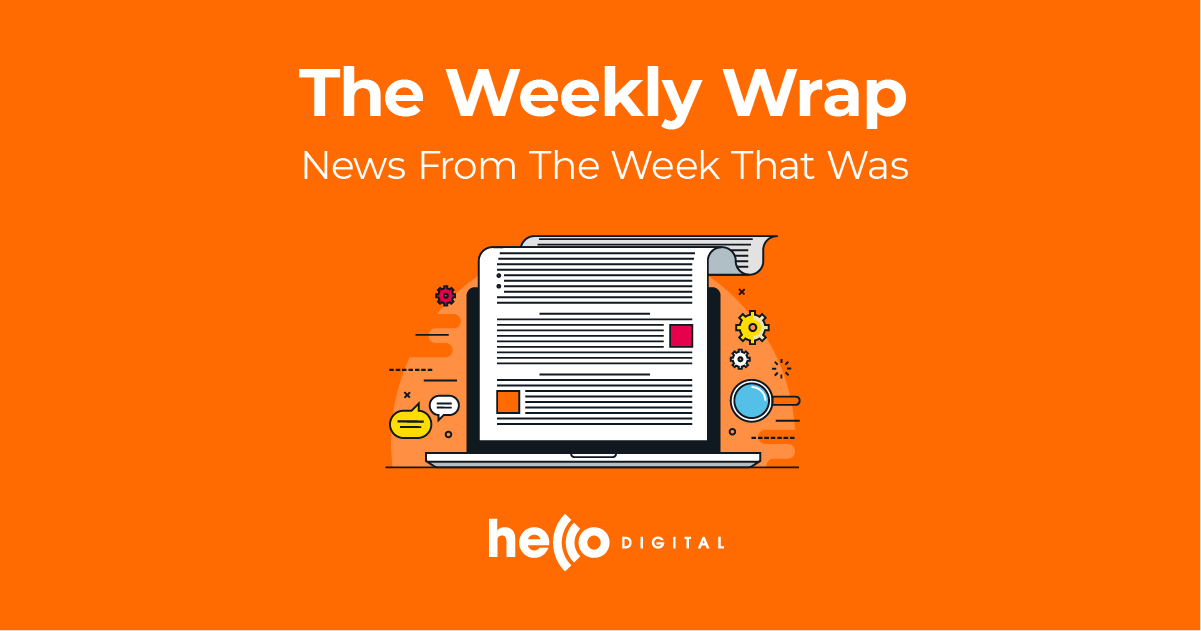 Hello Digital looks at the highlights from the week that was.
This week has been filled with important digital marketing updates, including Instagram introducing a paid subscription service, TikTok redesigning how Stories are shown on the app, and Meta diving into the NFT craze. Join us as we unpack this, and more, in the latest instalment of The Weekly Wrap.
Instagram begins live test of fan subscriptions 
Instagram is trialling a new Subscriptions option for creators that will allow them to develop a more personal connection with their most engaged followers, as well as boost their recurring monthly income. At launch, only 10 U.S. creators have gained access to the feature, as the platform considers this an "alpha test" meant to generate feedback, which it will then integrate into the final version. 
Through the Subscriptions product, creators are able to choose their own price point (somewhere between $0.99 and $99.99 per month), depending on how much they believe their content is worth. Instagram's parent company, Meta, has stated that it will not be taking a cut of the fees until 2023, though any funds transferred will be subject to relevant app store fees, as normal. 
Once subscribed, users can view exclusive Lives and Stories, and they will also receive a special badge that will help them stand out in the comments section and creators' inboxes. 
Although it was reported that Instagram was working on technology that would stop creators' subscriber-only content from being screenshot, the platform has stated that it will not be available during this initial test. Additionally, there is no dedicated section for Subscriptions in creators' analytics dashboard. However, creators can access their total estimated earnings from Subscriptions, total subscribers, and cancellations from their Settings.
Instagram will give more creators this capability over the next few months, as it hopes to keep them posting to its platform instead of elsewhere (i.e. TikTok).
TikTok Stories now appear on users' main feeds
Speaking of TikTok, the platform is currently experimenting with a new design that combines the Stories feature with the main 'For You' and 'Following' feeds. This will enable users to create multi-frame sequences of clips and still images that can then be viewed in-stream. 
It's difficult to say whether this display will work within the TikTok experience; but it does seem like a good idea since it won't obscure the main screen with an intrusive sidebar. It may also help maximise user engagement, and expand monetization potential for creators.
In other recent TikTok news, the platform now provides a listing of the most popular songs being used in videos, which is filterable by time and region. 
Music on TikTok plays a major role in sparking global trends, and unifying communities around the world. Last month, the platform revealed that over 430 songs surpassed a billion TikTok video views in 2021 (a threefold increase over the previous year). Music can also have a large impact on brand promotions, with 73% of survey respondents indicating that they would be more likely to stop and look at ads on TikTok that utilised audio elements. 
You can check out the top songs on the platform here. 
Meta looking to launch an NFT marketplace 
According to a report by the Financial Times, Meta is developing ways to create and sell NFTs on its owned platforms. If the company launches such tools, it would be the biggest show of mainstream support for the crypto asset to date, and may help solidify its place in the digital world. 
Many Weekly Wraps ago (this one here to be exact), we discussed how Instagram had plans to introduce a 'Collectibles' option which would facilitate the bidding and buying of NFTs in the app. But what is interesting is how this could be built into the metaverse beyond just profile pictures. 
Chief Executive of Meta, Mark Zuckerberg, has said that NFTs could eventually be used to support a new marketplace for digital goods in the metaverse. This could potentially increase the value of NFTs, while also centralising control over the assets. 
It is important to note that the projects are within the initial stages and may still change accordingly. So NFT adopters are indeed early, and many of them are investing too much in profile pictures, and getting ripped off as a result. However, the broader view is that these assets will be of more use in the next stage.
Google joins the AR headset war
It has been revealed that Google is building an augmented reality (AR) headset, nicknamed "Project Iris". The device will use outward-facing cameras to merge computer graphics with a video feed of the real world, creating an immersive experience. 
Prototypes that are currently being developed at a secret facility in San Francisco are said to resemble a pair of ski goggles, and don't require a tethered connection to an external power source. The hardware is supported by a custom Google processor, and runs on Android (but this may change given that there is a unique operating system in the works). 
The company's interest in AR dates back to 2015 with the introduction of Glass, and early investment in Magic Leap. However, Glass was discontinued less than a year after opening sales to the public due to its high price tag and limited functionality. 
Nevertheless, the company hopes to ship the product in 2024, with work only recently beginning to ramp up. But with Apple and Facebook both releasing their own VR and AR headsets in the next year, will it be too late for Google? Only time will tell…