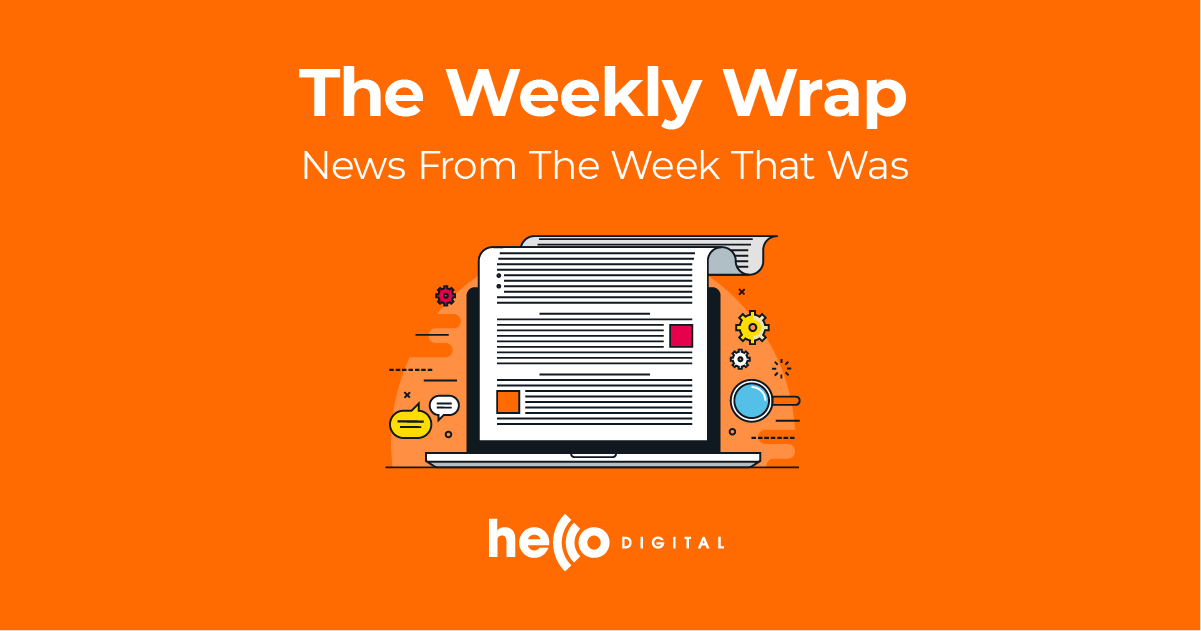 Hello Digital looks at the highlights from the week that was.
It's been another big week of announcements from some of tech's top firms, including Google sharing its record financial results for last quarter, Twitter revealing its recent user growth, and Facebook unveiling its new holding company name. Join us as we unpack this, and more, in the latest instalment of The Weekly Wrap.
Google outperforms in Q3
Google's parent company, Alphabet, has achieved an all-time record revenue of $65.1 billion and record profits for the fifth quarter in a row at $18.9 billion. 
The majority of Google's substantial profits can be attributed to its ad business, which includes YouTube, Search, and Maps. Through these channels, Google sells more internet ads than any other company – and Q3 was no exception, with Google reporting $53.1 billion in ad revenue (a 43% increase year-on-year). 
Demand for its services has surged in the past 12 months, with the pandemic forcing people to spend more time online. Google's Chief Business Officer, Phillip Schindler, has revealed that  when it comes to buying habits, users are wanting more choice, more information, and more flexibility; something which he doesn't see reversing any time soon (even when stores finally re-open). 
Investors had initially braced for some sales challenges for Google due to the integration of Apple's App Tracking Transparency policy. However, analysts have stated that the company was less affected than its peers because its search engine still collects user data that is valuable to advertisers. 
Although Alphabet's Q3 results have exceeded consensus estimates, the company is expecting less growth from the Google Play store next quarter as a result of the lower services fees for subscription apps. Google announced this cut in response to the growing criticism of its market power, which you can read all about here.  
Twitter's user base continues to grow
Twitter has shared that its monetizable daily active user count is now up to 211 million; a 13% year-over-year increase. Interestingly, all 5 million of its new users for Q3 have come from outside North America, which may be a concern for investors, given that the majority of the platform's revenue is driven by US users. 
As part of its Analyst Day presentation back in February, Twitter announced that it was aiming to reach 315 million users by Q4 2023, with revenue rising to $7.5 billion in that year. In order to achieve this figure, the platform has been integrating a range of new features designed to improve personalisation, facilitate conversation, deliver relevant news, and generate revenue for creators. 
However, these tools are not causing any major usage boost as yet, with many of them falling flat in their early stages. Most recently, Twitter removed its Fleets feature due to lack of use, which you can read more about here in one of our previous Weekly Wraps. 
On a more positive note, the platform has stated that Apple's privacy changes had minimal impact on its quarterly revenue. This can be attributed to the fact that Twitter makes most of its money through advertising, which requires less personal targeting and is measured more broadly.
Facebook reveals its new name
Facebook CEO Mark Zuckerberg has announced that the social media giant is changing the name of its holding company to Meta. The new title was unveiled at the company's Connect event, in which Zuckerberg explained that 'Meta' captures more of its core ambition; to build the metaverse. 
Zuckerberg said he expects the metaverse to reach a billion people within the next decade. For those wondering, the 'metaverse' refers to a digital world where users will feel a sense of presence despite being far apart. This will include attending virtual business meetings, shopping in virtual stores, and socialising at virtual get-togethers. 
According to Zuckerberg, the company's corporate structure will not be changing, but how it reports financial results will. He also admitted that while the company's VR and AR projects are well underway, the metaverse doesn't fully exist yet and will be a years-long investment.
The name change comes at a convenient time for Facebook, as the company has been under intense scrutiny over recent allegations made by one of its former employees (which you can read about here). 
So although 'Meta' signals a new corporate restructuring, it could also be a way for the company to distance itself from the Facebook name in order to rebuild trust with its users. 
YouTube's latest content discovery tool
After a successful test run earlier this year, YouTube is integrating a designated "New to You" tab on its homepage across all mobile, desktop, and TV devices. 
The platform makes a point of noting that this tab is different to its Explore feed. The Explore feed helps users discover content on specific topics, such as gaming, beauty, music, sports, or videos that are trending worldwide. The feed is not tailored to users' viewing history, meaning everyone has a similar set of recommendations. 
However with this new tab, YouTube is aiming for a mix between content users will like based on their interests, and content that is a bit different than what they would usually watch.
The feature will also allow creators to reach a larger audience by targeting those who would most enjoy their content but would not have discovered it otherwise.
It appears that this tab is YouTube's version of TikTok's "For You" page, which uses a recommendation system to deliver videos that are personalised for each user. A large part of TikTok's huge success can be attributed to this feature, as it helps users find content they love, while also helping everyday people go viral.