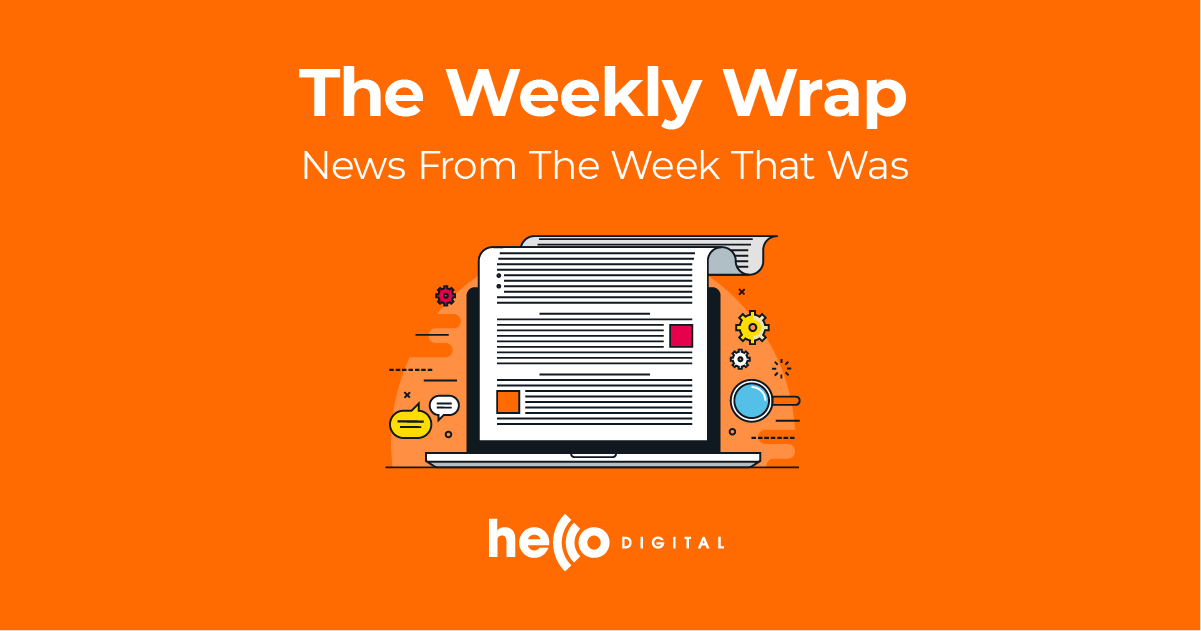 Hello Digital looks at the highlights from the week that was.
It's been another rollercoaster of a week, with Twitter saying goodbye to its 'Fleets' format, Instagram testing out a new reshare feature, and Reddit announcing plans to open its first Australian office. Join us as we unpack this and more in The Weekly Wrap.
Twitter farewells 'Fleets'
Twitter has decided to end its brief experiment with disappearing messages, also known as Fleets, on August 3rd. Fleets was Twitter's attempt at integrating Stories; a format invented by Snapchat and further popularised by Instagram, to encourage less active users to share their thoughts without having to worry about the reaction from others. 
However, the platform found that the feature was primarily being used by people "who are already tweeting in order to amplify their own tweets", which failed to meet the company's goal of adding to the broader tweet experience. 
The top of the timeline will now be replaced by Twitter's live audio sessions, named Spaces, which is its equivalent to Clubhouse. Clubhouse, which has risen in popularity over the past few months, allows users to chat in "rooms" that specifically match their topics of interest. 
Twitter's decision to remove the feature is especially sudden considering the company only rolled it out to all users in November and just started testing full-screen ads between Fleets last month. There is currently no word as to whether those ads will be shown in other parts of the app in the future. 
A spokesperson from Twitter has confirmed that the company will continue to create new ways for users to participate in conversations, so watch this space for more information!
Instagram's plan for promoting personalisation
Instagram has begun to test out a new addition to its Stories feature that will allow users to reshare posts that they have recently viewed in their feed via a "Reshare" sticker. Previously, when users shared a post on their Story, the content would generally stand alone against a plain background. Now, posts shared through the dedicated sticker will appear in front of a larger image or video, giving users a way to contextualise what they are reposting. 
Instagram's Vice President of Product, Vishal Shah, has explained that the aim of the test is to make people more "intentional" when sharing content that matters to them. Essentially, the platform is working to reduce what it views as "spam", and by adding extra steps to the resharing process, it hopes that users will be more thoughtful when creating Stories. 
At the same time, Instagram wants to increase the amount of time users spend on the app and so this change may raise the bar in terms of what they see, which will encourage them to tap through more content (and more ads). 
As always, only a small subset of users will participate in the test, and there is no guarantee that it will make it into the final product; however, it does provide an indication of what the company is thinking in terms of reshaping the platform.
Earlier this month, Instagram announced it will also be trialling a new Stories element that lets users link to sites outside of the app, which you can read more about here in one of our previous Weekly Wraps. 
Reddit opens its doors in Australia
Reddit has announced it will be expanding its operations to Australia, which is home to the site's fourth-largest user base. The new Sydney office will focus on developing connections with local advertisers, and showcasing the potential of Reddit's communities. 
Australian Reddit users have reportedly grown by 40% over the past year, with the average Aussie now spending around 30 minutes per day on the app (which the company claims is a longer session duration than that for Instagram, Snapchat, and Twitter). 
Unlike these other social media platforms, Aussie Redditors are connected by passions and interests rather than demographics, which makes it the ideal place for engaging in honest and authentic online conversations. According to the company, the most popular topics of discussion among Australian users are gaming, cryptocurrency, and entertainment. 
One particular advantage of having a dedicated office in Australia is that Reddit can recruit local admins and moderators to ensure that false information relating to Australian news is not spread, and that forum rules are adhered to. 
Last year, the company removed hundreds of controversial subreddits as a result of its new rules around hate speech following the Black Lives Matter movement, which you can read all about here. 
Google's strategy for safer browsing 
Google has designed a way to make users' browsing experience more secure in Chrome by providing an HTTPS-first mode, which will try to upgrade page loads to HTTPS. HTTPS is an extension of HTTP that prevents those snooping the internet from accessing website data. While 90% of pages in Chrome already use HTTPS, there are still hundreds that don't. 
With this change, Chrome will display a full-page warning if the site cannot be upgraded to HTTPS, leaving users to decide if they want to risk moving forward or not. Although this feature will be optional, there is a high chance that Google will make it the default setting if it receives enough positive feedback. 
Understanding how HTTPS works can be confusing for some users as they might presume a site is trustworthy since it delivers content over HTTPS, when in reality, it is the connection between the server and browser that is secure. Therefore, Google will also be replacing the lock icon in the address bar (which indicates a site's security status) with a "neutral" downward arrow to avoid any further misconceptions. 
According to Google, the new mode will be available with Chrome 94, which is set for release on September 21st.