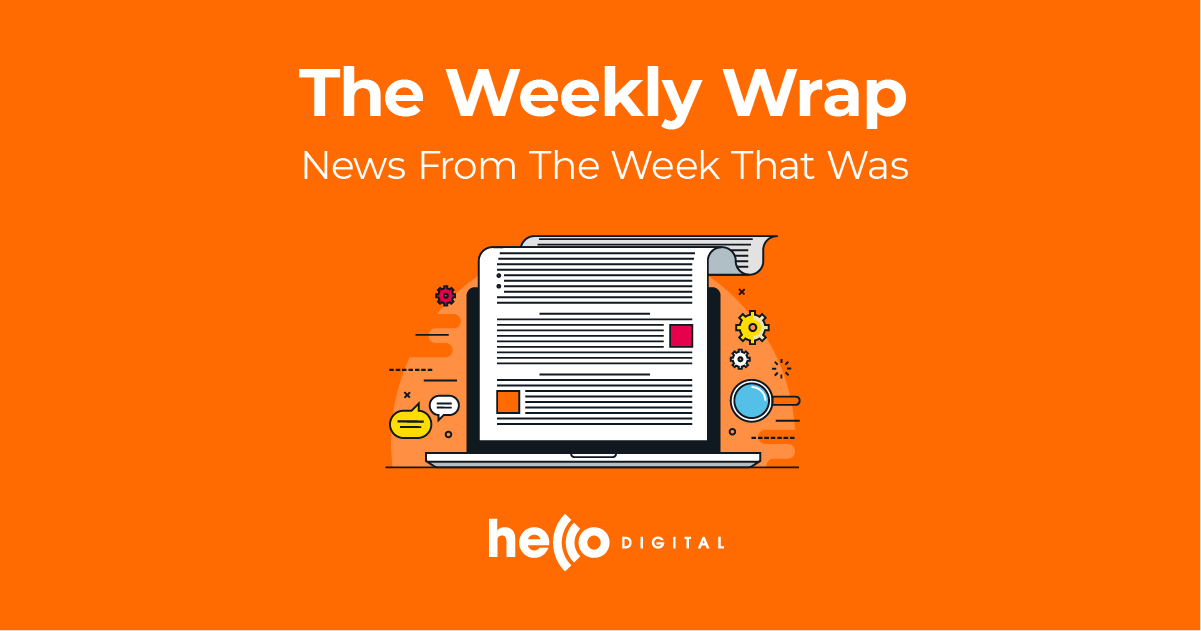 Hello Digital looks at the highlights from the week that was.
Google dominated the digital news this week, with plenty of changes and updates released. One of these was the official announcement of a new-look Google Analytics. Claiming to be smarter with more customer-centric measurement, it's big news for analysts that rely on the platform. 
There were also further developments in investigation into the monopoly Google has over the market, with Moz finding that YouTube videos accounted for around 94% of video search results in 2020. But don't worry, it's not all negative on the Google front, they also announced ways that they're doing more to design for and with people with disabilities. 
Keep reading for some of the top digital stories from the past week…
Google has created a new, more intelligent Google Analytics
Google has officially announced the launch of a new and improved Google Analytics platform. Claiming to provide "smarter insights to improve your marketing decisions and get better ROI", the new Google Analytics builds on the foundation of the App + Web property Google introduced in beta form last year. 
Already the default experience for new properties, existing Analytics properties can follow the steps on this Google Support article to set it up for themselves. 
So what can we expect from the new, smarter Analytics? 
Claiming to be privacy-centric by design, users will be able to rely on it more as changes happen to data politics, like restrictions on cookies and identifiers create gaps in your data. 
It will also give users "a more complete understanding of how customers interact with your business". This will include providing a more customer-centric measurement, instead of the old measurement which is fragmented by device or by platform. You'll also get a better picture of customer behaviour across their entire lifecycle, from acquisition, conversion and then retention.
For some, this has been a long time coming. Research quoted by Google states that marketers have found that existing analytics solutions make it difficult to get a complete picture of the customer and derive insights from their data.
YouTube dominates Google video search results in 2020
After last week's Congressional report on Google, Apple, Amazon and Facebook's monopoly power over their respective markets was released, Moz has published their findings on YouTube's dominance in Google video results in 2020. 
In a nutshell, their study of 2.1M searches and 766K videos found that YouTube accounted for 94% of all video carousel results on page one of Google, leaving little room for competition.
These results are not entirely surprising. Google acquired YouTube in 2006, and while they claim that the video search algorithm has no inherent preference for YouTube, it's not a stretch to think that the playing field is a bit unfairly weighted. Anyone who uses Google search can attest to the prevalence of YouTube videos that appear in results as opposed to other video hosts. 
It's important to remember that YouTube is the largest and most-used (and therefore the most powerful) video platform, with almost 5 billion videos watched on Youtube every single day, and plenty of creators making a living off the platform. Some creators, however, do want a larger cut of the profits. 
Moz concludes that there's no reason to expect YouTube's numbers to decrease any time soon, not without a paradigm-shifting disruption to the industry at least.
Apple reveal the new iPhone 12 
The iPhone 12 has arrived and one of the biggest talking points has been that the new smartphone will not come with headphones or a charger. 
The "Hi, Speed" launch event revealed 4 new iPhone 12's, all featuring new designs and supporting 5G wireless networks. The design shift harkens back to the iPhone 4 and 5, featuring the familiar flat edges. The standard 6.1-inch size has two rear cameras, and both of which will now support night mode and the screen on all the phones has a new "Ceramic Shield" glass cover that Apple claims will make the screen more durable.
While Apple continuously tries to streamline the iPhone's design, the exclusion of headphones as well as a charger from the product box is leaving some consumers unimpressed. However, in an effort to stem concerns, they will be cutting EarPods and charger prices by $10.
Google make some disability-friendly changes  
To coincide with National Disability Employment Awareness Month in the US, Google has announced that they will be making updates to Action Blocks to make communication more accessible for people who are non-verbal. Action Block is an Android app designed with people with cognitive disabilities in mind that allows users to create customisable home screen buttons to navigate devices.
Among the updates, you can now use a quick setup process to create Action Blocks that speak common phrases. For example, you can set it up to say, "yes," "no," or "Excuse me, I have something to say." 
Along with the app updates, Google will also be making it easier for people with disabilities to work with them. They have launched a dedicated Google Careers resource page that is tailored to what job seekers with disabilities might find helpful for applying.