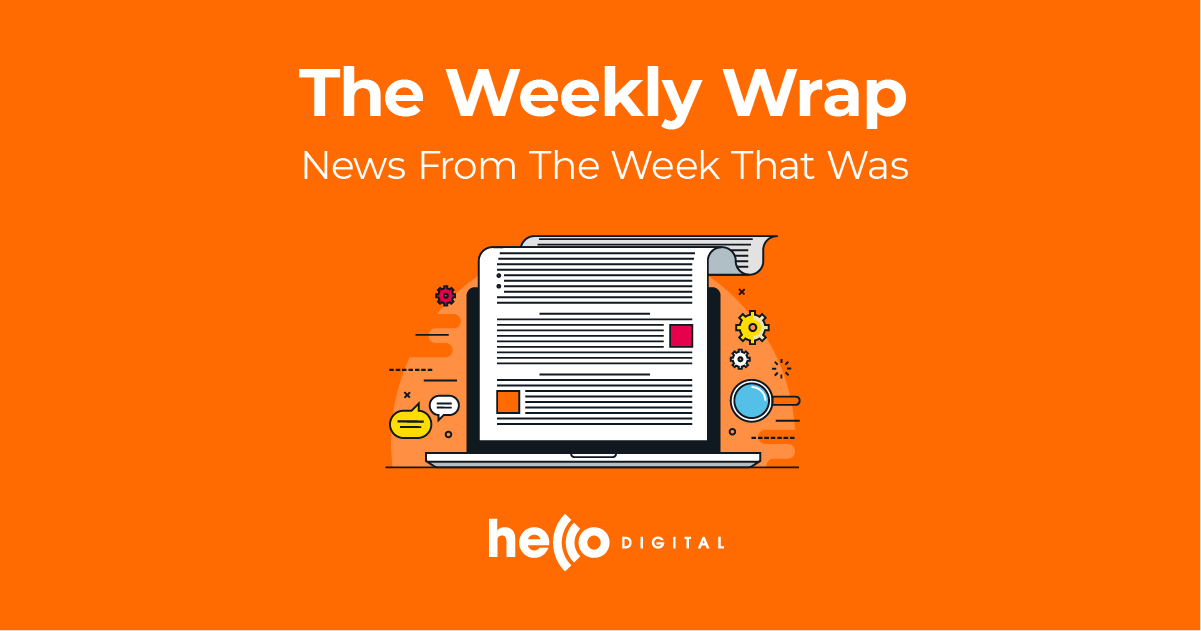 Hello Digital looks at the highlights from the week that was.
Search and social made the headlines a lot this past week, with Instagram marking its 10th anniversary and Bing releasing a fresh rebrand. There was also big news for the likes of Google, Apple, Amazon and Facebook, with a damning Congressional report claiming that they are monopolistic 'gatekeepers' of the digital economy. 
Take a look at some of the top stories in digital from the past week. 
G Suite's rebrand and new icons receives mixed reception 
G Suite is changing its image. After announcing plans to rebrand it as Google Workspace, they've also released new icons for apps within the suite, such as Gmail, Calendar and Drive. 
Despite their intention to unite the look of the apps and create a consistent visual language, some people are complaining that the new icons are "little rainbow blobs that everyone will now struggle to tell apart in their tabs".
Devin Coldewey from Tech Crunch has outright called the new icons bad, saying that the new look raises issues with the shape, colour and brand identity. Essentially, his worry is that all the icons now appear as slight variations on the same rainbow logo, rather than independant and easily identifiable icons. 
While the new designs may look great individually, they could end up getting lost in the already long list of apps. What do you think of the new icons? As G Suite users (sorry, Google Workplace) we're interested to see if they start to cause a bit of confusion.
Bing announces rebrand as Microsoft Bing
Speaking of rebrands, Bing has also released a new brand image with a new name and logo. Now including their parent company name, Microsoft Bing was announced on Monday. They also announced the expansion of Give with Bing, an extension of Microsoft Rewards. 
This comes after Bing rebranded their ads platform back in April, changing the name to Microsoft Advertising to incorporate the Microsoft brand.  
Bing's new name won't appear on Bing.com or in search results, but it will appear in Bing's favicon. So while the new look won't affect how Bing.com works, it helps to differentiate Bing from competitors like Google.
Instagram celebrates 10 years since its launch
Instagram celebrated its 10th anniversary this week. In the decade since it launched, it has seen many updates and changes, like the introduction of DMs, Stories, and Live broadcasting. It has now amassed around 1 billion active users and become one of the most powerful social media platforms, as well as social marketing tools. 
You can check out a quick recap of Instagram's product evolution here. 
Mashable released a rundown of 10 moments that defined the first decade of Instagram and helped shape digital culture today. Remember Kony 2012, the viral activism movement that swept across social media in 2012? Or the Instagram egg, a picture of an egg that went viral in its campaign to become the most liked photo on Instagram? 
While these may seem like trivial things, these kinds of trends have helped to shape what Instagram has become today. Who knows what viral trend will be next. Could it be the fly that landed on Mike Pence's head during the Vice Presidential Debate? 
Facebook will ban political ads in the US following the election
Facebook has announced that they will ban US-based political ads indefinitely after the presidential election in November in an attempt to forestall confusion over results. The move is most likely due to the long-running issues Facebook has faced with the platform being used to muddle election results. Remember the Cambridge Analytica fiasco? 
Facebook is also taking steps to stop candidates from declaring victory prematurely and spreading misinformation. Both Facebook and Instagram will feature an information box within the apps when polls close, stating whether major media outlets have declared a winner. This will hopefully stop users from believing dreaded "fake news". 
In their statement, Facebook said:
"While ads are an important way to express voice, we plan to temporarily stop running all social issue, electoral, or political ads in the US after the polls close on November 3rd, to reduce opportunities for confusion or abuse,".
Congressional report claims that Google, Apple, Amazon & Facebook are 'gatekeepers' of the digital economy
A congressional report issued this week claims that Google, Apple, Amazon and Facebook wield monopoly power over their respective markets. Acting as gatekeepers to the digital economy, these big players control a large proportion of businesses' access to users and markets. 
In the report, the House Judiciary Subcommittee on Antitrust recommends numerous changes to the way the likes of Google and Apple operate, including things like divestiture (or structural separation) to help establish competition and stop the concentration of power and market control in the future.
The 400 page report covers hundreds of findings of what they claim were aggressive and harmful actions taken against competition and in the pursuit of monopolising the market. For example, the report states that "Google has also actively demoted certain rivals through imposing algorithmic penalties" and also took aim at Facebook in saying that it "used its data advantage to create superior market intelligence to identify nascent competitive threats and then acquire, copy, or kill these firms".
While Google has released a statement responding to certain things in the report, it is expected that Facebook, Apple and Amazon will similarly dispute the findings and recommendations in the Congressional report.