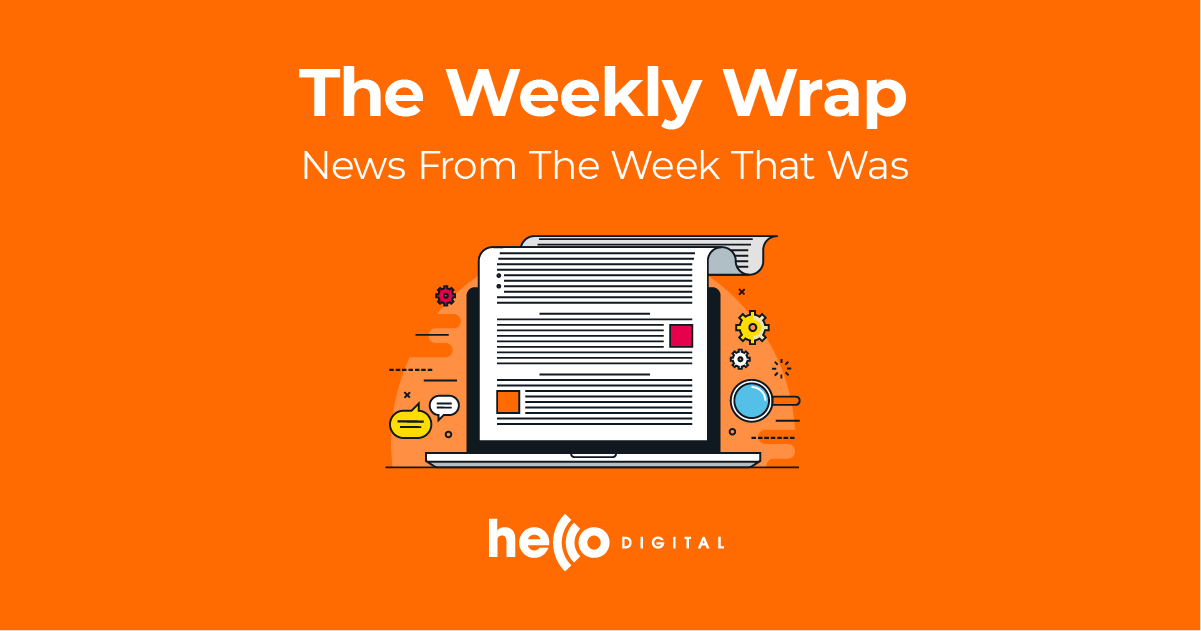 Hello Digital looks at the highlights from the week that was.
As we get closer to the end of this crazy year, some things seem to be settling down (like the dropping COVID cases in Melbourne and Sydney) while others seem to be ramping up (hello presidential race in the US!).
Things also seem to be ramping up in tech, with this week's installment of The Weekly Wrap looking at everything from the government's $800m package to increase the take-up of new technologies, to a new tech-focused, wiki-style database powered by AI hitting the market. 
Take a look…
Nike CEO highlights retail's rapid acceleration to be digital-friendly 
Nike CEO John Donahoe spoke at this week's Twilio Signal event (the customer and developer conference in the US) about the acceleration of digital engagement during COVID-19. 
While retail was hit hard from the lock-down measures, Nike and many other retailers had to quickly adapt their approach to be entirely commerce focused. For some businesses this was a difficult change, but for others it merely accelerated their transition to digital channels.
"We have been on a path where our digital channels would be roughly 30 per cent of all business by 2023. Then in March, we closed 100 per cent of our retail stores globally and digital became our '100 per cent open for business, business'," Donahoe said.
Businesses, like consumers, quickly became aware that they had to rely heavily on digital platforms, and this highlighted what systems were working and what left a lot to be desired. User friendly interfaces and seamless payment paths are some requirements for the move to commerce.
Nike has clearly been invested in digital for a while, but the rapid growth of digital commerce during the crisis has made it clear that innovation is crucial. The retailers that didn't innovate were quickly left behind. 
Twilio's data shows that 97% of senior global commerce leaders report the pandemic has sped up digital transformation and plans by an average of six years. On top of that, 95% are seeking new ways to engage customers because of the COVID-19 crisis.
Start-up Golden is set to become the Wikipedia of tech knowledge
Golden claims to be the world's first self-constructing knowledge database built by artificial and human intelligence. They are positioning themselves as a wiki-style database focusing on emerging technology and startups. They recently announced that they have raised US$14.5 million in Series A funding.
Unlike Wikipedia, Golden will use mostly data gathered using artificial intelligence and natural language processing. Founder and CEO Jude Gomila said that they are using AI to extract information from the news, websites, and from public databases, but they will also rely on Golden staff and the larger community to pitch in by flagging incorrect information or things that need to be updated. 
They have already started working with customers paying for access to the search engine, including private equity firms, hedge funds, biotechnology companies, and government agencies. In fact, they have just signed a $1 million contract with the US Air Force. 
Google Shopping listings will soon be free globally
Google Shopping made the announcement in April that US merchants would be able to make free listings, and they have now expanded this to merchants world-wide. It will start with listings in the Google Shopping tab and then soon include the main search results section.  
Starting to roll-out in mid October, merchants will be able to upload product feeds to a Google Merchant Centre account and they will show in relevant search results on Google Search, Google Shopping and in Images. Just be sure to opt-into the Surfaces on Google program to receive the free listings. 
You can find out more about it here. 
The government's $800m new-technology budget to include expanded digital identity checks
As part of the Morrison government's delayed budget, they will include a $800 million package to increase the take-up of new technologies. It will be used in part to expand the use of digital identity checks when businesses and individuals access government services online. 
$257m of the package will be for the rollout of the digital identity program, which is being promoted as a way of simplifying and reducing the cost of interacting with the government. It will allow for face verification capabilities and will finalise its integration with the MyGov website.
As more and more people relied on digital government services like MyGov throughout lockdown, it comes as no surprise that steps are being taken to make this process easier and more user-friendly. With the implementation of these features, hopefully due importance is being placed on ensuring privacy and safety of users' data.
Australian comedian joins Google's fight against the proposed news media bargaining code
Google Australia has enlisted comedian Greta Lee Jackson as part of their fight against the ACCC proposal for digital platforms to pay for news. The campaign featuring the comedian comes as the consultation period between the competition regulator and digital platforms and news publishers wraps up. 
Google has called the proposed mandatory news code "extreme" and unfair and have launched a campaign to fight against it, including an open letter to all Google Australia users warning that the new code could affect their free access to Google Search and YouTube. 
The managing director of Google Australia and New Zealand, Mel Silva, said in a blog post that the draft code is a "highly unusual, largely untested, one-sided arbitration system". 
We'll have to wait and see what comes from the consultation between all parties. Hopefully paid Google Search and YouTube is not on the horizon.