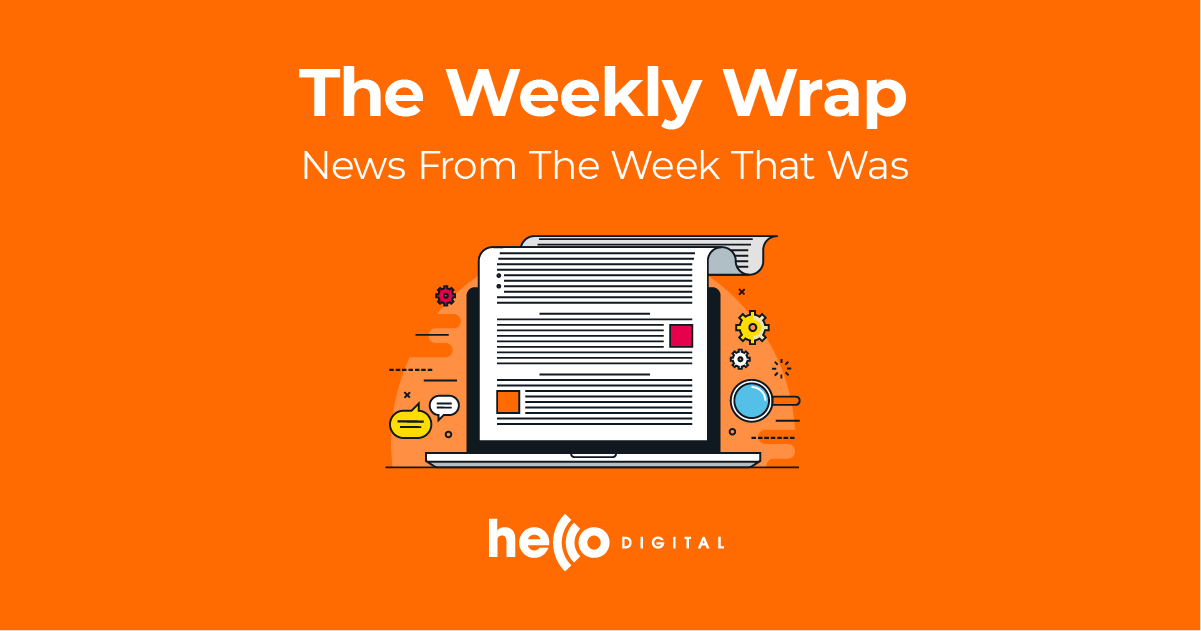 Hello Digital looks at the highlights from the week that was.
There's no shortage of news updates flooding our feeds, particularly with the onslaught of COVID related information, but sorting the signal from the noise can be time consuming. Never fear, Hello Digital is here with a solution to this quandry! This week we're launching a weekly news round-up to help break through that noise and take a quick look at some of the big news stories affecting the world of digital and marketing in general. We hope this will be a great resource to give you bite-sized insight into some of the top news stories and events from over the last week. 
Facebook threatens to block Australian users from sharing news
It all started with Google Australia's open letter warning users about the news media bargaining code proposed by the Australian Competition & Consumer Commission (ACCC). Google announced that the changes would affect the free access to Google Search and YouTube for all Australian users. In the ACCC response to the open letter, they claimed that it contained "misinformation", and went on the say that:
"The draft code will allow Australian news businesses to negotiate for fair payment for their journalists' work that is included on Google services."
Facebook then stepped forward and aligned themselves with Google's statement, announcing that they will block Australian users from sharing news content on their platforms (Facebook and Instagram) if the proposed plan becomes law. 
The bargaining code is backed by all the major media companies in Australia, including News Corp, Nine Entertainment, and Guardian Australia. The proposed changes came about to address the bargaining power imbalance between Australian news media businesses and Google and Facebook, as identified by the ACCC. 
While Google and Facebook have been quick to play the victim, it's easy to forget that these are some of the biggest corporations in the world, with a monopoly on the advertising and publishing market and millions of dollars in revenue coming in from sharing news content on their platforms. 
Videoconferencing platform Zoom sees revenue quadruples in second quarter
It won't come as a surprise to anyone that Zoom has announced a huge second quarter, bringing in $663.5 million in revenue compared to $145.8 million in the same time last year. They have COVID-19 to thank for this massive jump in customers and revenue. 
After businesses worldwide have had to adapt to the rapidly changing crisis, video conferencing has become the new mode of communication. Being able to connect with employees working from home all over the world has allowed many businesses to continue running throughout lockdown. It has been so successful for some that it may become the new normal moving forward.
The spike in video conferencing is not only seen in business operations, there has also been a massive increase for digital events, workshops, conferences, webinars, and basically anything that can easily be adapted to be delivered online.
Have you used Zoom recently, be it for work or other reasons? 
Now that more people are working from home, is the NBN up to scratch?
Whether you're for or against the contentious National Broadband Network, its installation has almost reached completion. But now that more and more people are relying on their home internet connection while working from home, many have raised serious issues with the service. While intended to deliver faster speeds and a more reliable network, tens of thousands of people are finding it's not up to scratch. 
The federal parliament released data last week that showed that as of May this year, over 130,000 NBN users were not getting the 25 megabits a second download speeds. These download speeds are the minimum that people should receive required under law.
It's not surprising that some are questioning the success of the network, but NBN Co is claiming the issues lie in the legacy Telstra copper lines, which aren't capable of delivering the higher speeds.
This doesn't seem like an issue that can be resolved quickly, particularly for customers in rural areas. With many workers across the country making the permanent shift to working from home, the load on the network will only continue to rise. 
Hello Digital is a digital marketing agency based 100% in Brisbane, Australia. We specialise in small to medium business marketing, and pride ourselves on delivering quality service and amazing results. We offer an obligation-free review of your digital marketing and can give you invaluable advice and assistance to get better results for your business. If you'd like to talk to us about your digital marketing, give us a call today.