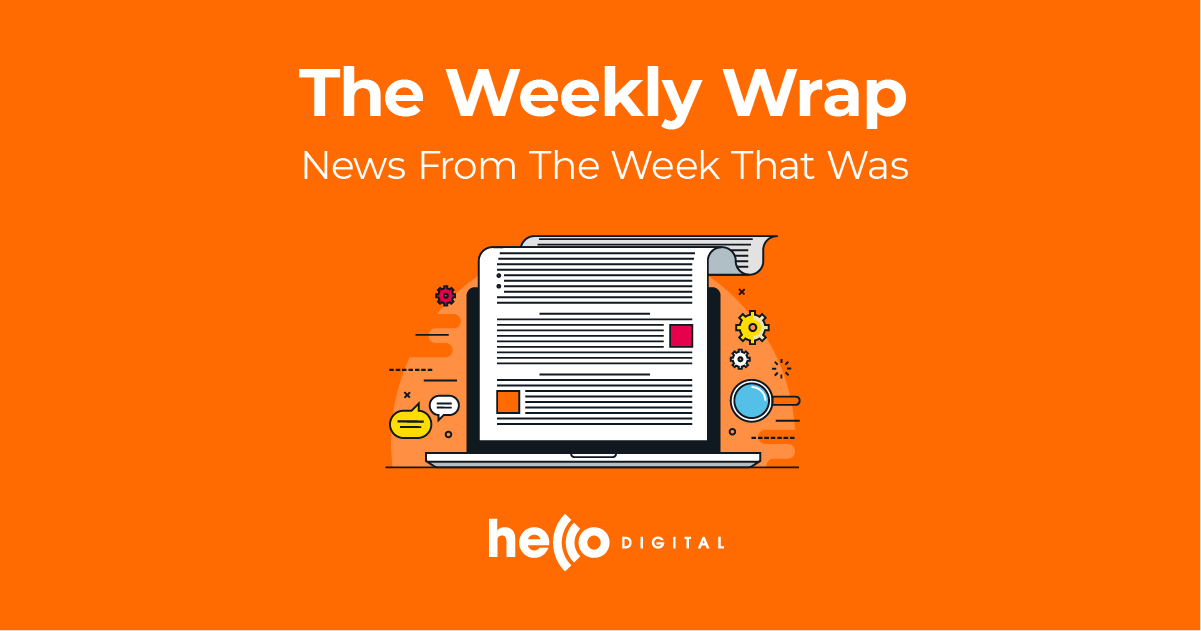 Hello Digital looks at the highlights from the week that was.
This week has been filled with important digital marketing updates, including Google switching the default attribution model for conversions, TikTok announcing a variety of creative tools at its global event, and Facebook integrating information panels underneath all ads. Join us as we unpack this, and more, in the latest instalment of The Weekly Wrap.
Google adjusts the default attribution model for advertisers
Google has announced that it will be making data-driven attribution the default model for all new conversion actions in order to provide a more indicative measure of advertising success. 
Data-driven attribution uses advanced machine learning to assess each interaction that users have with a business' Search, YouTube, and Display ads. By comparing the paths of those who convert to those who don't, the model can identify the patterns among those ad interactions that lead to conversions.  
This differs from the current default model, which only counts the final interaction toward the attribution, meaning advertisers aren't able to see all the micro-conversion points along the user journey. 
The company notes that advertisers will still have the option to manually switch to one of the five rule-based attribution models at any time. But as FLoC continues to take more data away from advertisers, the new default model will be the best way for them to identify which ads are having the greatest effect on their client's business goals. 
Google has stated that it will set data-driven attribution as the default model starting October, and will aim to have it active in all ads accounts by early next year. 
TikTok unveils new creative features for brands
It's been a big week for TikTok – not only has the company reached one billion monthly active users, but it also held its first ever business showcase event, where it shared a range of new tools designed to help brands make the most of its platform. 
One of which is its 'Open Application Campaigns' feature that allows businesses to list their campaigns for interested creators to self-apply. This goes hand in hand with its new Creator Marketplace API, which you can read some more about here in one of previous Weekly Wraps. 
TikTok has also launched a Creative Center that lets marketers view the app's top-performing ads and latest trends, as well as search for royalty free music that can be used in their video campaigns. Additionally, the platform is integrating a dedicated video editor, which will help guide brands through the creation process, including how to add transitions, use overlaying text, remove objects from the frame, and crop their videos to size. 
Another new element is the 'Dynamic Scene' tool, which uses machine learning to split a video and reassemble it into multiple variations. These will then be tested with different audiences so that advertisers can promote the best performers. 
For more information about what functions are coming to TikTok, especially for e-commerce businesses, click here. 
Facebook offers more context for ads
Facebook is testing out a new way to provide more context on paid promotions by adding an information panel underneath all ads. This panel will display the business location, user check-ins, and page followers, which could give people a better understanding of why they might have received that ad. 
It could also be beneficial for detecting scammers who are seeking to misuse Facebook ads. While you can buy fake followers, it's much harder to falsify physical business check-ins and manipulate location data, so this new feature should help reveal any fake promotions to users before it's too late. 
This is not the first time that Facebook has experimented with additional ad context elements. In 2018, the company implemented stricter regulations around the use of political ads, with users now able to tap for more details about the advertiser that is funding each promotion. 
In addition, Facebook has expanded its 'Why Am I Seeing This Ad?' button to show how each advertiser has targeted users, and where the targeting information has come from (i.e. based on the websites visited, apps downloaded, or pages liked). 
We will have to wait and see what the full impacts of this new feature are, particularly for small businesses, so stay tuned for more updates!
LinkedIn adds event options for organisers and creators
LinkedIn has announced it will soon begin trialling paid events, which it hopes will provide new opportunities for user engagement and monetization. 
The company notes that 21 million people attended virtual events hosted on the platform in 2020, so it seems like having a paid option could be a big hit. Additionally, it would be a huge help for industry event organisers, many of whom have lost significant amounts of revenue due to the ongoing effects of COVID-19. 
This new feature can also be considered an extension of LinkedIn's Creator Mode, which was launched back in March to give freelancers a better way to showcase their work and grow their following. 
It will be interesting to see how LinkedIn compares to Facebook and Twitter; who both recently started to test ticketed events (but in slightly different forms). The company is yet to confirm when this trial will commence, but according to industry insiders, the feature should be made available in the coming months.