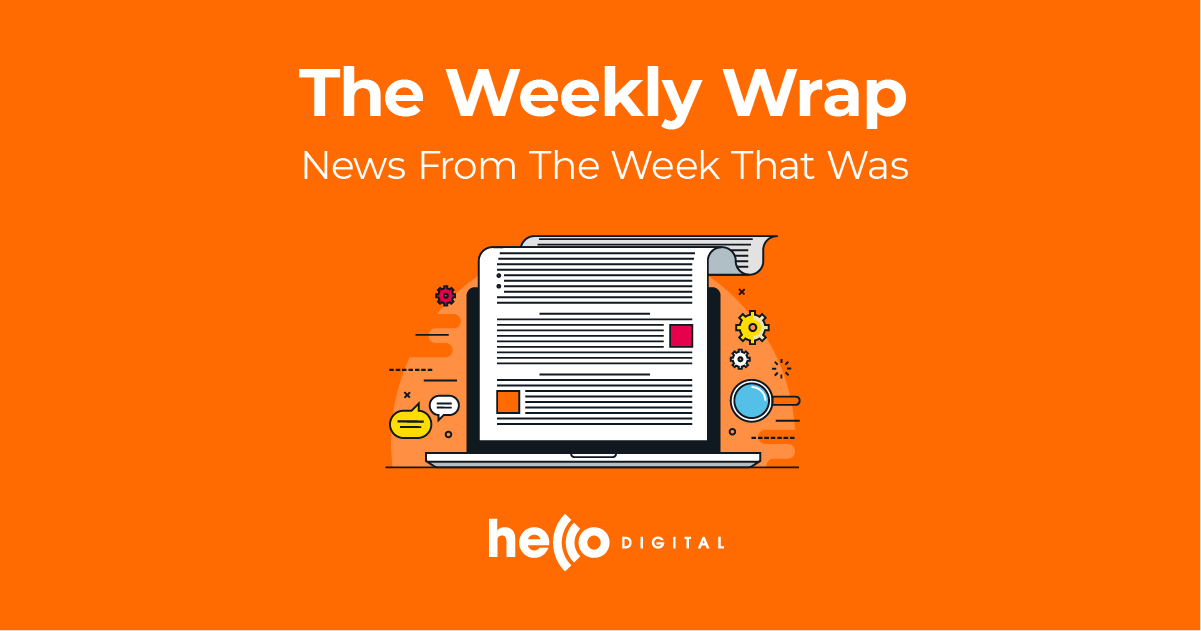 Hello Digital looks at the highlights from the week that was.
Ads are the main theme for this week's blog, with TikTok introducing a new 'Promote' feature to help businesses create ad campaigns, Google announcing the removal of Expanded Text Ads in 2022, and Apple giving users the option to enable 'Personalised Ads' in iOS 15. Join us as we unpack this, and more, in the latest instalment of The Weekly Wrap.
TikTok's new ad option to help businesses reach more people
After conducting tests with selected users over the last few months, TikTok is now introducing its 'Promote' option to all business accounts. The feature, which is similar to Facebook's Boost button, will help businesses amplify their posts by putting together an ad campaign quickly and easily. 
In terms of campaign objectives, TikTok will let advertisers choose between obtaining more video views, website visits, or followers. For ad targeting, users can select either 'Automatic', which means that the platform will show the clip to those who are likely to be interested, or 'Custom', through which they can establish the audience specifics (e.g. age, gender, location etc…) themselves. 
The boosted clips will appear in target audiences' For You feeds along with a 'Promoted' label to indicate that they are a part of a company's paid outreach efforts. However, it is important to note that this feature is only available for public videos that do not use copyright-protected music. Unfortunately, this means that businesses will be unable to promote their remakes of trending TikToks that incorporate popular tracks. 
Once the campaigns have ended, advertisers will be provided with insights into how well the videos performed, which they can then use to ensure they are creating content that resonates with their audiences.
In addition to this, TikTok is making it simpler for brands and agencies to work with the app's influencers by rolling out its new "TikTok Creator Marketplace API". The API will give businesses access to first-party data on the performance of creator videos, which will help them search for influencers who might be a good fit for their campaigns.  
You can read more about this exciting integration here.  
Google to remove Expanded Text Ads in 2022
Google has announced that it will no longer allow Expanded Text Ads (ETAs) to be created or edited starting June 30, 2022. However, existing ETAs will continue to serve for the time being, and advertisers will still be able to access reports on their performance. 
According to Google, the goal of this change is to ensure that the "right message" is always shown by creating ads at the time-of-auction to respond to specific search queries. Therefore, Responsive Search Ads (RSAs) will be the only Search ad type that can be made for standard Search campaigns going forward.
One issue with this is that because of the nature of RSAs (which are automatically populated), advertisers are unable to see granular performance breakdowns. This will make it challenging for them to know exactly what ad copy is working versus what isn't. 
The removal of ETAs is Google's latest move in pushing automation through their ad products. The company has revealed that 15% of search queries every day are new searches that it has never seen before, which is why it believes automation is the answer to keeping up with these trends. 
Before ETAs disappear, experts recommend that advertisers test their ETA ad pieces in RSAs to figure out what works best, and also add some evergreen ETAs which can be used in the future. 
In other Google Ads news, the company has recently begun rewriting title tags for a limited number of pages in search results, which you can read all about here in one of our previous Weekly Wraps.
Apple begins treating itself like other developers
Apple will start asking for permission to enable 'Personalised Ads' in iOS 15, with the App Store and Apple News listed as platforms that will benefit if users accept. Earlier in the year, Apple announced it would be requiring developers to make a similar request with the debut of its App Tracking Transparency policy (much to the dismay of advertisers).
In the pop-up, Apple explains that the ads will help users discover relevant apps, products, and services while protecting their privacy through the use of "device-generated identifiers". The company notes that the sources it currently draws from to target ads vary, but mostly include App Store searches and purchases, as well as stories that users read in Apple News. 
There is a possibility that this new prompt in iOS 15 has been added in response to Apple's anti-trust violations, which we have unpacked in more detail here. 
Analytics from Flurry reveal that only 15% of users worldwide have opted-in for apps to track them in order to provide personalised ads. It will be interesting to see whether that number differs in this instance given the fact that it's Apple asking for permission.
Facebook experiments with ad automation flows
Facebook is testing out a new process called 'Ad Strategies' to help marketers automate their ad campaigns. The process, which is currently only available to a select group of businesses, will involve more questions about what the business sells, how often people are likely to buy from the business, and what the campaign goals are.
From this, Facebook will automatically target people for you based on its learned knowledge about how each user will respond, taking into account their in-app behaviours and interests. Additionally, Facebook will measure ad response over time and adjust marketers' ad spend accordingly, simplifying both their outreach set-up and management. 
This option essentially places more trust into Facebook's AI systems to find the best way for advertisers to optimise their campaigns without having to establish individual targeting for each stage of the sales funnel.
Experts believe it is worth testing Facebook's automated targeting and comparing it to your own manual efforts to see which method produces the best results.
The company also recently released a new report that identifies the main aspects that have driven positive ad responses in the past year, which you can read more about here.