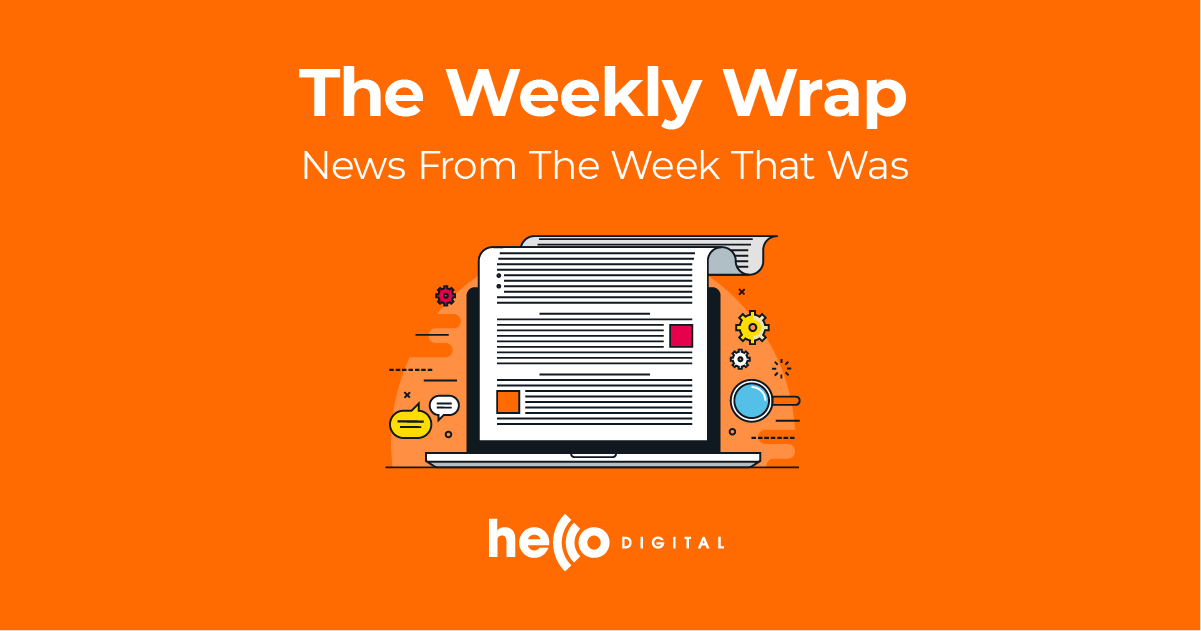 Hello Digital looks at the highlights from the week that was.
This week has been packed with news about the digital world, including the arrival of video chapters in YouTube's search results, the release of new info on how ad response on Facebook has changed over the past year, and the request made by the ACCC to establish a united front against Apple and Google. Join us as we unpack this, and more, in the latest instalment of The Weekly Wrap.
YouTube adds new feature for better video discoverability
YouTube has announced several new features for its search engine to help make it easier for users to find the content they're looking for. Previously, when users browsed the platform for something to watch, they would be presented with a thumbnail for each video that provided a quick snapshot of what they could expect to see. Now, YouTube has added video chapters to the search results, which will enable viewers to jump directly to the section of a video that aligns with their specific interest.
Each chapter has a specific label – and for marketers looking to boost video discovery, this is a great opportunity to optimise these names based on relative keyword search volume. 
YouTube has stated that not all videos are currently eligible for auto-segmentation, however creators are still able to manually add their own chapters by following this guide here. 
In addition, YouTube will be introducing automatic previews on mobile, which will allow users to see a 3-second clip of a video (complete with closed captions) before they tap into it.
The platform will also be making content more accessible by automatically translating video titles, captions, and descriptions to users' local language. YouTube says it will start with English videos before expanding to other languages, with the hope that it will help creators reach a more global audience. 
Facebook examines how societal shifts have impacted ad response
Facebook has released a new report which looks at how consumer relationships with brands have changed over the past year. The report incorporates an analysis of over 100 Facebook ad campaigns that generated above-average results in 2020, and identifies the key aspects that drove these positive responses. 
One of which was that the global pandemic forced users to embrace new ways of obtaining information and consequently, brands that performed well earned attention by developing content that was both educational and entertaining. 
Similarly, with 2020 being the year of limited social interaction, social media feeds became always-on engines for users to find new ideas and interests. Brands that excelled understood this dynamic and made themselves discoverable by using ideas to not only stand out, but also close sales.  
In addition, brands that created ad campaigns which spoke the language of digital platforms (i.e. aligned with user-generated posts and updates) experienced higher success rates. 
While these trends were a by-product of the unique circumstances of 2020, Facebook believes the changes to users' relationship with and expectations of brands are here to stay.
ACCC calls on global forces to go after tech giants
Chair of the Australian Competition and Consumer Commission (ACCC), Rod Sims, has stated that the dominance of Apple and Google in app marketplaces needs to be addressed globally with new regulations. 
Earlier in the year, the ACCC published an interim report which argued that Apple and Google face very little competition in app distributions on their respective mobile platforms, which you can read more about here in one of our previous Weekly Wraps. 
But months later, Sims says it appears unlikely that either platform will follow the suggestions made by the ACCC, and although Australia has several active court cases against Apple and Google, they are just too powerful to deal with alone.
Sims has now called for regulators around the world to work together in order to loosen the two platforms' grip on the app economy. In particular, he has cited efforts in Europe, where the European Commission is currently probing Apple's mobile ecosystem, and in the United States, where litigation is underway against Google for monopolising Android apps. 
Sims assures that while the finer details of each nation's approach may vary, their competition authorities can still achieve a successful outcome if they align their policies and its enforcement.
Google and Apple have a history of fighting back against any changes to the operation of their app stores so stay tuned for more updates about their response!
Google changes titles tags for websites
Google has begun rewriting title tags for a limited number of pages in search results, replacing them with H1 tags. While it is not unusual for Google to make small tweaks to titles, such as adding the business name to the end, it is strange for the search engine to override existing titles with different text. 
Experts believe this update isn't limited to one factor, but rather is an algorithmic approach designed to create better titles in Google's search results as a whole. Titles which have been changed are becoming shorter, which suggests Google is working to improve the readability and relevance of results. 
The platform is known to run A/B tests in live search results, so there is a chance that titles will return to their original phrasing in the near future. Alternatively, we may be experiencing the first stages of a permanent change, which could end up being a positive thing for sites, as it may make them more attractive to users. 
In other Google news, the company has introduced two new updates to its Custom Bidding feature to simplify the process, which you can read all about here on the last Weekly Wrap.