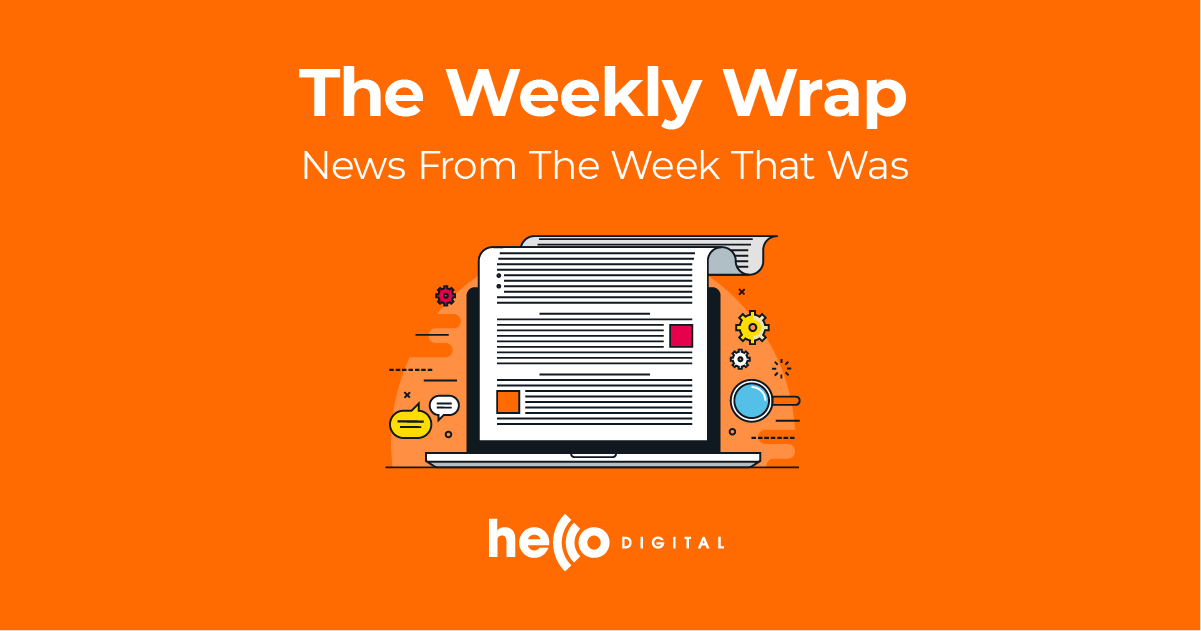 Hello Digital looks at the highlights from the week that was.
This week we received some interesting news from the digital world, including Twitter testing out a variety of e-commerce tools, findings from App Annie revealing how the social media landscape has evolved over the last ten years, and the Australian High Court deciding to hold media companies legally responsible for comments made on their posts. Join us as we unpack this and more in The Weekly Wrap.
Twitter expands its e-commerce capabilities 
Twitter is currently developing a range of new shopping features to help increase engagement among consumers and brands. One of which is its 'Purchases' tab that will display any Super Follow subscriptions or Spaces tickets that users have bought. It will also be where the app lists any purchases that have been made from business profiles, as outlined in Twitter's Analyst Day presentation earlier this year. 
In July, the platform experimented with its Shop Module, whereby users could scroll through a carousel of different products shown on a brand's account, click on one to learn more, and then buy it without having to leave Twitter. According to industry insiders, it is highly likely that this tool is what the 'Purchases' tab will become. 
In addition, Twitter is trialling in-tweet product displays to provide another way for businesses to generate more exposure for their offerings, and for users to shop directly from tweets about the latest product launches or sales. 
There is a strong chance that this test will be successful, as previous research has indicated that around 74% of Twitter users follow brands in order to stay up to date with product news.
Nevertheless, these updates point to the next stage of e-commerce on the platform, which may take some time to fully complete (so watch this space for any further announcements!). 
New report reveals how social media usage trends have shifted over time
Mobile analytics platform, App Annie, has published a new report that looks at how the social media landscape has evolved over the last decade, and where things are now headed. One major insight is the increase in consumer spending within social media apps, with cumulative spend at $3.2 billion for the first half of 2021 (up 50% year-over-year). This figure is expected to rise at an annual growth rate of around 29%, reaching $17.2 billion by 2025. 
This may explain why every social media platform is looking to move into e-commerce, as the data indicates there is a significant opportunity for businesses to capitalise on users' shopping behaviours. 
The report also explores the growth of TikTok, which has recently been named the most downloaded social and entertainment app in the world for a second year straight. The main reason behind this is that people are preferring to use short-form video and live streaming apps in order to see more raw and unedited work by creators as opposed to professionally produced content. 
Senior Vice President of App Annie, Sam Yang, states that it will be hard to keep up with apps since they are always changing to stay relevant and competitive. However, the report shows that authentic, real-time connection has been the driving force of user growth, and is set to underpin the future of social media platforms.  
Australian media outlets now at greater risk of defamation claims
Australia's High Court has declared that the nation's media companies will now be responsible for any defamatory comments left on their social media pages by members of the public. The recent ruling (which you can read in full here) is part of a defamation lawsuit brought against a number of Australian media outlets by Dylan Voller. 
The decision is expected to have serious consequences for these companies, which will likely result in them banning comments on their posts or not uploading certain news stories. 
You may be wondering if the person who posted the comment will also be held accountable. The answer is yes; but from the perspective of someone suing, it may not be worth going after an individual social media user (especially if they are using a pseudonym).
Another big question is what effect this ruling will have on the operations of media companies around the world. In the United States, for example, there are already big debates regarding whether websites should be liable for what users post as outlined in the 1993 Communications Decency Act. 
It is possible that the comment sections in Australia may be too costly to moderate and will be turned off permanently. However, new changes to the country's defamation laws (which went into effect in some states on July 1st) could potentially act as a barrier for the decision, so stay tuned for more updates!
Online sales boom as Australians remain in lockdown 
The Australian Bureau of Statistics has revealed that Aussies spent $3.7 billion online in July; the highest level ever recorded for a single month. According to CEO of Australian Retailers Association, Paul Zahra, this figure comes as "no surprise" with millions of consumers currently under stay-at-home orders.
Growth has occurred across all sectors, however technology, fashion, health, and beauty continue to see the greatest expansion. 
Unfortunately, this high demand has added to the increased stress felt by global supply chains, which you can read all about here in one of our previous Weekly Wraps. Restrictions on the number of incoming flights have also put significant pressure on product shipping, and as a result, container costs are up to four times their usual rate. 
Experts suggest these issues are likely to be with us for the next few months, so consumers should make their online purchases early to avoid any disappointment.
It is important to note that competition will continue to increase as consumers become more accustomed to buying online. Therefore, businesses will need to evaluate how they manage their product pricing and channel strategies if they want to remain ahead of the game.