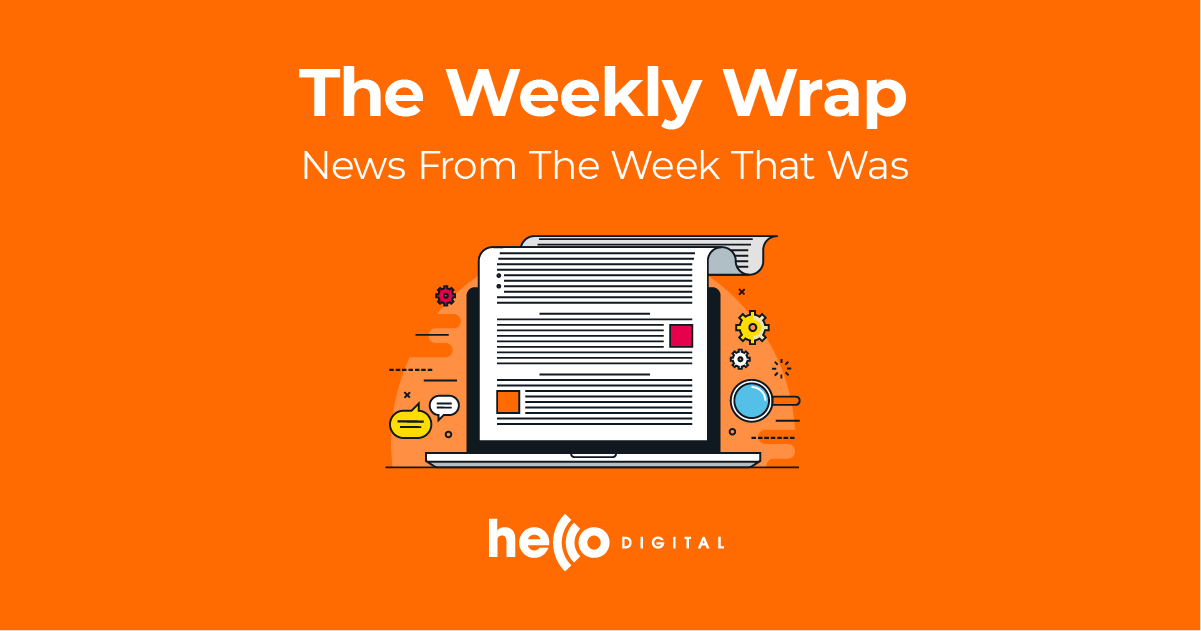 Hello Digital looks at the highlights from the week that was.
It's been another busy week in digital with Instagram announcing a major change to the way its users view their feed, Google delaying the removal of third-party cookies to 2023, and Microsoft reaching a $2 trillion valuation for the first time. Join us as we unpack this, and more, in the latest instalment of The Weekly Wrap.
No end in sight for users' Instagram feeds
Looks like the days of scrolling to reach the end of your Instagram feed may soon be over – the company has announced it will begin testing an expansion of "Suggested Posts" which will integrate recommended posts from accounts you don't follow into the feed with those you do. These types of posts are currently shown at the bottom of the app once users have viewed their main feed and received the "You're all caught up" message that was added in 2018. 
Instagram understands that this change will be overwhelming, with many users still upset over the loss of the chronological feed, which is why the company will let users temporarily snooze the new feature for 30 days. In addition, anyone participating in the test will be able to modify the recommended content by letting Instagram know when a specific post does not match their stated interests. 
A spokesperson from Facebook (Instagram's owner) has explained that depending on how many accounts users follow, it is possible that they may not see the app's suggested posts very often, if at all. Nevertheless, it is still a major change to the core way the app works as it injects more of what Instagram wants its users to see, which also includes more ads. 
The test will roll out to a small number of users in English-speaking countries; however, the company has declined to reveal any specific details of how many or where. 
It's hard to say whether the experiment will be successful, as it's one thing for Instagram to recommend posts after users have caught up and a completely different thing for them to do so during the scrolling experience. 
Deepfakes are becoming more difficult to detect
When Chris Ume uploaded a deepfake of Tom Cruise teeing off at a golf course to TikTok in February, he didn't expect that it would reach over 10 million views in just a few weeks. His videos have unsurprisingly become a hot topic of conversation – not because they are offensive or demeaning to the Hollywood actor, but because they are scarily realistic. 
To create the deepfake, Ume collected over 6,000 images of Tom Cruise taken from various angles with different facial expressions. It then took him two months to train the algorithm and approximately 24 hours to produce each minute of video. 
When deepfakes first emerged five years ago, most of them could easily be spotted by the naked eye; however, today's deepfakes are "radically good" and therefore present a serious threat to both national security and liberal democracy. The list of nightmare scenarios deepfakes can be used for when in the wrong hands is endless. 
The US government, along with tech firms such as Facebook, have begun to invest in deepfake detection systems; however, many experts believe it may be a lost cause as the current top model can only identify a synthetic video 65% of the time. Other specialists believe that the focus should be on authenticating legitimate videos by using digital tamper-proof watermarks. 
Whatever the solution is, it better come soon as the number of professionally made deepfakes is said to be doubling every six months.
Google pushes back its privacy plan until 2023
Google has delayed a major privacy change to its Chrome browser for another two years so that the company can continue to work on how to protect users while also providing a way for web publishers to make money. In 2019, Google introduced its Privacy Sandbox feature with the aim it would restrict its browser from accepting third-party cookies, which are small snippets of text that help advertisers to profile users in order to create targeted ads. 
The push back comes amid growing pressure on Silicon Valley giants to solve the internet's privacy problem. However, Google has argued that blocking third-party cookies now would be disadvantageous for users as it encourages tracking companies to use sneakier methods such as fingerprinting. 
One of the new technologies that Google is proposing to replace third-party cookies with is FloC, which will involve grouping users together based on their interests so that advertisers can still reach an appropriate audience. 
Many advertisers have been worried about what kind of effect the Privacy Sandbox feature will have on their metrics, but the delay means there is an opportunity for their concerns to be heard by Google, as well as more time to prepare their services.
Earlier this month, the company released its long-awaited Page Experience update, which you can read more about here on the last Weekly Wrap.
Microsoft reaches new milestone 
On Thursday, Microsoft closed the trading day with a market capitalisation of more than $2 trillion, becoming only the second publicly traded US company after Apple to do so. During the peak of the COVID-19 pandemic, Microsoft saw its stocks grow by 64% as the world had no choice but to adapt to a remote working and learning environment. 
The tech company's impressive results are expected to continue throughout 2021 with the recent announcement of Windows 11, which will include a new user interface, as well as improvements to both performance and multitasking.
As part of the reveal, Microsoft also stated that from July 28th, if a developer uses their own or a third-party payment system in their app, the company will let them keep 100% of the revenue. But here's the catch – this policy does not apply to games. 
Microsoft's decision adds to the ongoing debate around the difference between an app and a game; a distinction that is one of the main issues in the current Epic Games v. Apple legal battle. 
Nevertheless, we will just have to wait and see if the change is enticing enough to bring more developers to the Microsoft Store, and if the pressure will lead other big names like Apple and Google to make similar adjustments.