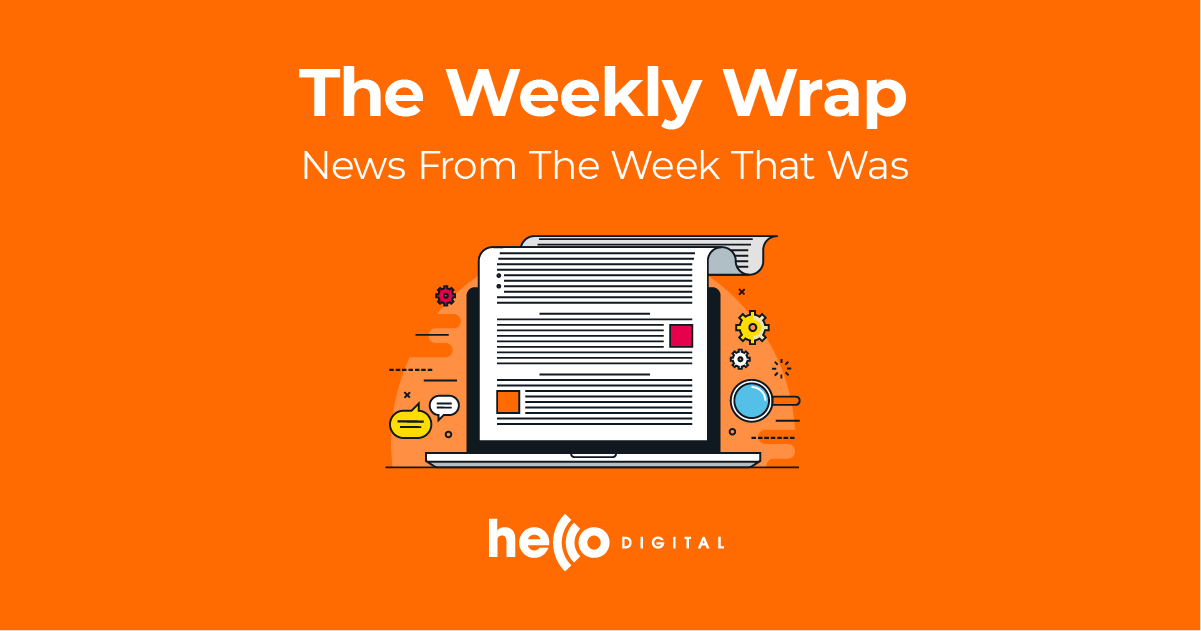 Hello Digital looks at the highlights from the week that was.
Here we are in week 50. We join Google in looking back at the year in search, with the biggest trends from 2020 coming as a surprise to no one. We also look at European guidelines coming into place to regulate the transparency in search and digital marketplaces, the Australian bill to give crime agencies more powers to police the dark web, and a tiny, break-dancing robot. 
Take a look at the week in digital…
Google's Year in Search shows our erratic search trends in 2020
It will come as no surprise to anyone that our Google search trends have reflected the craziness of the year we've had. Google have released their Year in Search report, giving us data on the most popular searches from across the world. 
Of course, some of the global trending searches were 'coronavirus' and 'election results', as well as 'fires near me' and 'Zoom'. 
As the rollercoaster year unfolded, people turned to Google to find updates and stay on top of the evolving situations. The events of the year obviously caused a lot of anxiety and uncertainty, which was also reflected in our searches. Things like 'insomnia', 'meditation' and soothing searches like 'sunset near me' reached an all time high in 2020. 
But it was also a year for uplifting search trends, with 'compassion' searched more in 2020 than any other time in history. We also focused on helping others this year, with 'how to donate' searched twice as much as 'how to save money'.
You can see the Year in Search results for Australia here. 
Tiny, water-based robots created that can break-dance
In the world of robotics, a tiny new water-based robot has been created that can walk at human speed, move cargo and even dance. It looks and behaves like a small aquatic animal, but can actually serve a variety of functions, like moving things, catalyzing chemical reactions and delivering therapeutics. 
Researchers at Northwestern University in the U.S. developed the first-of-its-kind, almost life-like material that acts as a soft robot. It is made of 90% water for the soft exterior, with a skeleton inside made of nickel that can change shape in response to outside magnetic fields. 
While it has many uses, the robot is gaining notoriety for its ability to break-dance to release a particle. It also looks remarkably like a piece of lemon peel. So, if you want to see some lemon peel break-dancing underwater, then we recommend taking a look at TechCrunch's article. 
European guidelines push Google & Amazon to disclose major ranking factors
Regulatory guidelines in the EU are pushing for more transparency in search rankings, making it easier for non-SEOs like small businesses to understand how search rankings work. 
The guidelines are asking search engines, online intermediation services (such as marketplaces) and travel sites to disclose ranking factors. They also ask that they update ranking factors when a meaningful algorithmic change happens. It would extend as far as the influence of payments and ads on organic rankings. 
Asking for transparency on search rankings is just one part of the growing push to make the big players in search and digital marketplaces (ie. Google and Amazon) more open about their tactics and behaviours, as well as their monopoly on global markets. 
They have had a relatively free reign as digital has dramatically expanded over the past decades, as well as using aggressive domination tactics to remove competition (which regulators are accusing of Facebook).  
The intent of Article 5 in Europe is to bring more fairness and clarity to search and digital marketplaces, which in practice could look like what Google does in local, with advice on how to improve visibility and rankings. We'll have to wait and see what these regulations will do.
Bill being introduced to give Australian crime agencies more powers on the dark web
The Australian Government is introducing a bill that will provide new powers for policing the dark web. It will have the aim of targeting serious offences, like those of money laundering, threats to national security, dealings in child abuse material, importation of prohibited imports and violence. "Serious offences" are those carrying a maximum sentence of three or more years in prison. 
The bill would give the Australian federal police, as well as the Criminal Intelligence Commission and, through them, the Australian Signals Directorate spy agency, the ability to disrupt and investigate a broad range of crimes.  
So how exactly would the powers work? Data disruption warrants would enable the AFP and the ACIC to modify, add to, copy or delete in order to disrupt serious offences happening online. Network activity warrants would allow agencies to gather intelligence on serious criminal activity being carried out by criminal networks; and account takeover warrants would let the AFP and the ACIC take control over a person's online account and can be combined with other warrants to gather evidence to further a criminal investigation. 
While the bill seems like a very good thing for the most part, there is currently no independent party appointed to contest the issue of a warrant.