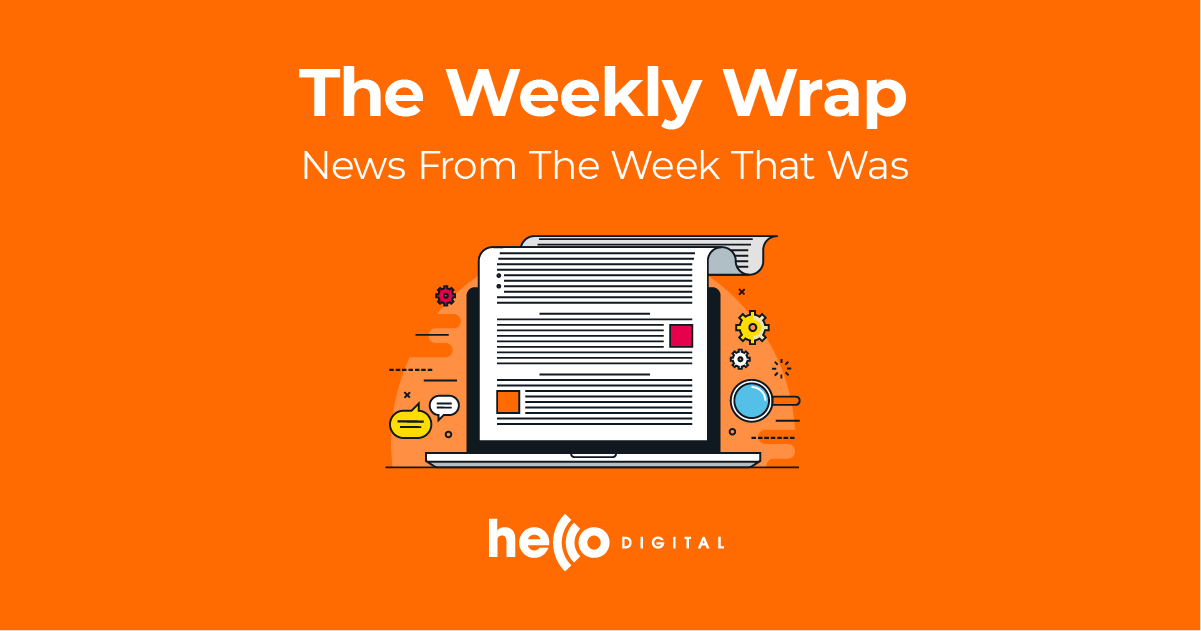 Hello Digital looks at the highlights from the week that was.
This week we found out about some interesting updates from the digital world, including YouTube admitting to issuing incorrect copyright strikes to millions of videos, Instagram announcing plans to reinstate the chronological feed, and Twitter experimenting with a TikTok-inspired Explore tab. Join us as we unpack this, and more, in the latest instalment of The Weekly Wrap.
YouTube reveals error with its copyright system
YouTube has published its first Copyright Transparency Report to help shed more light on its latest efforts to stop copyright infringements. Interestingly, the company has admitted that over 2.2 million videos were falsely hit with copyright claims between January and June this year. 
While this doesn't sound great, the incorrect claims represent less than 1% of the more than 729 million total copyright claims issued over six months. Additionally, when these claims were disputed, the case was resolved in favour of the original uploader 60% of the time. 
Claims can either be made through YouTube's public webform tool, Copyright Match Tool, or Content ID system. According to the report, claims that are filed manually are twice as likely to be challenged than automated ones. This is because the abuse rate is 30 times higher than for other tools which have limited access. 
YouTube creators have been unhappy with how the platform handles claims for years, stating that overly aggressive or unjustified enforcement leads to lost income (even when disputes are eventually settled in their favour). However, the report explains that it's impossible for YouTube's matching technology to take into account complex legal considerations such as fair use or fair dealing. 
The company has yet to announce any specific plans for improving its copyright management tools, so stay tuned for further updates!
Instagram to offer chronological feed from next year
Instagram is planning to bring back its chronological feed, according to statements made by its CEO Adam Mosseri during his first testimony before Congress this week. Mosseri was unable to reveal any additional details about how the old version will work again, but he has said that the company is targeting Q1 of next year for its launch. 
Instagram's current algorithmic feed was introduced in 2016 as a way to ensure users do not miss the majority of posts in their feed; however, it is widely disliked. To reduce complaints, the company updated the algorithm in 2018 so that newer posts would be more likely to appear first in the feed.   
One of the benefits attributed to the chronological feed is that it can help prevent the spread of misinformation and algorithmic bias. On the other hand, this type of feed does lower user engagement, which is likely why it's taken this long to reintroduce such a simple functionality. 
It's also worth noting that if the chronological feed does return, it won't become the default. Experts predict that it will operate the same as Facebook, in which you will have to manually select the chronological feed display every time you open the app.
Twitter jumps on the TikTok bandwagon
Twitter has begun testing a revamped Explore tab that will display tweets in a full-screen, vertical format (just like TikTok). According to spokesperson from Twitter, the move is part of the company's ongoing efforts to improve personalised recommendations and content discovery for users. 
Earlier this year, TikTok reached the one billion monthly active users mark, making it one of the fastest companies to do so. Now, Twitter is joining the likes of Instagram, Snapchat, YouTube, Reddit, Netflix, and Spotify in piggybacking off of TikTok's rapid success with their display features. 
While Twitter may be able to recreate the user interface (UI), we will have to wait and see if the company receives more Explore engagement as a result. The feature is currently being trialled on both Android and iOS in certain countries; though India appears to be the main focus.
In other recent Twitter news, the company is piloting a new tool that will allow users to add specific content warnings to photos and videos sent out in tweets. You can read more about this interesting capability here.
Consumer spending on apps continues to grow
Sensor Tower has released a new report which shows that users spent $133 billion on apps in 2021; 20% more than the previous year. This figure includes spending on in-app purchases, premium apps, and subscriptions across both the Apple App Store and Google Play (but excludes third-party stores like those in China). 
Similar to previous years, mobile games account for the majority of global app spending on these marketplaces (67.4%); however, this number is shrinking. This can be attributed to the rise of subscription-based apps, particularly those related to streaming, which have financially benefited from the ongoing pandemic.
Unsurprisingly, the app to generate the most global revenue in 2021 is TikTok, raking in approximately $2 billion. TikTok also took out the award for most downloaded app with 745.9 million installs worldwide (despite dropping from 980.7 million installs in 2020). 
Overall, the report demonstrates that this year's trends have seen a bit of normalisation after an unusual burst of activity in 2020. Nevertheless, it is clear that the app economy is very much alive and well.