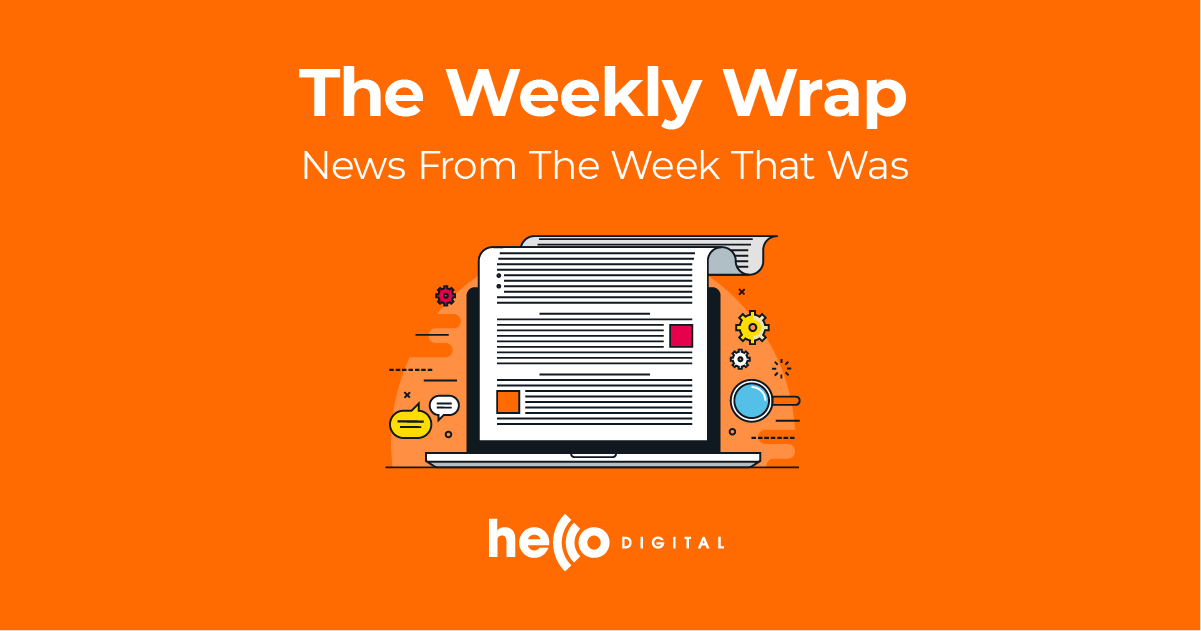 Hello Digital looks at the highlights from the week that was.
Can TikTok's famous Bunny the dog actually talk? It's a question that Comparative Cognition scientists are trying to answer. This past week we've seen a wide range of digital news, from Google announcing that Drive users could start having their files deleted, the significant drop Google Ad users are seeing in search term data, and the wane of Australian media groups. 
Take a look at the past week in digital.
Google Drive will start deleting files if you're inactive 
If you are a Google Drive user, you would have noticed an announcement popping up about their new storage policy. While people have treated their storage as infinite for a long time, from June 1st, 2021 they will start to delete content when you're inactive for a long period. 
Rather than setting and forgetting archive files, you'll need to start checking your files every now and then. But you don't need to worry too much, Google stated that "if you're inactive in one or more of the services for two years (24 months), Google may delete the content in the product(s) in which you're inactive." So you will only need to worry about content and files that are 2 years old or more. 
Google has framed this change to their storage practices as a way to tidy up any abandoned digital frames this change as a way to tidy up abandoned digital waste, like that from long-forgotten or unused accounts. This makes sense, considering that more than 4.3 million GB of files are added across Gmail, Drive and Photos by users every single day.
Google has explained that they will also attempt to warn users with emails and notifications before deleting their documents and files. They will notify you at least three months before the two year inactive mark. 
The slow decline of Australian media groups 
Seven media group have been going through a volatile period in the ad market. With the tumultuous year we've had creating an even bigger demand for streaming services on top of the economic downturn, it's not surprising that they have been struggling. It brings into question if they can continue to compete with the ever increasing host of online streaming services rising in Australia. 
In August this year, Seven posted a full year statutory loss of $162 million. Their revenue dropped by 14% during this period, down to $1.23 billion. While this seems like a healthy amount, their net profit after tax and operating costs was down by 66.1%. It's a pretty significant drop.
However, they have noted that the market has improved since August: "Competitive content drives revenue. So far in FY21 we've seen strong revenue share performance when we've delivered engaging content."
Has COVID accelerated the death of media giants as we know them? Seven's news comes at the same time that the Australian senate voted to hold a media diversity enquiry into the Murdoch media empire following Kevin Rudd's record-breaking petition. 
A drop in Google-reported search terms is being seen across devices and ad formats
After Google announced major changes to how they will report on search term data back in September, users are starting to report "a significant drop" in the share of spend attributed to search queries across ad formats and device types.
The decrease of visibility has led to search query attribution to drop for many, for example Tinuiti saw the share of desktop text ads attributed to search queries fall 24 points from 98% to 74% from August to September. In their report, they also found that the cost per conversion of text ad clicks that weren't attributed to search queries were much higher than those that were attributed.
On top of this, they reported on shopping campaigns with lower spend share assigned to search queries than in text ads across device types. 
While the consequences of changing search query reporting was uncertain when the update came into effect, all of this points to broad losses of visibility for advertisers. Other Google Ads users have also reported on increasing losses in their reporting data.
Can dogs talk to us? Bunny could provide the answer
Do you talk to your dog? Most owners would answer a resounding 'Yes', but does your dog talk back to you? Bunny the dog has become TikTok famous for "talking" to her owner using a large collection of buttons with pre-recorded sounds. While millions of viewers are flocking to watch the cute videos, it has caused many to question whether Bunny is actually "talking".  
The question has inspired researchers at the Comparative Cognition Lab at UC San Diego to try to find out. Bunny's owner has been training her since she was a puppy by setting up her system of buttons one at a time. Bunny is now 15 months old and the system has grown to over 70 buttons. 
The lab has now started studying Bunny and other dogs like her in the hope to find scientific evidence on whether non-humans can actually use something like human language to communicate. 
While Bunny's true understanding of language is questionable, it does raise questions about her sentience and that of other animals. When you talk to your dog, do you think they truly understand you? We soon might find out.