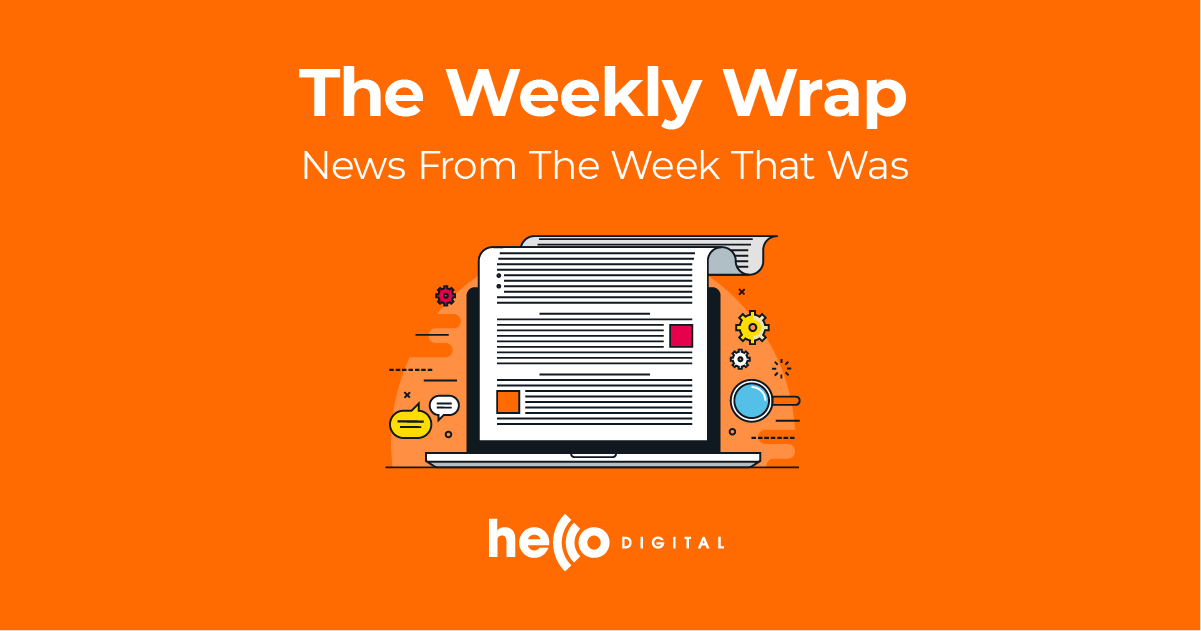 Hello Digital looks at the highlights from the week that was.
It's been a busy week for digital marketers, with Google Ads integrating new insights and capabilities into its mobile app, Reddit launching a range of TikTok-inspired video creation tools, and YouTube updating its Studio platform to help creators be more efficient. Join us as we unpack this and more in The Weekly Wrap. 
More functions arrive on the Google Ads app
The Google Ads app on Android and iOS has been updated with new features to help bring its functionality closer to the desktop experience. For starters, the app now provides explanations based on changes to bid and budget strategies, as well as shifts in search interest. This data will help marketers understand what worked and why, which they can then use to create more successful campaigns in the future. 
In addition, search trends have been integrated into the app so that marketers can keep up with consumer demand in real-time. Specifically, users will be able to see the popular searches associated with a trend, and will also be shown recommendations from Google on how they can use this trend to increase their campaigns' performance. Users can even create a custom notification to alert them when emerging trends are relevant to their business. 
Lastly, marketers now have the ability to build a search campaign directly in the app by tapping the plus icon on the bottom of their screen. From there they can select a campaign type and where they want their ads to appear, as well as adjust other campaign settings. After the campaign is launched, users can continue to monitor and optimise its performance all from their mobile devices. 
In other recent Google news, the company has redesigned its Search Console in an effort to provide better accessibility and usability, which you can read all about here.
Reddit updates its video creation tools
Reddit is introducing a series of new creation tools to its own video feed, thanks to the Dubsmash team that came over with the buyout. For those who don't know, late last year Reddit acquired Dubsmash; an app which enables users to create videos aligned with music clips. 
As part of the integration, users will be able to change the speed of their video, set a timer, trim clips, as well as upload in landscape, portrait, or fill mode. The platform is also adding an editing screen that will allow users to apply filters or stickers, record voice-overs, control volume levels, and experiment with its drawing tool. 
Reddit says video content is growing rapidly on the platform, as it has seen a 70% increase in overall hours watched and a 30% increase in daily active video viewers. Viewership for short videos, which Reddit defines as two seconds or less, has also risen by 50% quarter-over-quarter.
So it's no surprise that the platform is looking to capture even more users with the launch of its TikTok-like tools. As for what kind of short-form video content will be successful on Reddit, we'll have to wait and see.
YouTube modifies its upload settings and Studio platform
YouTube has launched a much-needed option in its Studio platform that lets creators reuse details from previous uploads for new ones. This includes video titles, descriptions, language settings, category selections, and Shorts audio sampling permissions. The aim of this function is to help creators save time, particularly those who regularly post about the same topic. 
The company announced the option alongside some other adjustments, including an updated 'Membership' tab and more analytics on the mobile app (which were previously only available on the desktop version). For example, users can now access 'last 28 days' views performance, weekly view performance, and monthly performance statistics via their mobile, allowing them to stay up-to-date with key measures while on the go. 
Earlier in the year, YouTube began testing 'Achievement Cards' in the Studio platform, which are designed to recognise and reward views, watch-time, and subscribers. The first results of this experiment are now in, and you can find out about them here.
NFT named 'Word of the Year'
Collins Dictionary has chosen 'NFT' as its Word of the Year, which is surprising considering it's technically not a word. NFT is an abbreviation for "non-fungible token" and it refers to a unique digital certificate that is stored on a blockchain, and is used to record ownership of an asset such as an artwork or a collectible. 
Collin's lexicographers chose the word because it demonstrates a "collision of art, technology, and commerce" that has managed to break through the online noise during COVID-19. More importantly, NFT has seen a rapid rise in usage over the last year (up 11,000% in 2021).
This can be attributed to artist Beeple's digital collage NFT, which sold at auction for a staggering $70 million. Other highlights include Twitter CEO Jack Dorsey selling an NFT of his first tweet for $2.9 million, and Sir Tim Berners-Lee (inventor of the World Wide Web) selling an NFT of the source code to the original browser for $5.4 million. 
Whether NFTs will have a lasting influence is still to be determined; however, its large presence in conversations around the world today makes it a clear winner for 2021's Word of the Year.