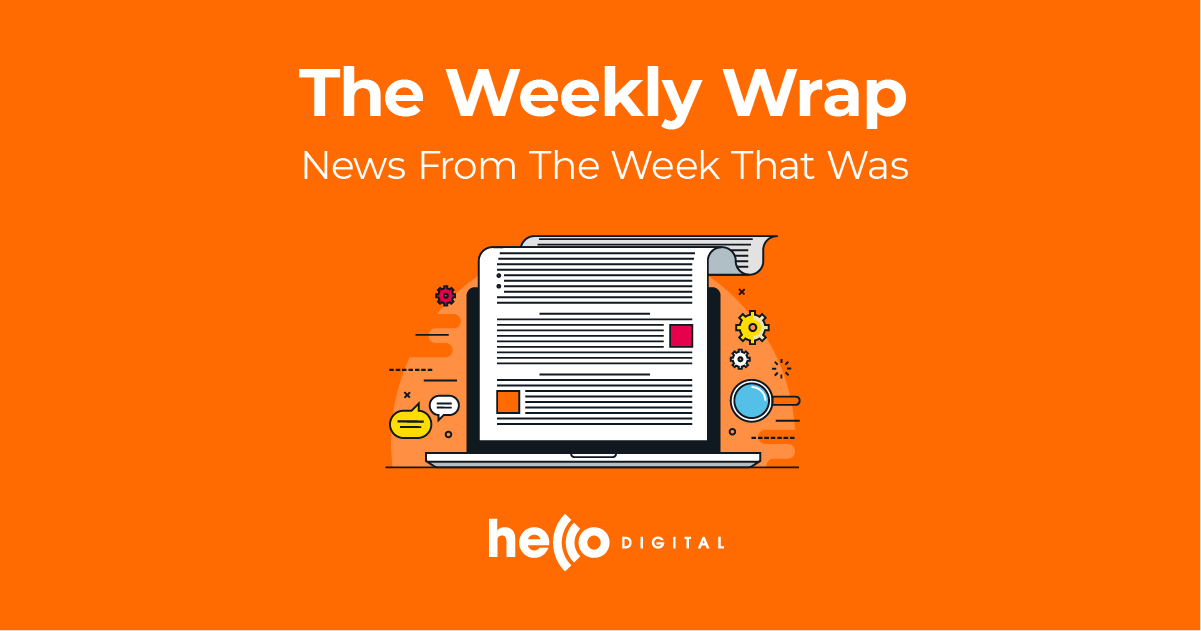 Hello Digital looks at the highlights from the week that was.
It's been an interesting week, to say the least. While the US presidential election still rages on, any other news has been a bit quiet this week. But that's not to say that there isn't still a lot happening in the world of digital.
This week, we look back at some of the most important updates that were made to Google My Business this year, the rise of B2B eCommerce marketplaces, updates and changes in the world of social media and stock of tech giants Apple and Microsoft (among others) soaring during the craziness of the election. 
Take a look at the week in digital news…
Moz look back at the top 10 updates to Google My Business in 2020
Since the start of the year, there have been 54 updates and changes that have affected Google My Business. Some might seem relatively insignificant, but given GMB is central to local business SEO, it's important to keep track of these changes.
Moz guest author Colan Nielsen covered the top 10 changes that made the biggest impact on the GMB platform and how we use it. One of the most important, given the events of the year, was the launch of several COVID related features in March. These updates intended to help businesses cope with the changing and uncertain climate of lockdowns and closures, and included things like adding the option to report a location as "Temporarily Closed" and adding a COVID-19 Google Post type.
Then in April they added further updates to help businesses highlight COVID information, by adding "COVID-19 info" and "Telehealth info" link options. 
In April, they added a feature that allows users the option to flag a user profile. This is good news for those who want to report a reviewer's profile for engaging in clearly fake reviews. Before this feature was introduced, the only way to report a user's profile was to send an email request to Local Guides support. 
There were plenty of other great features and updates to GMB this year. Users should take a look at the list for a full rundown of the top 10. 
The next billion dollar eCommerce platforms are set to be B2B marketplaces
Everyone is moving online, whether they had planned to or not. TechCrunch has recently reported that the next big thing in eCommerce will be B2B marketplaces. It's generally an industry with broad reach, with B2B eCommerce covering things like commerce infrastructure, payments technology, and procurement and supply-chain solutions. But marketplaces still hold outsized promise. 
Startups Faire and Mirakl launched this year and very quickly earned themselves billion dollar valuations. Fuelled by the pandemic, these platforms for buyers and sellers of business-related products are rapidly increasing in popularity. On top of the digital push during COVID, marketplaces have been fueled by better infrastructure, payments and security in the back-end. This has helped to increase confidence and demand, leading to a prediction of a very promising future.
Take a look at TechCrunch's article for more of a deep dive about how the B2B marketplaces and transactions work. 
A brief look at social media news, with TikTok, Facebook, & LinkedIn
Meanwhile, in the land of social media, there has also been big news for eCommerce. TikTok has announced a global integration with Shopify, allowing Shopify merchants to promote their products through the social network. This news marks the first major commerce integration for TikTok and now opens up its budding ad business to over 1 million merchants.
eCommerce advertisers were also the biggest users on Facebook, due to the pandemic. The move from offline and bricks and mortar shopping to online shopping has also led to an increase in demand for advertising. Facebook announced that their third-quarter ad revenue this year reached $21.2 billion, which was up 22% year-over-year. In their earnings report, they also announced that there are now over 10 million advertisers on the platform.
LinkedIn also had some wins recently. Although it's often the forgotten social media platform, they are still managing to increase users incrementally. LinkedIn members have now reached 722 million, which is up 9% year-on-year. Platform owners Microsoft have said that LinkedIn has seen "record levels of engagement" in the last quarter and that their revenue growth was "significantly ahead of expectations" as their advertising environment improved. 
Apple and Microsoft stock soars during presidential election 
We couldn't do the Weekly Wrap this week without mentioning the US election, somehow. In an interesting outcome for all the election drama, Apple, Microsoft and other tech stocks have soared. 
While it's not clear exactly why this is, the corporations have managed to add tens of billions of dollars in value over the past week, with Apple rising 3.9% in premarket trading and Microsoft gained 4.4%. This is great news for tech companies who are hoping to go public by the end of the year or into next, as it marks a positive industry growth to ride on the back of. However, with the unpredible election still dragging out, it's clear that things could change as quickly as they rose.