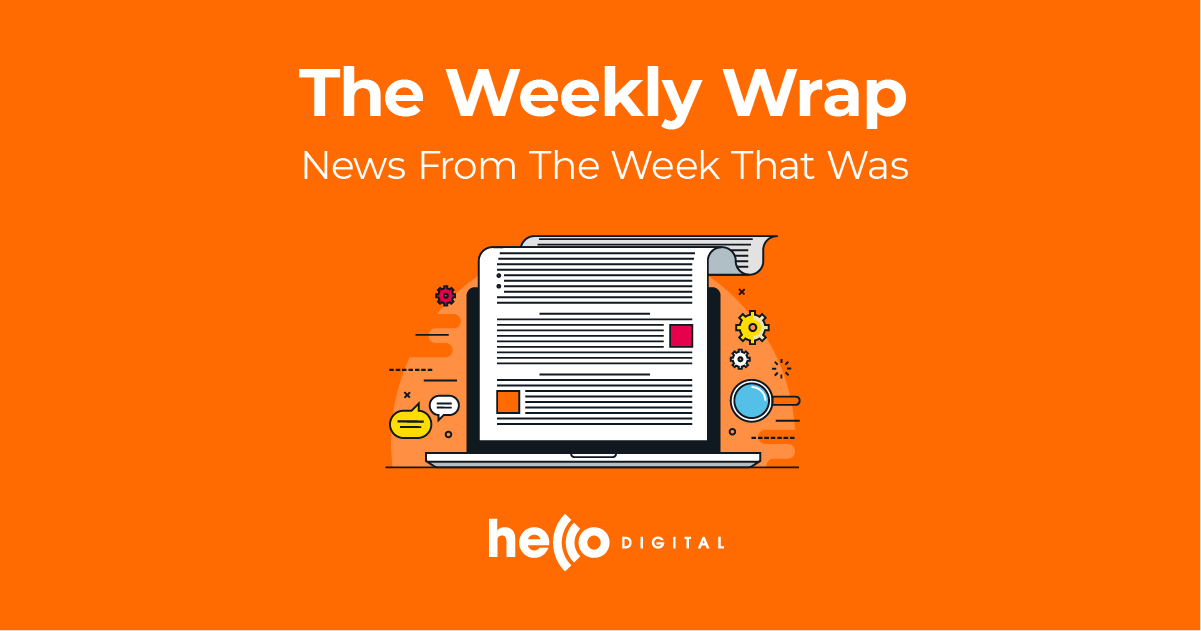 Hello Digital looks at the highlights from the week that was.
This past week we have seen a wide range of digital marketing news, including Twitter updating its visual communication and editing tools, Meta announcing the removal of sensitive ad categories, and YouTube disabling public dislike counts on all videos. Join us as we unpack this, and more, in the latest instalment of The Weekly Wrap.
Twitter improves its visual enhancement options
After a successful test run earlier in the year, Twitter is now rolling out its updated visual communication and editing tools to more users. These tools will enable users to add stickers, text, and crops to their images and videos, giving them greater presence and creative flair in the feed. Users will also have more functionality with their tweets, as they can now post a straight text visual on top of a coloured background (see here for an example). 
This update is more aligned to the visual editing tools found on other social media apps such as Facebook and Instagram, while also providing additional enhancement options. 
Essentially, Twitter has taken the key visual elements of its Fleets feature and integrated them into its new user interface (UI) for tweets. This is not surprising – back in July when the removal of Fleets was announced, Twitter noted that it would be taking the lessons it had learnt from the failed option and applying them to future features. 
The platform may also decide to add more to the visual editor, as it recently acquired Chroma Labs; the start-up behind an app which provides a range of stylistic frames and filter options for Stories content. 
In the meantime, Twitter has revealed that it will begin testing some new updates to its camera and gallery that will allow users to express themselves more easily, so stay tuned for further updates!
Meta's new restrictions on ad targeting
Meta has announced it will be removing detailed ad targeting options that refer to "sensitive" topics, such as ads based on interactions with content related to race, health, religious views, political beliefs, and sexual orientation to name a few. 
This is a big change, and Meta is aware that it could hurt some businesses, as well as its own. However, Meta's VP of Product Marketing, Graham Mudd, says that these options may be used in ways which lead to negative experiences for people in underrepresented groups, and therefore need to be deleted. 
Additionally, the EU's consumer data protection laws indicate that Facebook can't target European users based on these parameters without explicit consent from each individual. Since Meta's global advertising system can't effectively filter out certain areas, it will have to disable these detailed targeting groups across the world. 
Meta has confirmed that marketers can still use Engagement Custom Audiences to reach people who have liked their page or interacted with their content. They can also continue to use broad targeting and lookalike audiences, along with their own email lists. 
The move will go into effect across Facebook, Instagram, and Messenger on January 19th 2022. 
YouTube hides dislike counts to reduce harassment
YouTube has decided to make the "dislike" count on videos private across its platform. Viewers are used to seeing the like-to-dislike ratio as soon as they click on a video and often use that number to determine whether to continue watching. Now, that will no longer be an option, but it could limit the amount of coordinated dislike attacks.
According to YouTube, it wasn't uncommon for groups of viewers to drive up a video's dislike count simply because they didn't like the creator. The platform believes this is a big problem when half of their mission is to give everyone a voice. 
Although dislike counts won't be visible to the public, the thumbs down button will not disappear altogether – users can still show their aversion so that YouTube's algorithm can better target their desired content. 
Meanwhile, creators will be able to track their exact dislikes in YouTube Studio, as well as other video performance analytics (if they choose to). 
It will be interesting to see if any of YouTube's competitors take a similar approach with potential downvote options. Currently, none of the major social media platforms are considering adding dislikes; but if this move proves successful, it could be another way for them to facilitate direct feedback without the negative implications of disapproval. 
Apple breaks App Store tradition
Apple has revealed that it won't be closing the App Store to developers during the holidays, marking a shift from the company's approach in previous years. 
Apple usually doesn't let developers make submissions through its portal for a few days over Christmas, which means that they end up rushing to release apps so that they can capitalise on people receiving Apple devices or gift cards as presents. Developers would also often fear that they'd be blocked from issuing emergency bug fixes or other critical updates during one of the busiest seasons for apps. 
It's important to note that while submissions will be open, reviews will take longer to complete due to lower staffing levels. Therefore, developers that are planning to submit new apps should do so before December 23rd. 
This news comes as Apple faces increased regulatory scrutiny over its App Store business model, which requires developers to pay a commission on app purchases and in-app payments. To read more about the class action lawsuit click here.