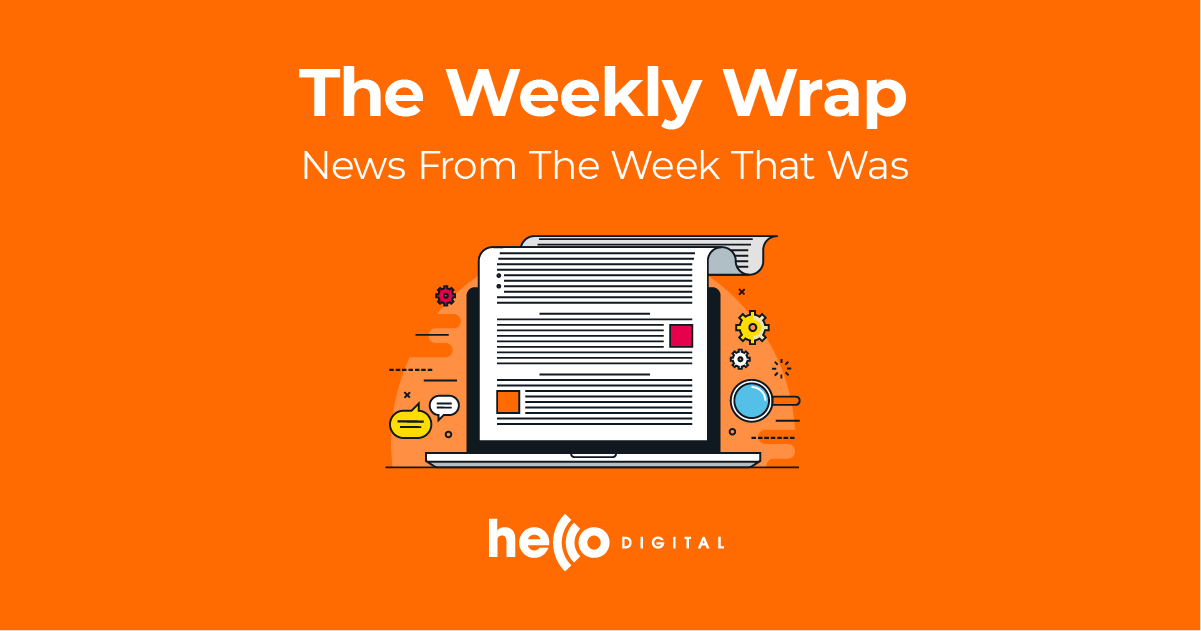 Hello Digital looks at the highlights from the week that was.
This week has been packed with news about the digital world, including Facebook deleting the face prints of more than one billion people, Instagram adding a new Stories sticker to encourage engagement, and Google rebranding its local listing platform. Join us as we unpack this and more in The Weekly Wrap.
Facebook drops its facial recognition tool
Facebook's newly named parent company, Meta, has announced it will be shutting down the platform's facial recognition system, and will also be deleting more than a billion templates used to pair faces with photos and videos. 
Although over a third of Facebook users have opted in to this program over time, many have criticised the platform for trying to invade their privacy.
However, Facebook argues that its recognition technology has helped those who are visually impaired identify their friends in photos or videos, and has prevented scams by letting users know when their image has been shared on a stranger's account. Nevertheless, the legal and reputational issues have continued to mount, forcing the platform to reassess this capability.  
A spokesperson from Facebook has confirmed that the removal will take place globally and is expected to be complete by December. It is important to note that the option to manually name other users in photos and videos will remain. 
The platform also hasn't ruled out future use of facial recognition, potentially through alternative tracking methods and data collection. But perhaps it won't be necessary, given that in the new 'metaverse' our visual ID will be avatars of cartoon characters and robots. 
To read more about this exciting project click here. 
Instagram introduces public threads in Stories
Instagram has launched a new 'Add Yours' sticker for Stories, which allows users to respond with their own media according to whatever prompt is shared. For example, a user can post an "Outfit of the Day" Story and then ask their followers to add a photo of what they're wearing via the sticker.  
Although this feature is aimed at driving community engagement, it can also be seen as an opportunity for brand discovery since you'll be able to go through all the thread responses. 
This sticker is similar to TikTok's "Duet" feature, which allows users to create long, interactive streams of content based on an original video. However, Instagram's sticker differs slightly in that it allows you to see everyone's added posts in one place, whereas on TikTok, you can only view Duets as they appear on your feed. 
In other recent Instagram news, the platform has announced that when users share a link to their post via Twitter, it will be displayed as a card with a preview of the photo. Despite being a small feature, it's one that many users have been waiting for, as it will make cross-posting from Instagram to Twitter a lot easier.
Google My Business gets a new name
Google is changing the name of its local listing platform, Google My Business (GMB), to Google Business Profile, and will also be retiring its GMB app in an effort to "keep things simple". 
Over the next couple of months, those who create a Business Profile on Google will be able to complete their setup directly on Google Search and Maps, which means they can immediately check whether their profile is publicly visible.
For larger businesses, the GMB site will remain available so that multiple profiles can be managed from one dashboard; however, it will soon be renamed to "Business Profile Manager". 
In addition, Google will be providing more options to message customers from Search, as well as new metrics on inbound customer calls that come from a business' profile. Referral traffic doesn't reflect these interactions, so this will prove useful for future promotions. 
More details about this rebrand will be provided by Google in the coming months. Nevertheless, the platform is still the key driver of site traffic (in most cases), so it's worth taking the time to explore how you can optimise your business' listing.
YouTube tests direct access to Shorts
YouTube will begin a new test, in which users who exit the app while watching Shorts will be dropped back into the tab when they reopen the app. This experiment will only involve a small percentage of mobile users, and is aimed at those who regularly engage with Shorts content. 
If participants close YouTube while watching anything other than Shorts, the platform won't direct them back next time they enter the app. 
The test underlines the rising influence of TikTok, with users becoming more accustomed to a continuous stream of content that keeps them scrolling for longer. 
The implications of this experiment could be significant in terms of YouTube's development focus, as well as the creation of similar features on other apps. For example, Instagram may test out opening to a full-screen Reels feed, as opposed to its traditional post stream. 
So if you like short-form videos, you're in luck, as it's likely you'll see a lot more of them going forward!