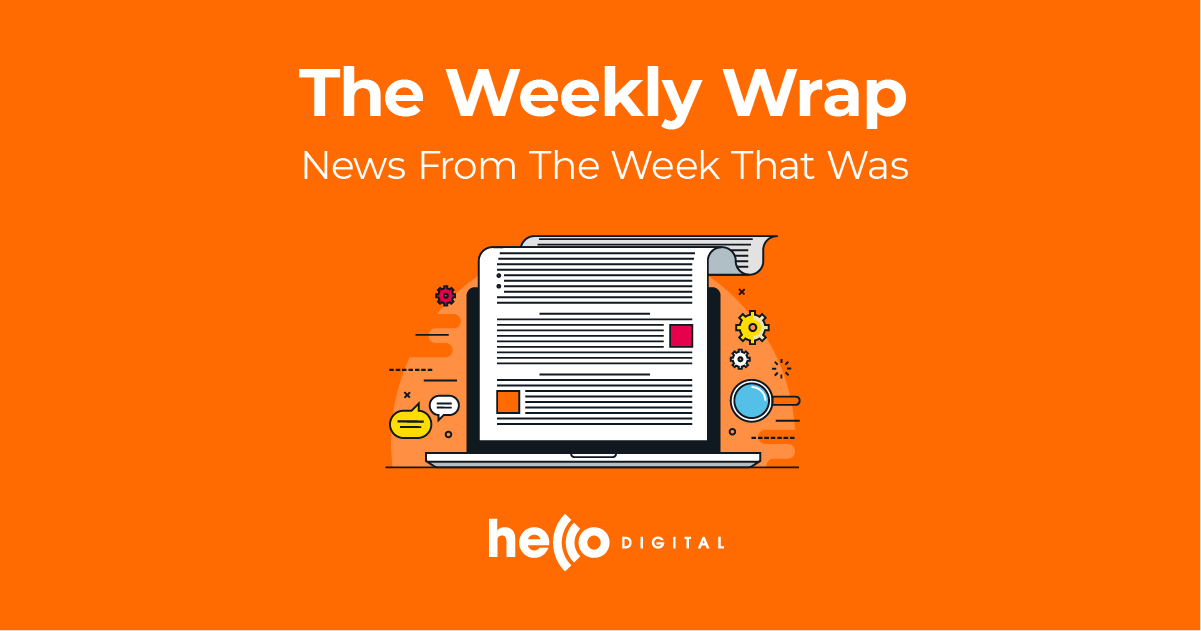 Hello Digital looks at the highlights from the week that was.
It's been a rollercoaster of a week, with Tesla slowly rolling out new and improved Autopilot software for their vehicles (which will hopefully lead to less fatalities) Google finally resolving their indexing issues (well, 99% of them) and Quibi closing their doors after only 6 months. 
Keep reading for more of the week in digital news…
Only 6 months after its launch, Quibi is closing down
One of the newest video streaming services to hit the market has now become one of the most short lived. Quibi launched in April this year, after it raised more than $2.4 billion from investors, and today they announced in an open letter that they're shutting up shop.
Short for "quick bites", Quibi was a streaming service for short videos to watch on your smartphone, with movies and series episodes only being 10 minutes in length. 
Marketed towards smartphone users when they're out and about, and no doubt our waning attention spans, Quibi managed to amass some big names in their short life. Steven Spielberg, Liam Hemsworth, Reese Witherspoon and Chrissy Teigen all signed up for shows on the platform, and it even scored some Emmys earlier this year. 
Quibi cites the reasons for the platform not succeeding are likely "because the idea itself wasn't strong enough to justify a standalone streaming service or because of our timing."
Whatever the reason, they have said they will begin winding down the business and selling off content and technology assets, with that money to be used to pay off liabilities and the remainder being returned to investors.
99% of Google's indexing issues have now been resolved
For those not in the know, Google's indexing issues might not seem that important (or make much sense). At the start of October, Google announced that they were experiencing indexing issues for both canonicalisation and mobile-indexing. In their statement, they said,
"We are currently working to resolve two separate indexing issues that have impacted some URLs. One is with mobile-indexing. The other is with canonicalization, how we detect and handle duplicate content. In either of these two cases, pages might not be indexed."
What that meant in some cases was that Google was showing a completely wrong URL for a page or not showing that page at all in its index. It's hard to know exactly what impact this had for people, and it looks like the issue has been all but cleared up. However, Search Engine Land is recommending people annotate their reports for the month of September through to October 14th so that they can document these indexing bugs. That way people can understand why some pages may have dropped out of the indexed and which ones potentially saw a decline in Google organic traffic.
Tesla's new version of Autopilot rolls out for select customers
Elon Musk has announced that Tesla is starting to roll out their full self-driving software to select customers, with plans to roll it out more broadly by the end of the year. 
The beta software will feature updates to Autopilot, giving drivers access to the partially automated driver assist system on city streets. The update will allow vehicles to interpret their environment in four dimensions rather than two, which should create a dramatic improvement in performance and faster software updates.
Tesla customers on the Early Access Program will receive the system update, which is used as a testing platform to help iron out software bugs.
Tesla is being careful with their Autopilot software after a series of fatal crashes involving their vehicles with Autopilot enabled. While drivers are told that they will need to be ready to take control if the car runs into a problem, many were ignoring this. Some people were even caught sleeping, among other activities, while their cars were on Autopilot. Now, drivers must have a hand on the wheel at all times, or else a series of warnings will appear before Autopilot disengages entirely. 
How Netflix uses data-driven innovation 
Netflix has undoubtedly become the leading streaming service, breaking new ground and constantly improving the personalisation on their platform for users. Speaking at Tableau's Conference event last week, Netflix co-founder and CEO Marc Randolph said that the success of their platform lies in their ability to understand what works and what doesn't. They do this by using clear data, mixed with creativity, innovation and testing. 
He was at the conference to speak about his new book That Will Never Work, which covers the birth of Netflix, and he explained his process of using testing and analytics to help make decisions. 
"You have to rely on what you can discover about the customer, how they behave, what they purchase, what they watch, what they did and how they move through a website," he said. "That tracking and understanding [for Netflix] came from building a system to allow us to have the data to make these good decisions. It permeated literally every single piece of that organisation."
Data has become the most powerful currency in the world today, and it makes sense for platforms like Netflix (and any business for that matter) to make the most of it to inform their decisions. Data driven marketing gives you things like more context in your targeting, allows you to track trends easily, and increases the chances of getting noticed by the right people.