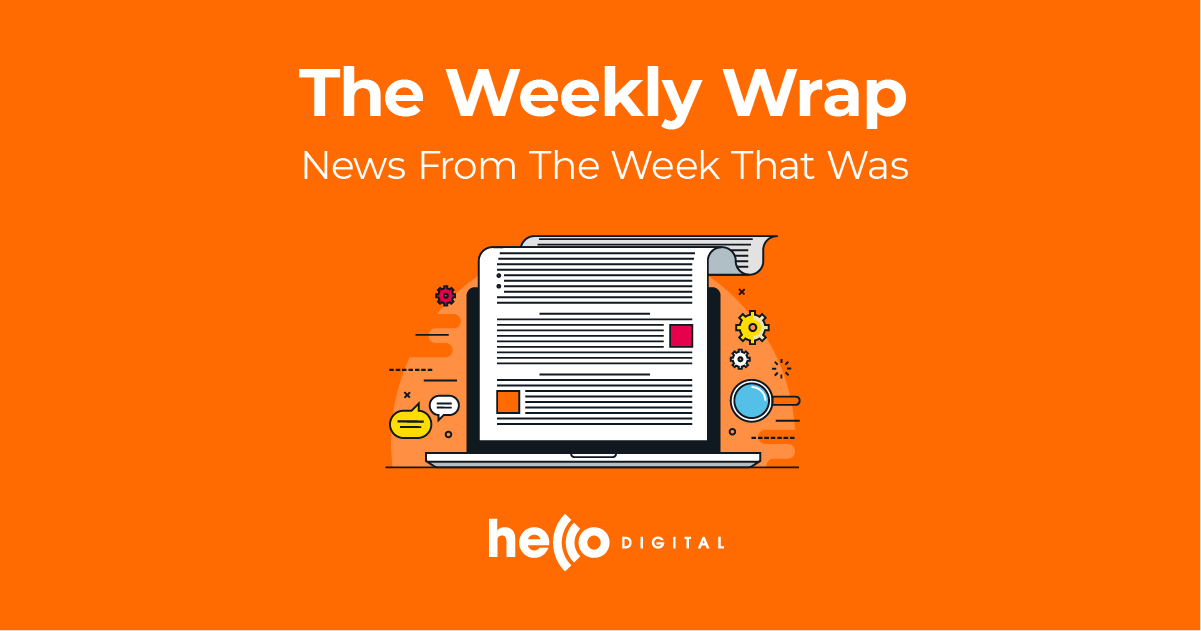 Hello Digital looks at the highlights from the week that was.
As restrictions continue to ease in Australia, we're starting to get a better idea of how the world will look post-COVID. Like every industry across the globe, marketing has had to adapt to the rapidly changing crisis, and industry leaders have now started to speculate on what the future holds for digital marketing. We look at this, along with a pivotal hearing for online content moderation in the US, Moz's new Page Authority metric, and the possible future of home surveillance in this installment of The Weekly Wrap.
Facebook, Google and Twitter CEOs summoned to appear at content moderation hearing
CEOs of Facebook, Google and Twitter have been summoned to appear for testimony as part of a hearing on amendments to a crucial law on online content moderation practices.
The US Senate Commerce Committee issued summons for the hearing on October 1st, but it is expected that the CEOs may try to evade the summons, particularly given the unusually tight timeline for such a high-profile panel. However, it is believed that the Senate panel plans to subpoena the CEOs if they do not agree to the requests to appear.
The hearing will focus on measures to amend Section 230, a 1996 law that has protected tech platforms from lawsuits over content their users post. 
Moz set to release an update to their Page Authority metric this month
SEO experts Moz have announced a change coming to the way they calculate Page Authority. The new changes will be rolling out on September 30, 2020 for users of their SEO software. 
While the metric they are referring to is one of their own and not industry standard, Moz is considered the leading global authority on SEO so it is expected to be used widely.
When detailing the upcoming changes, Moz explained that:
"Instead of modeling Page Authority based on one page's ability to outrank another page, we now train based on the cumulative value of a page based on a number of metrics including search traffic and CPC."
This is just one of the features of the new PA metric. There is also the re-training set, which will work to retrain itself and identify outliers (high PA URLs which do not in fact have any search value), and then feed those URLs back into the training set.
So what does this mean for SEOs? Thankfully Moz detailed what actions we should take to prepare for Page Authority 2.0. Take a look at the suggestions in their blog. 
Amazon release a flying home surveillance camera
Are you a big believer in home surveillance technology? Then you may be one of the few people excited about the Ring Drone. Amazon announced the release of their latest connected device on Thursday as an addition to their Ring home surveillance products. 
It has largely received negative responses so far, in part because of the privacy issues the Ring network has had so far. 
Apparently, the drone will work autonomously, flying around the interior of your home to predetermined areas, shooting and live streaming video in the process, and allowing you to view the inside of your home in real-time. 
While drone technology continues to improve, Amazon haven't released details on how the Ring drone will actually work autonomously and whether users will encounter any of the ongoing privacy issues.
Is this the future of home surveillance? Would you want a flying drone camera in your house? 
What does marketing look like post-COVID?
Now that restrictions begin to ease again in Australia and things have started to settle down (touch wood), people have begun predicting what the world will look like post-COVID. 
Some are waiting patiently for things to go back to how life was before the pandemic, while others believe that we're living in a new normal. 
Like everyone, marketers have had to adapt to the unfolding crisis. CMO spoke to four industry leaders to discover the changes they have faced and how they think marketing will look in the future.
The insights include the jump in investment in digital tools and platforms during lockdown, and the rise in the use of video marketing. Kartik Srinivasan, Marketing manager at Achievers believes that the rapid scale and proliferation in the adoption of video will outlive COVID.
Meanwhile the Group marketing director at Silverbullet, Fi Taylor, believes that the future will see traditional business models fade away, and a move towards delivering data, content and activation seamlessly to remove friction within organisations. 
The competition online has increased over lockdown, as have cybersecurity breaches. As we rely heavily on digital platforms moving forward, Vivienne Horsfall, the marketing manager at Ping Identity, believes that organisations will have to offer a one-to-one personalised service to be able to compete. She argues that this will be from acquisition and registration processes, and all the way through the customer journey. 
While these are just predictions, the way we have seen things moving online (from music festivals to conferences) marks a big shift in digital communications. What do you think we will see in the future of marketing?