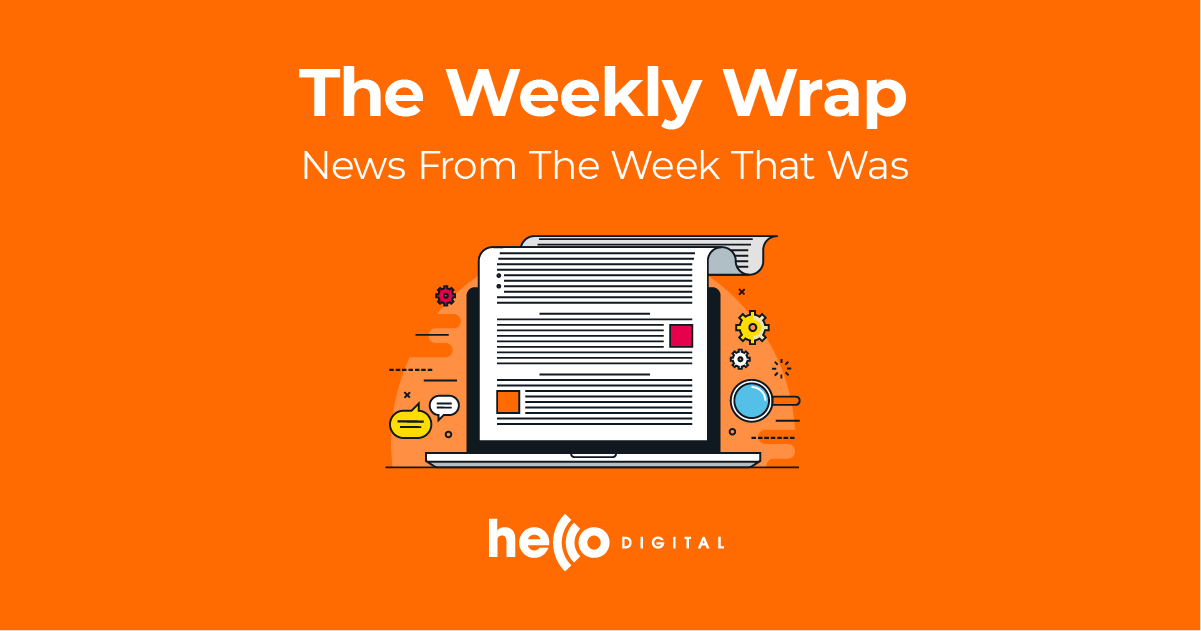 Hello Digital looks at the highlights from the week that was.
Can a cyberattack be deadly? This week it was proved possible after a ransomware attack was reported on a German hospital. But it's not all doom and gloom, this week we look at the big questions being asked right now about data rights, how keyword ranking works in top-level domains, and the ongoing battle (and marketing ploy) between Hungry Jack's and McDonald's. 
Here's our Weekly Wrap of some of the standout news items from the world of digital marketing and beyond. 
The next big question in digital marketing: What data rights do advertisers have?
Conversations around ad data have been continuing ever since Google announced that they would limit search term data reports when there isn't "significant" data. Questions have been asked about what changes like this mean for their campaign and ad success, with some agencies reporting that the changes have led to a 25%-30% loss of data insights. Kirk Willams on Search Engine Land argues that the question that we should be asking is, "What rights do advertisers have to the marketing data we utilize for our decisions?".
It's a very interesting (and complex) question, and opens up a can of worms. It looks at big issues across digital marketing and tech in general, like privacy, data storage, and even automation. 
Now that Google has started to limit the data they show advertisers about their campaigns, does this mean that the data is owned by the company storing it, rather than the ones paying for it?
Google has not explicitly answered this question (along with many others), and people are arguing for and against. 
The one thing that is clear is that the conversation will be happening for a long time, and as Williams suggests, it will likely shape the digital marketing industry for decades.
Cyberattack on a hospital directly linked to a woman's death
A German hospital had to turn away a woman from their emergency department this week after their IT systems failed in what is believed to be a misdirected ransomware attack. The attack was meant for a nearby university, but instead it shut down the systems at the Duesseldorf University Hospital. 
Not only does this highlight that just about anywhere is susceptible to cyberattack, but it also underscored what cybersecurity experts have warned for years: that many healthcare facilities are woefully unequipped to deal with these kinds of attacks. 
Hospitals rely heavily on equipment that needs an internet connection to operate, like radiology machines. Once this is compromised, they are unable to treat patients adequately, or like was seen in Germany, at all. While we've made leaps and bounds in medical technology, what happens when the technology we rely on fails?
The battle of the Big Jack: Hungry Jack's latest marketing victory
In what may be one of the best marketing stunts of the year, Hungry Jack's have doubled down on their campaign for the Big Jack, after McDonald's filed suit against them earlier this month. According to the court documents, McDonald's claims that the burger's advertising 'imitates' the 'distinctive appearance' of the Big Mac, as well as the ingredients and tagline McDonald's has become known for. 
Instead of backtracking, Hungry Jack's have used the lawsuit as a chance to push the campaign further, saying that Australians will have no issues telling the difference between the two burgers, due to the Big Jack's superior ingredients and bigger size. 
This isn't the first time Hungry Jack's have taken aim at McDonald's. When McDonald's lost the trademark for the Big Mac in the EU, Hungry Jack's ran a campaign that included lines like 'Big Mac, but actually big' and the 'Burger Big Mac wished it was'. It looks like the battle between the two fast food giants will be going on for a while yet. 
Keywords in top-level domains won't help them rank better
A webmaster trends analyst at Google has said that keywords in generic top-level domains won't help you rank better. The comments came in relation to generic top-level domains like ".jobs" on an episode of AskGoogleWebmasters this week.
His comments relate to Google guidance that was published back in 2015, where they explained that its systems treat new generic top-level domains (gTLDs) like other gLTDs, such as .com and .org. So, as John Mueller stated, "just because a website has a keyword in its domain name, doesn't mean that it's more relevant than others for that keyword." 
Google, for one, treats domains like .jobs, .how and branded domains like .BMW the same as it would .com or .org domains.