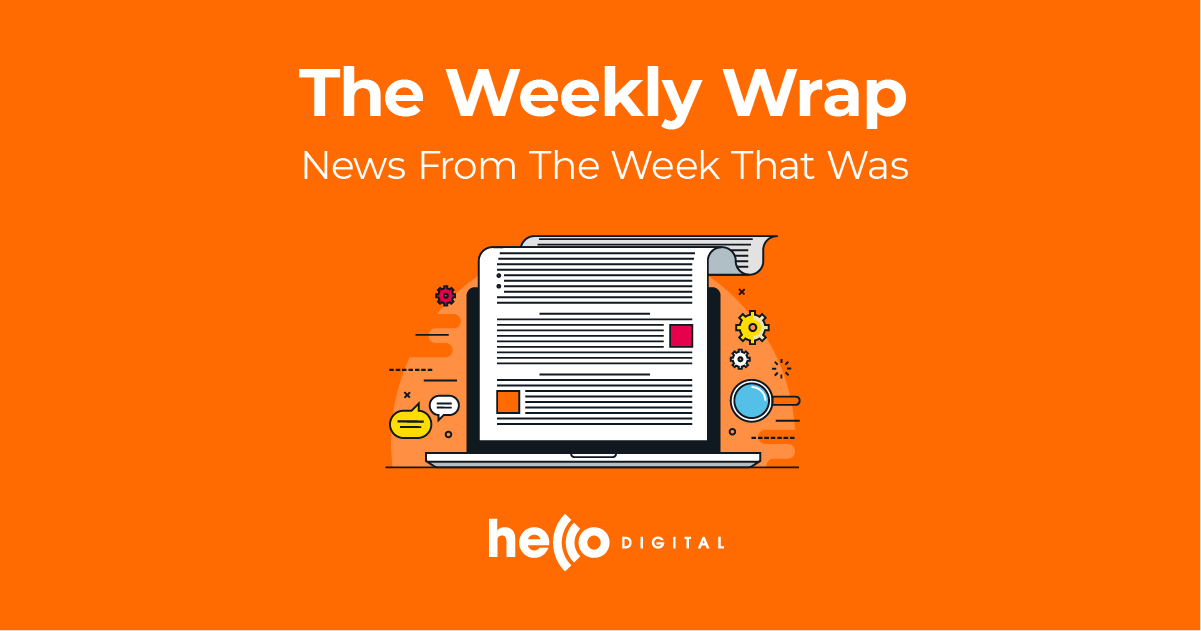 Hello Digital looks at the highlights from the week that was.
This week started off with a bang, or more like a bang to the Internet, with a global outage causing major websites to go down for almost an hour. We also saw Apple unveil its next operating system update, and heard rumours about Facebook's plan for developing its first smartwatch. Join us as we unpack this, and more, in the latest instalment of The Weekly Wrap. 
Massive internet outage hits popular websites
Countless news, social media, and government sites were temporarily unavailable earlier in the week after Fastly (FSLY) reported a widespread internet outage. The US-based firm is one the largest content delivery network (CDN) providers in the world, which means they are mainly responsible for helping websites move digital information using less-congested routes so that it reaches users faster. On Tuesday night, however, a CDN client made a valid configuration change that somehow triggered a bug and caused 85% of FSLY's network to return error messages. 
Although the outage affected dozens of countries across the globe, the firm identified and solved the issue in just under an hour. This is not the first time a CDN provider has faced an unexpected disruption – in 2020, Cloudflare was down for several hours due to a third-party transit provider incident involving an increased level of HTTP error codes.
While it is rare for these failures to occur, it does highlight the dependency people have on cloud services and their availability. It also raises concerns about how vulnerable firms such as FSLY are to more serious interference, including security breaches. 
FSLY has stated that they will be deploying a bug fix and investigating this problem further to ensure it does not happen again. 
Apple reveals next major operating system updates
This week Apple held its virtual Worldwide Developer Conference (WWDC), which included a keynote packed with announcements about its newest software update, iOS 15. The main themes revolved around privacy, reducing distractions for users, and allowing them to stay connected with friends and family.
For starters, iOS 15 will have a "SharePlay" feature that enables users to watch videos, listen to music, and control apps in sync with others via FaceTime. Additionally, users will be able to generate links to let people join FaceTime calls (similar to Zoom), as well as receive better voice isolation for when they are in loud environments.
Users will also have the option to shift their phone into different customisable modes such as "work" or "sleep" in order to filter apps and widgets. Similarly, Apple will be introducing a notifications experience whereby users' devices will set aside alerts that are not urgent and deliver them at a more suitable time. 
Another new capability is the App Privacy Report, which will reveal to users how often apps have accessed their location, photos, camera, microphone, and contact list during the past week (that is if they have opted-in to App Tracking).  
Apple's Senior Vice President of Software Engineering, Craig Federighi, has confirmed that the update will roll into public beta in July, with a full release scheduled for this spring. 
There are many other cool features coming to iOS 15, as well as the iPad and Mac operating systems, so click here if you're interested in finding out more. 
Facebook's plans for smartwatch with AR control 
Facebook is said to be developing its first smartwatch that will also act as a controller for its upcoming augmented reality (AR) projects. The device will reportedly include a detachable display fitted with two cameras; one mainly for video calling and the other for photography purposes. Users will also be able to share what they have captured on the watch across the company's suite of apps, including its own social media service (i.e. Facebook). 
The move to digital watches is part of Facebook CEO Mark Zuckerberg's plan to build more devices that surpass Apple and Google. The tech giant has previously expressed an interest in the commercial smartwatch space, as they were one of the top bidders to acquire Fitbit in 2019 (which was eventually bought by Google's parent company, Alphabet).  
There are claims that the company is partnering with the largest wireless carriers in the US to support LTE connectivity, meaning that the device won't need to be paired with a phone in order to work. 
Although Facebook has not publicly confirmed the existence of the watch, it is supposedly set to be released between June and September next year. The product is expected to cost around $AU500; however, mass production is yet to begin so the price is subject to change. 
Google develops superior algorithm for chip design
Google has announced that it has produced a deep reinforcement learning software that is capable of designing artificial intelligence (AI) chips at a much faster rate than humans. To put it in even simpler terms, Google is using AI to help create more advanced AI systems.
While the company has been working on how to apply machine learning to build chips for years, this is the first time its research has been used for a commercial product (that being Google's own TPU chips). 
The tech giant has explained that a chip that would take humans months of intense effort to work out its "floor plan" can be drawn up by the new AI in less than six hours. The reason behind this is that machines view it as a game and are trained to find unexpected answers to familiar problems in a short amount of time. In this instance, Google engineers have fed its AI system 10,000 varying chip floor plans in order to learn what works and what doesn't. 
The recent development is considered to be an "important achievement" for the future of the semiconductor sector, as it will allow companies to efficiently test potential designs, as well as develop custom chips for specified tasks.