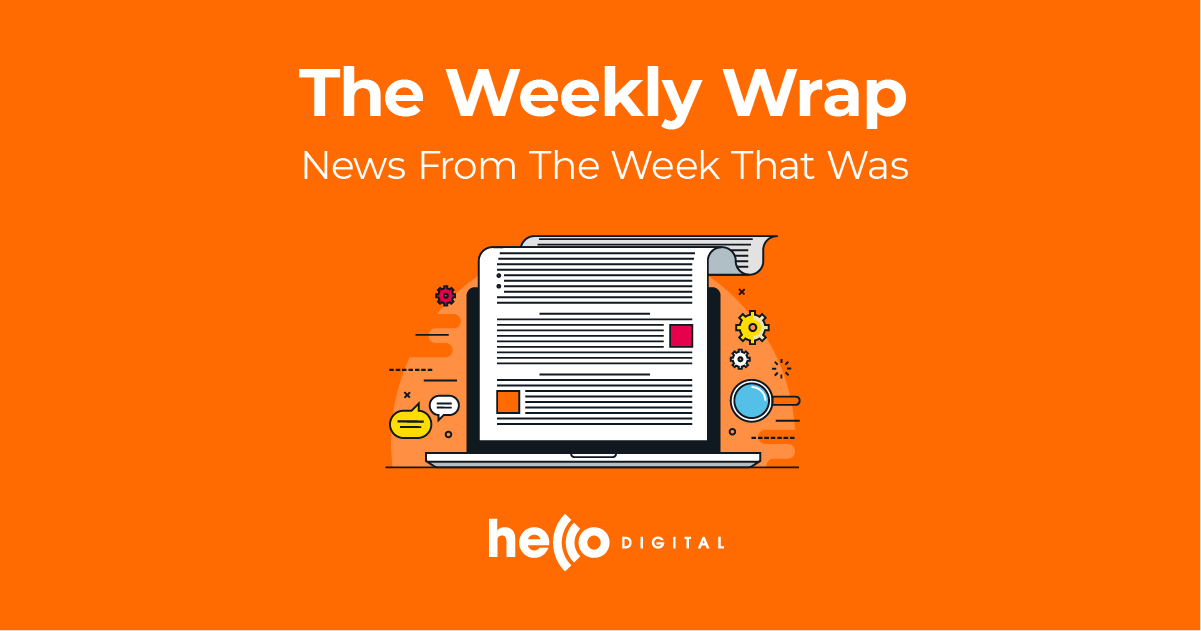 Hello Digital looks at the highlights from the week that was.
It's been a big week, with announcements from Microsoft of their brand new advertising features, as well as hackers targeting Apple in a $50 million ransomware attack. Join us for this and more in The Weekly Wrap.
Google release more details on page experience update
There's been a lot brewing at Google HQ recently, with a lot updates in the works. One of the most important to SEOs is their upcoming page experience update. 
They announced the update in November 2020, but the changes won't be coming into effect until later this year. In their most recent announcement, they say they'll begin using page experience as part of their ranking systems beginning in mid-June. Once the roll out begins, it won't play its full role in ranking until the end of August. 
The slow roll out is giving SEOs and business owners more time to prepare, although they've said that sites generally won't experience drastic changes. Page experience should be an important consideration for business though, regardless of whether it's an official ranking factor or not. 
The update is designed to highlight pages that offer great user experiences and will consider several page experience signals, including the three Core Web Vitals metrics: LCP, FID, and CLS (along with Chrome's recent fix to CLS). 
To give people more actionable insight, they're also introducing a Page Experience report. It will combine the existing Core Web Vitals report with "other components of the page experience signals, such as HTTPS security, absence of intrusive interstitials, safe browsing status, and mobile friendliness." 
You can read more about it on the Google Search blog. 
Apple targeted in $50 million ransomware attack
Apple has become the latest victim in a spate of ransomware attacks, with Russian hackers asking for $50 million by May 1st from the tech giant. The ransom is for engineering and manufacturing schematics of current and future products from Quanta, who are a Taiwan-based company that manufactures MacBooks and other products for Apple. 
Quanta refused to pay the $50 million ransom for the data, so hackers have moved onto Apple. The hack was carried out by REvil, a Russian hacking group also known by the name Sodinokibi. They began releasing the stolen images on April 20th, coinciding with Apple's latest "Spring Loaded" event. They are now threatening to post new images daily until the ransom has been paid.
The data is highly confidential, but Quanta believed that the hack had "no material impact on the company's business operation". Apple have yet to comment on the hack and indicate whether they will be paying the ransom. 
The hackers have a history of similar ransomware attacks, with hacks on Acer and other tech companies in the past few months. However, the Quanta attack is the group's most high-profile target yet, given the connection to Apple and the potential to reveal unannounced Apple hardware. 
You can read more about the ransomware attack on The Verge. 
Microsoft Advertising announces multiple new product updates
Microsoft continues to expand their offerings in light of the growing mistrust of Google, positioning themselves as a viable competitor. At their recent Advertising Partner Summit, they announced multiple new products and insights:
Video ads in the Microsoft Audience Network.

They will work by showing a clickable video image with a play button and then open in the search experience to play. The pilot of video ads will allow both CPC and CPM bidding, where previously you could only bid CPC in the Microsoft Audience Network.

Facebook import for Microsoft Audience Network.

This import feature will allow you to pull across campaign structure from Facebook into Microsoft Advertising. You'll be able to import audience targeting (where it aligns with Microsoft sets), as well as creative like images and body copy.

Options for small businesses.

Microsoft will be helping small businesses with their new products, giving them the ability to advertise on Bing without having a website. They are launching a pilot in the US called Smart Pages to help businesses create a site that they can then use to advertise anywhere.
There were plenty of other announcements from Microsoft, which you can find out about here. 
WordPress proposes blocking Google's FLoC by default
As we see the phase out of third-party cookies, Google has created FLoC to replace its ad targeting capabilities. There has been a lot of criticism surrounding FLoC though, and the latest to join the critics appears to be WordPress. 
News came out that WordPress was planning to block FLoC from their websites as a default. With around 40% of all sites in the world using WordPress (according to W³Techs), this could be a big blow to Google's advertising capabilities. 
In the proposal put forward, FLoC would be disabled with the addition of some lines of code that opt out WordPress sites from transmitting the user's interest cohort to Google.
However, the CEO of WordPress' parent company Automattic quickly came out to clarify that a decision has yet to be made. "It is more correct to say there is a proposal from a WP contributor to block FLoC by default," he said in a tweet.
Read all about it here.