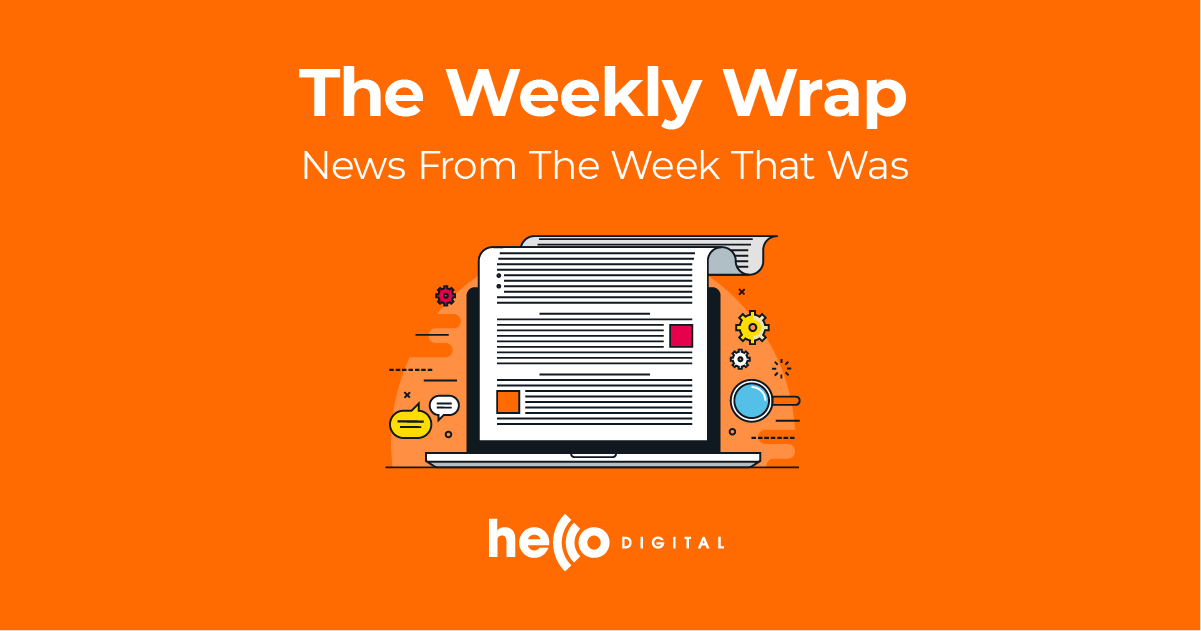 Hello Digital looks at the highlights from the week that was.
Were you one of the 533 million Facebook users whose data was leaked online? Unfortunately Facebook has revealed they won't be informing you if you were. This week we take a look at this massive data breach, as well as the continued rise of TikTok and Amazon's digital advertising revenue. 
Read on for more.
The data of 533 million Facebook users was leaked online
Earlier this week, it was discovered that personal data from 533 million Facebook accounts was leaked online for free. The major data breach was verified by Insider and they confirmed that the data was posted in a low-level hacking forum. 
According to Insider, "The exposed data includes personal information of over 533 million Facebook users from 106 countries, including over 32 million records on users in the US, 11 million on users in the UK, and 6 million on users in India,…It includes their phone numbers, Facebook IDs, full names, locations, birthdates, bios, and — in some cases — email addresses."
Stolen data of this magnitude is usually sold by hackers, however in this case it was posted for free, essentially making it available to anyone with basic data skills.
This comes after Facebook vowed to crack down on mass data-scraping following the Cambridge Analytica breach in 2016, when it scraped the data of over 80 million users to target voters with political ads.
Facebook, however, isn't planning on notifying the users whose data was exposed in this breach. So you wouldn't be able to tell if your information was amongst that of the 533 million profiles compromised. 
A spokesperson from Facebook cited two reasons as to why it's not telling users: they're not confident they would know which users would need to be notified, and that users won't be able to do anything about the data being online.
If you're worried about whether your data was included in the data dump, The Verge has put together a good guide for finding out. Whether you can do anything about it is another thing.
TikTok remains the most downloaded app in Q1 2021
The video-sharing social network TikTok continues to go from strength to strength, remaining the most downloaded app in the first quarter of 2021. It's held onto the same growth momentum over the past two years, moving closer to becoming the next billion-user social app. 
In Australia, there are currently around 2.5 million TikTok users. There was over a 50% increase in users in 2020 alone, and it continues to gain popularity. 
Despite the various challenges the app has received, such as the U.S. Government pushing to ban the app, the most recent stats from App Annie reveal that the app isn't going anywhere anytime soon.
The data may be a little deceiving though, as most people have already downloaded Facebook and Instagram for example, so download stats don't necessarily indicate usage. Regardless, it would be hard to topple Facebook in terms of monthly active users, but the data underlines that TikTok has enduring popularity, despite what some people may have predicted.
You can read more about the latest download statistics from social apps around the world, like the sudden rise of the Indian platform MX Takatak, on Social Media Today. 
Amazon accounts for more than 10% of the U.S. digital ad market revenue
Amazon continues its expansion into a true digital gargantuan, with 10% of the digital ad revenue market in the U.S. now made up by Amazon ads. The pandemic ironically was a boost for the company, with its ad business growing by 52.5% in 2020, according to eMarketer. This rapid growth further confirms their position as the third-largest ad publisher in the U.S.
The growth came from their many products and brands, such as sponsored products on Amazon, and video ad revenue from the likes of Twitch, IMDb TV and Amazon Fire TV.
The pandemic proved to be a blessing in disguise for Amazon, with consumer shopping preferences moving online. It's a trend that may be here to stay, whether it continues to see the same growth or not, so Amazon will no doubt continue to attract a larger slice of advertisers' budgets.
While Amazon grows its share of overall domestic digital ad revenue, eMarketer predicts that Google's share will shrink from 28.9% in 2020 to around 26.6% by 2023. This could be why Google has made multiple updates to their eCommerce offerings recently, even introducing free shopping listings last year, but it hasn't made much of a dent on Amazon's growth.
This could mean advertisers will have to start seriously considering where they spend their ad budgets, whether they already advertise on Amazon or not. While more and more consumers are moving to shop online on Amazon, it's important to remember that business owners will have to pay fees for every item they sell. 
To find out more about it, take a look at Search Engine Land's rundown.