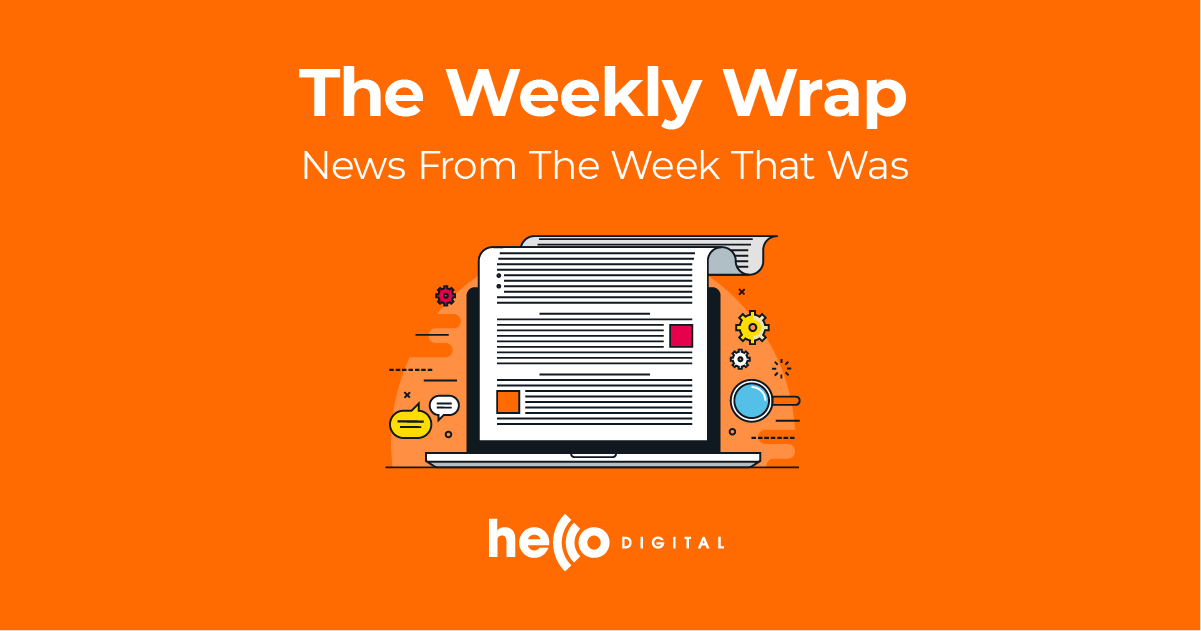 Hello Digital looks at the highlights from the week that was.
Before we enter the Easter chocolate binge, we take a look at a plethora of new AI-powered Google features, Facebook's updates towards a non-algorithmic News Feed, and a search engine newcomer that is promising an ad-free, private experience.
Join us for The Weekly Wrap. 
Facebook is making it easier to see a non-algorithmic News Feed 
The use (and misuse) of Facebook algorithms has been under the spotlight for the past few years. Backlash has mostly come from what people see as the ability to push users to more extreme and biased content in their feed. But Facebook has continued to refute the fact that algorithms are a problem. Now, however, they have launched new tools that allow users to more easily switch over to non-algorithmic views of their News Feed. 
Some of the features to control what users see in their News Feed aren't new. But Facebook has now made them a lot easier to find and navigate to with the addition of the Feed Filter Bar on mobile. Users also now have the option to control who can comment on their posts. 
One of the other new tools is "Favourites", which shows users posts from up to 30 of their favourite friends and Pages. The "Most Recent" view, which shows posts in chronological order, has been around for a while, but it was previously hidden away in the extended "more" menu. 
There are other new features that Facebook has launched, which you can read about here. Although these new features seem like a response to the critics, Facebook is sticking with their official position, which is that they don't play a role in directing people towards problematic content—users seek it out. 
These thoughts were detailed by Nick Clegg, VP of Global Affairs for Facebook, who insists that personalisation algorithms are common across tech companies, such as Amazon and Netflix, and Facebook's ranking simply makes what's most relevant to the user appear first.
Google announces multiple new AI-powered features 
Google continues to improve their artificial intelligence capabilities, announcing a heap of new features for Maps and Google My Business that are powered by AI. Some are saying that these will help to maintain Google's advantage over other search competitors and help them to become the go-to intermediary between online and offline activities.
Here's the new features that were announced on Tuesday:
Pickup with Google Maps – This pilot program will enable customers to input order details into Google Maps to help facilitate kerbside pickups. The feature will notify customers when it's time to leave to pick up their order and also share the arrival time with the store. 

Pickup and delivery attributes – This will mean that businesses can display details about pickup and delivery options, such as timeframes, fees and minimum orders, within Google search and eventually Maps. The feature rollout will begin with Instacart and select Albertsons Co. stores.

Updated directions interface – Updates to the user interface will show a more comprehensive view of things like how long it will take to get to a destination via car, public transit, or rideshare app, and on bike or foot, all without the need to toggle between tabs.

Indoor Live View – Forget Street View, Google's AR walking navigation feature for indoor places is coming to airports, transit stations and shopping centres. The feature will be powered by technology that is able to scan billions of Street View images to understand orientation and also innovations that allow it to estimate altitude and the location of objects inside a building.
Along with the above features, there will be new features that focus on eco-friendliness, like low emission zone notifications, weather and air quality layers and eco-friendly driving routes. While some of the newly announced features don't seem major, they are all part of a big push for Google to move towards greater AI capabilities and automation. For more, read here.
Could Neeva be the next big search engine?
While Google's competitors have been ramping it up in response to the legislations around Google and the uncertainty that comes with it, few have positioned themselves as an ad-free, private platform.
The former SVP of Google ads has created a new search engine called Neeva, which is currently in beta testing. The platform will ironically be free of ads, and is able to do so because it will charge users a subscription fee. There haven't been any announcements on pricing yet, but the beta testing will surely see where it will sit in the current search market. 
Beta testers have shared their feedback already, with Search Engine Land revealing their early impressions:
"It's weird seeing a results page entirely void of ads, and not just for super long-tail queries. As far as the experience and actual results go, it feels a lot more like DuckDuckGo than Google or Bing. There are a ton of images and recommendations for commerce-related searches (my search for "best vacuums for dog hair" only had two standard listings — the final two on the page)  which suggests to me that Neeva is attempting to distinguish itself through more robust e-commerce support."
Although it's still early days, people who loath ads may be inclined to give it a go. People who don't want to pay money to search, however, may not.