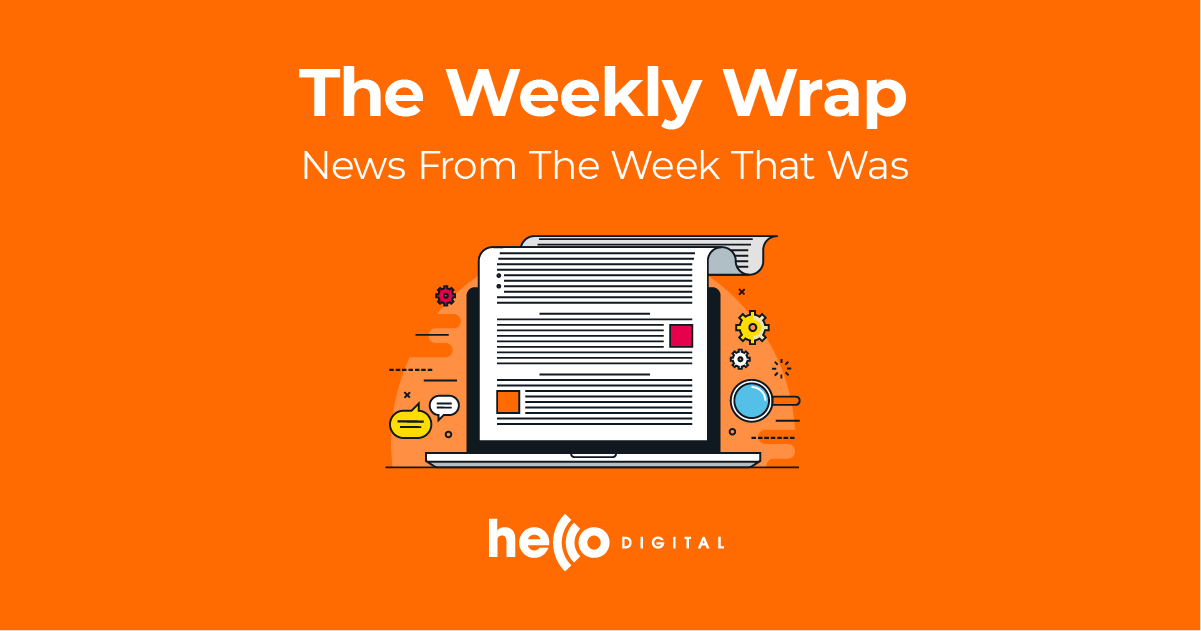 Hello Digital looks at the highlights from the week that was.
From the new Google My Business management tool for reviews to Facebook's latest monetisation options for creators, this week we look at new features that business owners and content creators can get excited about. 
Join us for this, plus more, in the latest instalment of The Weekly Wrap. 
Google My Business has a new tool to manage reviews
Have you ever had to request an unfair or unwarranted review be taken down on your Google My Business listing? It typically isn't a straightforward process, but Google has released a new feature that allows users to see recent reviews on their listing in a single place and check the status of reviews they have reported. 
Business owners and local SEOs will now have more visibility in the process for removing reviews. You can access the new tool within Manage your Reviews feature in your listing. All you'll need to do is select your business, then choose if you want to check the status of a reported review or if you want to report a new review for a takedown.
While the tool doesn't give you any more control in the process, there was previously no real way to see the status of reviews you submitted for a takedown in an organised way. So if you want to stay updated on removing a negative review or track the progress, you can use this tool to show the latest status.
While you hope you won't have to worry about negative or unfair reviews on your Google My Business, if they do happen, they can be detrimental to your brand image. For local businesses, this feature can help to feel more in control and informed. Search Engine Land have put together a simple guide for using the new tool.
Facebook adds new monetisation options for creators
Facebook has announced that it is adding new monetisation options for creators on the platform. They announced a range of options last week, with a focus on short video clips and video content. 
In their announcement, the said the new features include the options to:
Earn revenue from short-form video: Making it possible for content creators to monetise all video types and testing sticker ads in Stories.

Opening monetisation to more content creators: Updating in-stream ad eligibility so more video creators can access the program, opening access to in-stream ads for Live and expanding paid online events and fan subscriptions to more countries.

Accelerating fan support: Making it easier for content creators to get access to fan support while growing consumer adoption via free Stars giveaways to viewers.
Some are noting that these new features could put more pressure on TikTok, which is still working on its own revenue-share programs. Social Media Today has put together a great deep-dive into these features and what they could mean, take a look at the article here. 
Google blocked 3.1 billion ads in 2020, says annual Ads Safety Report
2020 was a turbulent year for everyone. In Google's latest Ads Safety Report it shows that marketing also had a tumultuous year. Over the course of 2020, Google blocked around 3.1 billion ads. They had to work harder and faster than ever, with unprecedented things like the global pandemic and cultural unrest putting their policies and enforcement to the test.
In the report, Google noted that both manual and automated ad monitoring was used to ensure all advertisements served through the platform met not only the existing ads policies, but also new and updated ones. 
Rapidly changing global trends, as well as their "continued fight against bad actors looking for new ways to take advantage of people online" led to them having to constantly adjust policies and guidelines. 
One of the biggest challenges was coming up against waves of misinformation and exploitation about global events like the pandemic. Google banned ads related to price gouging of important pandemic-related supplies like hand sanitiser and masks. Their policies included restrictions on ads that promoted false cures and opportunistic abuse of audiences. 
Google then initially banned election-related ads in the U.S. after their Presidential election polls closed on November 3 through to December 10. When riots took place at the Capitol on January 6, Google again put measures in place to shut down all ads mentioning politics, impeachment, and the inauguration.
Along with ad bans, Google's report notes an increase in fraud and scam-related ads. There was an increase by 70% of account-level actions related to fraud and scam ads. 
It's clear that the past year was a rollercoaster for search markets and the world in general. The global ad market itself declined by 10.2%, according to the Global Ad Trends: The State of the Industry 2020/21 report. With the constant evolution, Google's Ads Safety Report shows that the platform is constantly evolving its processes and AI to keep up with these changes.